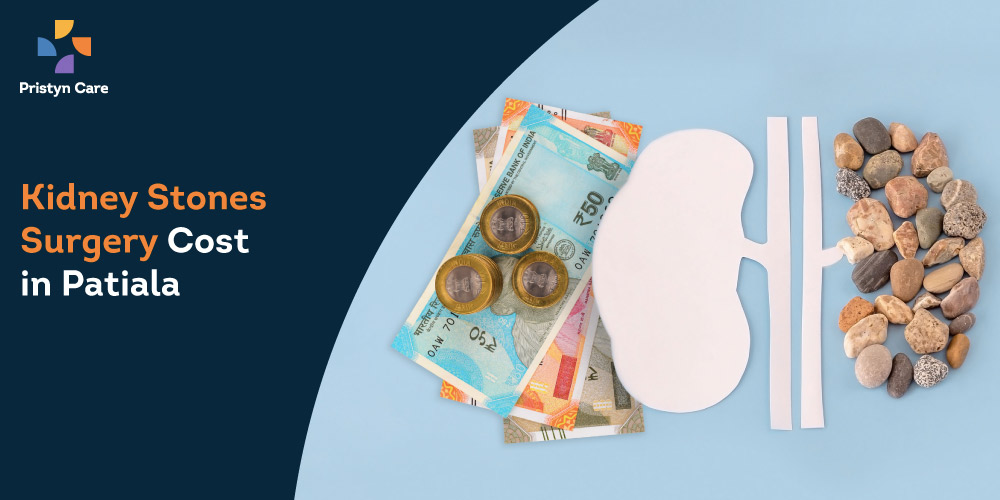 Kidney stone has become a rising concern for many people across the country. Kidney stones refer to the formation of stones in the kidneys as a result of a high concentration of toxic waste in the urine. As technology and medicine move abreast in the modern world, the treatment options for kidney stones offer great results with an excellent stone-free rate. Prolonging kidney stone treatment can not only increase the risk of complications but also increase the financial burden. Therefore, it is important to consult the urologist if you experience symptoms of kidney stones for timely treatment. This blog contains the breakdown of kidney stone surgery cost in Patiala and the major factors that decide the overall expenditure of the treatment. 
How much does kidney stone surgery cost in Patiala?
The cost of kidney stone treatment in Patiala usually starts from Rs. 25,000 and can go up to Rs. 90,000. This is a reference cost since the overall cost of kidney stone operation can vary based on several factors such as the size and number of stones, medical health of the patient, insurance coverage, expertise of the kidney stone surgeon, etc. 
Apart from these factors, several diagnostic tests can also affect the overall kidney stone operation cost. Get in touch with us to know more about the kidney stone operation cost in Patiala and book an appointment with some of the best urologists near you. Here is an estimated cost breakdown of different diagnostic tests that can be recommended by the urologists – 
| | | |
| --- | --- | --- |
| Diagnostic test | Significance | Cost range |
| Abdominal ultrasound | Produces 3D images of the abdomen | Rs. 1200 – 1500  |
| CT-scan + Urogram | Locate stone with high accuracy | Rs. 4300 – Rs. 4800 |
| Intravenous Pyelogram (IVP) test | Used to look at the kidneys and ureters using a dye | Rs. 2000 – Rs. 4000 |
| Blood tests | Detect bacteria, infection in the blood | Rs. 200 – Rs. 500 |
| Urinalysis | Detects stone-forming minerals, bacteria, and blood. | Rs. 100 – Rs. 200 |
| DTPA | Diagnosis and evaluation of kidney functioning | Around Rs. 6000 |
Cost of different kidney stone surgeries in Patiala
Modern kidney stone procedures have replaced the conventional form of treatment by virtue of advanced technology and state-of-the-art surgical equipment. Today, a patient can walk into the hospital with their plight around kidney stones and walk out the same day with almost zero chances of complications. There are four types of kidney stone procedures that are performed based on the size, number, and location of the stones. The four surgical procedures are- extracorporeal shockwave lithotripsy (ESWL), ureteroscopic lithotripsy (URSL), retrograde intrarenal surgery (RIRS), and percutaneous nephrolithotripsy (PCNL). The table below mentions the estimated cost of different kidney stone removal procedures –  
| | | | | |
| --- | --- | --- | --- | --- |
| Type of surgery | Duration of surgery | Size of stone | Type of anesthesia  | Approximate Cost  |
| ESWL  | 45 minutes | 5mm to 8mm | Spinal  |  Rs. 25,000 – Rs. 35,000 |
| URSL | 45 minutes | 6mm to 10mm | Spinal or General |  Rs. 35,000 – Rs. 40,000 |
| RIRS | 1 hour | 7mm to 14mm | Spinal or General  | Rs. 70,000 – Rs. 90,000 |
| PCNL  | 1.5 – 2 hours | Greater than 14mm | General  |   Rs. 45,000 – Rs. 55,000 |
*ESWL – Extracorporeal shockwave lithotripsy *URSL – Ureteroscopic lithotripsy
*RIRS – Retrograde Intrarenal surgery *PCNL- Percutaneous Nephrolithotripsy
Modern kidney stone surgeries leverage modern tools and advanced medical devices to ensure minimal pain, faster recovery, and almost no post-surgery complications. The cost of surgical procedures may be on the higher end as compared to the non-surgical methods (which include home remedies, medications, dietary changes, etc). But, the long-term health benefits of surgical procedures immensely outweigh their counterparts. Moreover, kidney stone surgeons or urologists undergo specializations and a training period to be eligible to perform these advanced surgeries. The procedures are safe and offer minimal complications which makes them reliable. After all, you cannot put a price tag on your health. 
Factors that affect the cost of kidney stone surgery in Patiala
The kidney stone treatment cost in Patiala usually varies depending on several factors such as hospital charges, consultation cost, an additional cost of non-medical items (if not covered in insurance), cost of stents, medication cost, etc. Let us deep dive to understand how different factors affect the kidney stone treatment cost in Patiala – 
Hospital charges- 
Selecting the right hospital is the first and foremost task before deciding the course of the procedure. It is important to choose a healthcare facility with modern infrastructure and advanced facilities for a high success rate. Hospital charges include admission fees, hospital stay (if required), miscellaneous charges, etc. Selecting the right hospital will minimize the financial burden and ensure a smooth surgery experience. 
Every hospital or healthcare facility has its cost structure depending on the quality of infrastructure and the availability of modern tools and technology. You can select a private or government hospital as you see fit. Here are some factors that you must consider before selecting the right hospital – 
Patient's reviews

Availability of urologist on the day of the surgery

Good infrastructure

State-of-the-art facility

Availability of machines for diagnostic tests

Accessibility via public or private transport

Availability of rooms for stay (if required)

Following COVID-19 guidelines
Consultation charge of the urologist – 
The consultation cost of a urologist depends on the experience of the medical personnel.  A urologist with a higher experience usually charges more for the consultation and eventually surgery. A urologist with extensive years of expertise in performing kidney stone surgeries usually ensures minimal complications and a high success rate. Therefore, choosing an experienced urologist is very essential. Here are some factors that you must consider before choosing the right surgeon for you –
Patients' reviews

Experience (in years) of the urologist 

Number of kidney stone surgeries performed

Track record of successful kidney stone surgeries
Contact us to book an appointment with some of the best urologists in Patiala with more than 15 years of experience and an excellent track record. Get in touch to know more about the kidney stone surgery cost in Patiala.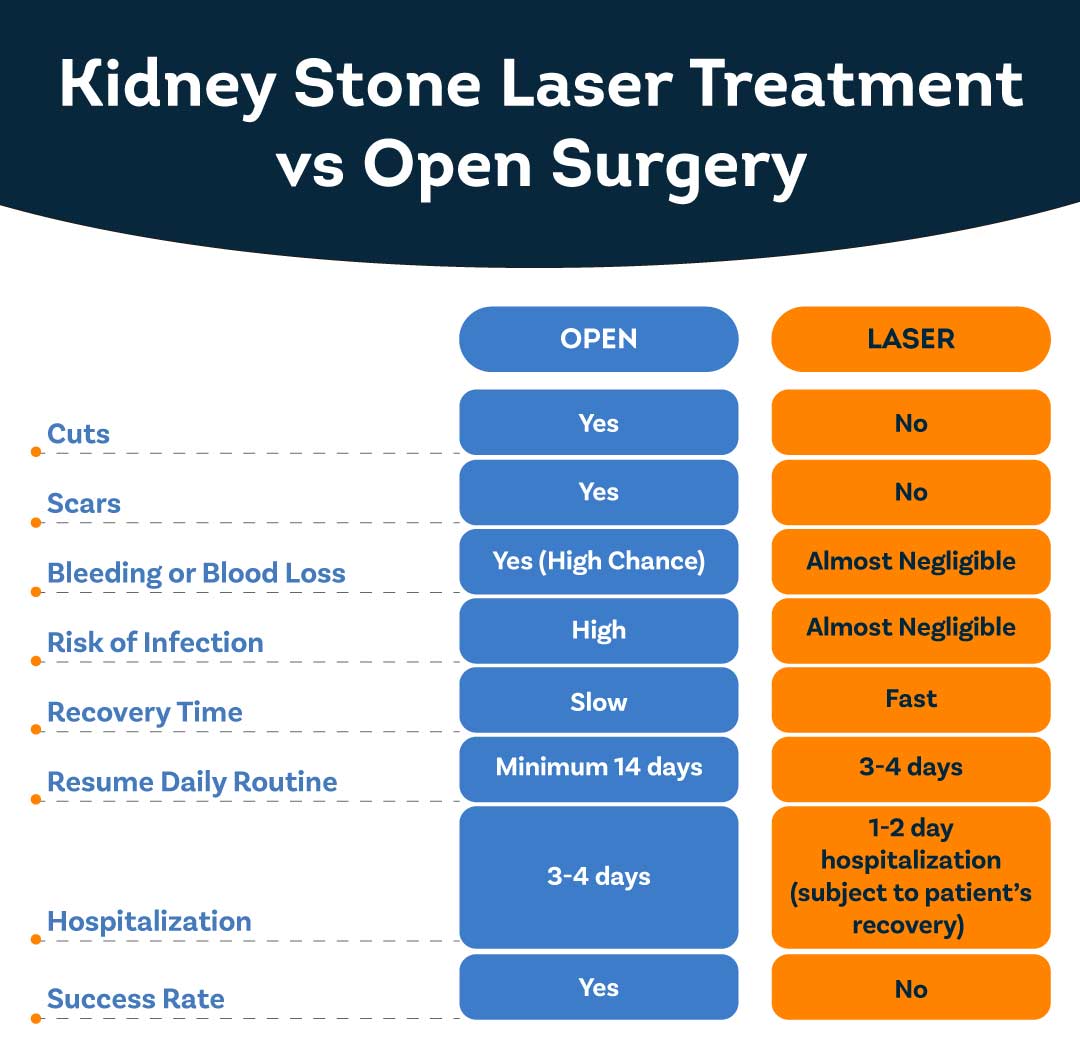 Anesthesia Cost –
Kidney stone surgeries are performed under anesthesia. The doctor administers spinal or general anesthesia before the surgery to ensure the patient does not feel any pain throughout the surgery. The cost of anesthesia can differ based on the type of anesthesia (local, spinal or general), and may add to the overall cost of kidney stone surgery. 
Cost of ureteral stents –
Ureteral stents may be used where the surgeon is required to break the stone into smaller fragments. Stents expand the ureteral passage to allow the stone pieces to smoothly flush out of the body without causing much pain. The cost of stents can differ depending on the type and material of the stent. 
Medication cost –
Several medicines prescribed by the surgeon can help you recover after the procedure. Since there may be some pain after the surgery due to stent insertion, the surgeon usually recommends several pain killers, diuretics, etc. for a smooth recovery after the surgery. These medications reduce the pain after the surgery and help with the recovery. The cost of medications can vary depending on the recovery process of the patient. 
Post-surgery consultation charges –
Post-surgery consultations are important to ensure a smooth recovery and avoid any chances of complications. Therefore, visiting the doctor after your surgery for follow-up sessions is usually recommended. Each follow-up session is usually charged depending on the urologist. 
However, Pristyn Care offers free consultation after the surgery depending on the type of procedure. Get in touch with us to know more about the kidney stone treatment cost and how you can get a cost-efficient plan for your procedure. 
Is kidney stone removal surgery cost covered under insurance in Patiala?
Kidney stones can lead to serious health issues in children as well as adults and are considered a medical necessity. Therefore, most insurance companies in India cover the cost of kidney stone removal surgery as they are deemed a medical necessity. Insurance coverage can bring down the kidney stone treatment cost substantially. 
Pristyn Care has a dedicated team that assists with your insurance approval in Patiala. However, the insurance coverage usually depends on the type of insurance policy and the terms and conditions set by them. 
Choose Pristyn Care for cost-effective treatment for kidney stones in Patiala
Pristyn Care is a dedicated healthcare service provider that goes above and beyond the patient's surgery experience. We are associated with some of the top hospitals and healthcare institutes in India. We also have a dedicated team of experienced urologists and kidney stone specialists with experience of more than 15 years with an excellent track record. Here is how Pristyn Care can help with a cost-effective treatment for kidney stones- 
Provides free cab pickup and drop facility within the city on the day of the surgery

Cashless payment facility for kidney stone surgery

No-cost EMI facility for kidney stone surgery
Read More:
Disclaimer: The Cost mentioned in this blog is what Pristyn Care charges as per the City and Treatment and this cost may vary as well depending on the other factors which increase and decrease the cost. The market cost of the treatment may vary depending upon the healthcare service provider and the functional city.