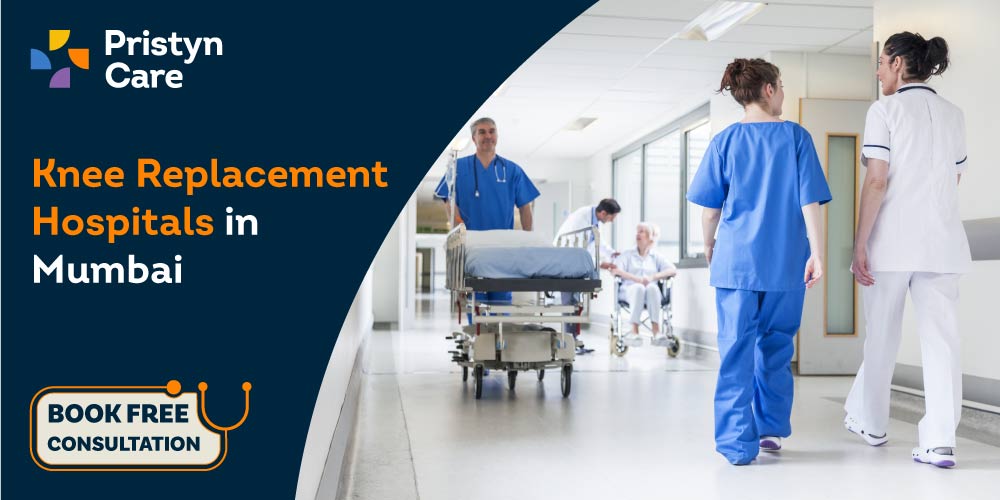 Best knee replacement hospitals in Mumbai 
Pristyn Care
Pristyn Care is one of the finest surgery providers in India. It works on an asset-light model and instead of having its own hospitals, it has tie-ups with some of the best multispeciality hospitals all across India, including Mumbai. Pristyn Care provides various facilities for knee replacement surgery, including physiotherapy assistance, easy payment plans, etc. To book your consultation with our orthopedic doctor for knee replacement in Mumbai, give us a call. 
Salient Features
Free online and offline consultation with expert orthopedic doctors

Cab facility for surgery

Complimentary meals during hospitalization

Free followup consultation after the surgery

Complete insurance support

No cost EMI facility for all treatments
Jaslok Hospital
Jaslok Hospital & Research Center is one of the oldest and most trusted tertiary care multispecialty trust hospitals of the country. It was inaugurated in 1973 as one of the first private hospitals in India. The hospital collaborates with international training facilities and research centers to provide advanced treatment to all patients. The hospital provides treatment for over 35 specialities, including orthopedics treatments for knee replacement and other joint replacement surgeries.
Salient features:
NABH accredited with certifications like ISO 9001:2015, ISO 14001:2015, and  ISO 45001:2015

364 bedded facility, out of which 75 are ICU beds

More than 265 consultants, along with 140 well-qualified specialists on staff

Very active in charity and trust work to provide advanced care to people from weaker section of the society

In-patient facilities like casualty ward, blood bank, health check-up clinic, pharmacy, and support services
Nanavati Max Super Speciality Hospital
Nanavati Max Hospital is the largest private healthcare center in Mumbai, India. It was inaugurated by Pt. Jawahar Lal NEhru, the first Prime Minister of India. The hospital has a successful legacy of more than 70 years. The hospital has a robust organ transplant department and orthopedic department for joint replacement, reconstruction and spine surgery.
Salient Features
More than 350 beds, with 75 critical care beds

11 state of the art modular theaters

Medical staff of over 350 consultants and 100 resident specialists, and more than 475 people in nursing and paramedical staff

Advanced diagnostic and imaging facilities

Special focus on preventive medicine

Accredited by NABH & NABL for qualitative patient care
Upasani Super Speciality Hospital (USSH)
USSH is a multispecialty center that focuses on delivering quality and empathic healthcare service to all patients at affordable prices. The hospital has been recognized by more than 30 awards from different distinguished and acclaimed medical centers, like Times Healthcare Leaders 2020-21, Golden Aim Awards, etc.
Salient Features
60-bedded super speciality center

More than 500 Robot assisted knee replacement surgeries

More than 50000 surgeries over a period of 20 years

24/7 emergency services

Insurance mediclaim services
Parakh hospital
Parakh Hospital & Research Center is an advanced multispecialty tertiary care hospital with advanced diagnostic, preventive and treatment facilities under one roof. The hospital has built an impressive legacy over the past 15 years. The hospital has a well developed orthopedics and physiotherapy department where patients can get advanced arthritis treatments like joint replacement surgery and physiotherapy.
Salient Features
State-of-the-art kidney care & dialysis center and IVF Clinic

3 modular operation theaters and advanced diagnostic center

9-bedded ICUs
S L Raheja Fortis Hospital
S L Raheja Hospital is an associate of Fortis Healthcare that was inaugurated in 1981. It is a 170-bedded facility, with advanced organ transplant and orthopedic departments – for joint replacement surgery and other orthopedic services. It is globally known for its clinical excellence and distinctive patient care.
Salient Features
24/7 emergency services

NABH accreditation for emergency medicine, nursing excellence, impressive blood bank

NABL accreditation for laboratory and diagnostic services

Awarded by CMO Asia Award as the best hospital, innovation in medical technology and nursing documentation
CritiCare Asia Multispeciality Hospital
Among its various awards and acclamations, CritiCare Multispeciality Hospital & Research Center was ranked among the Top 10 multispecialty hospitals in Mumbai by HT Wellness and Times Health. The hospital uses 3rd generation robotic arm technology for joint replacement surgeries- and other orthopedic surgeries. The core values and goals of the hospital are to build a healthy society and promote healthy living.
Salient Features
300+ consultants and more than 300 members of the paramedical staff

Two healthcare centers- in Andheri East and West respectively

Competitive packages for cardiac care, healthcare packages, etc.

600+ bedded facility, with more than 80 beds in ICU, NICU, and PICU

State-of-the-art operation theaters

Nominated for the  "All India Critical Care Hospital Ranking Survey 2022", among other awards and accreditations
Apollo Spectra Hospital
Apollo Spectra Hospital in Tardeo, Mumbai is an offshoot of the Apollo Healthcare Group and serves an advanced multispecialty center that ranks among the best hospitals in the world due to its superlative care and healthcare management practices. 
Salient Features
4 ultra-modern modular OTs and state-of-the-art rehabilitation unit 

More than 125 healthcare professionals, including 90 consulting specialists

22-bedded facility with advanced ICU facility

In-house pharmacy 
Apex Super Speciality Hospital
Apex Hospital has multiple centers in Mumbai to deliver advanced multispecialty treatment and care to all patients. The hospital group has built a legacy over the past 25 years of providing advanced healthcare and treatment.
Salient Features
NABH accredited with ISO 9001:2008 certification

350+ bedded facility overall

More than 600+ surgeries per month, out of more 60+ surgeries are joint replacement procedures

Premium destination for medical tourists traveling for advanced treatments

Advanced diagnostic, cath lab and emergency services, and a dialysis center

3 modular OTs with Hepa Filters and Laminar Air Flow

24×7 trauma center, pathology, in-house pharmacy, and ambulance service
Kokilaben Hospital
Kokilaben Dhirubhai Ambani Hospital & Medical Research Institute is the only hospital in Mumbai with FTSS (Full Time Specialist System) to ensure easy availability of specialists for all patients. It has a team of some of the best specialists in Mumbai with state-of-the-art infrastructure and cutting-edge technology to ensure the best overall treatment for all patients.
Salient Features
JCI, CAP, NABL, and NABH accreditation

Awarded the 'FE Best Hospital Awards 2022' for its multispecialty treatment, especially in Oncology, Orthopedics, and Neurology

Awarded the 'UNIVANTS of Healthcare Excellence Certificate of Achievement' in 2021

Received the Trusted Hospital in Mumbai 2021 award from Reader's Digest India, and many more!
Factors to consider while choosing a knee replacement hospital in Mumbai
While choosing a hospital for knee joint replacement hospital, it is important to consider the following conditions:
The surgical capability of the surgeon: Make sure the hospital's surgical staff has a competent orthopedic surgeon who is accomplished in performing minimally invasive orthopedic surgery.

Technology  and

knee implants

used: The hospital has a fully furnished orthopedic department with the latest technology.

ICU facility: Make sure that the hospital has a fully furnished ICU facility, in case of an emergency or medical complication.

Insurance Acceptance: The hospital will accept your insurance policy.

Patient testimonials: The hospital has good reviews and patient testimonials from previous patients.
Why come to Pristyn Care for knee replacement in Mumbai?
At Pristyn Care, we understand that joint replacement surgery is a major change in your life. Most patients only decide to get joint replacement surgery when they are in chronic knee pain that is not relieved even after taking medication, and they have lost complete joint mobility. If you are in this condition, then joint replacement surgery is the right step for you to get a new lease on life. 
We take care of our patients from consultation to rehabilitation. We provide a variety of services such as free consultations and discounts on diagnostic tests for all patients. When a patient decides to choose Pristyn Care for their surgery, we help them with insurance documentation and hospital and orthopedic doctor selections. 
On the day of the surgery, we provide free pick and drop service to all patients along with complimentary meals for patients and their attendants. There is a care buddy assigned to all patients to help them with the hospital admission process and ensure that the treatment journey is completed without any hurdles. 
After knee replacement surgery, it is important that the patient receives proper rehabilitation to gain increased range of motion of the joint. We provide free follow-up and physiotherapy to our patients after the surgery.
Choose Pristyn Care for the best knee replacement treatment near you. Book an appointment with the best knee replacement surgeons near you.