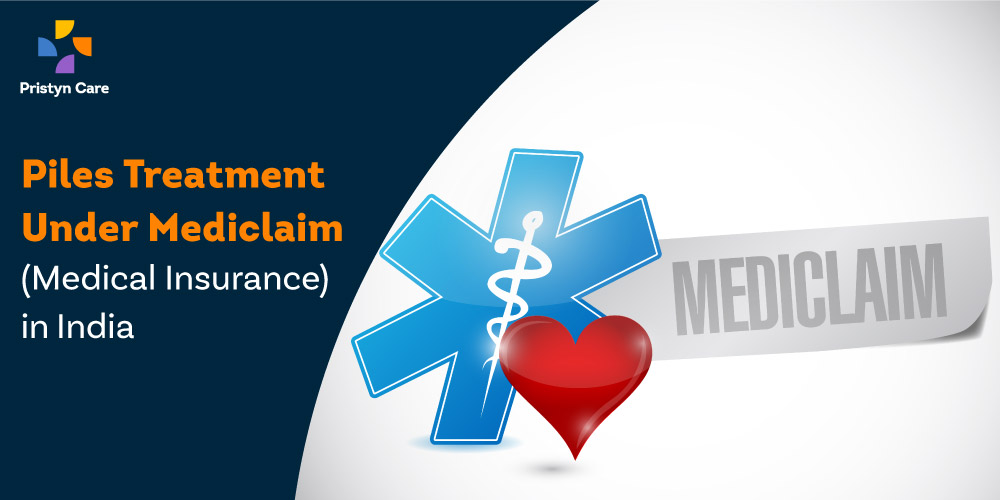 People who need to undergo piles treatment often wonder whether the treatment will be covered under mediclaim or not. Many people try to use their insurance policies only to realize that it doesn't cover piles treatment. Usually, piles treatment is covered under mediclaim policy, but the mediclaim policy also has some limits. 
Here, we will explore what exactly a mediclaim insurance is and how it is different from a health insurance policy. Our primary focus is to discuss whether piles treatment is covered under mediclaim/health insurance or not. Let's start from the fundamental aspects of mediclaim insurance. 
What is Mediclaim?
Many people have a misconception that a mediclaim policy and health insurance policy are the same. But that is not true. 
A mediclaim policy is a specific type of health insurance policy that mitigates the monetary risks associated with a medical emergency. It offers coverage for expenses, including domiciliary care and hospitalization charges that occur due to illness, surgery, and accident. With this policy, you get two kinds of claim facilities, i.e., cashless and reimbursement claims. 
What is the difference between mediclaim insurance and health insurance?
In contrast with mediclaim insurance, health insurance policy offers comprehensive coverage for medical and surgical expenses that occur beyond hospitalization. It covers ambulance cost, pre and post hospitalization expenses, daycare treatments, critical illnesses, OPD expenses, and much more. 
The key difference between a mediclaim insurance and health insurance policy is that mediclaim limits itself to hospital or care provider dues whereas the health insurance policy is an all-inclusive policy that covers hospital bills and much more without any restriction. To claim a mediclaim insurance policy, the insured person must be hospitalized otherwise he/she won't be able to get a claim. However, there is no such condition if you are using a health insurance policy to get treatment for diseases like piles. 
*There is also a similarity in these two policies that the insured person can opt for a cashless claim and reimbursement option during claim. 
Is piles treatment covered under mediclaim/health insurance? 
Yes. Piles treatment is covered under both mediclaim and health insurance. However, the treatment will be covered under mediclaim for a brief period of time. Under the category of the diseases that are covered with waiting periods, the coverage of mediclaim includes diagnostic tests, blood tests, medications, ambulance cost, doctor's consultation fee, and ICU charges. It means you can successfully use your mediclaim insurance to pay for piles treatment in India. 
Cost Covered Under Mediclaim Insurance Policy 
If you opt for enough coverage, the mediclaim insurance will cover most of the piles treatment cost. It includes:
In-patient Hospitalization 
In medical emergencies, it is possible to avail in-patient cashless hospitalization facility under mediclaim policy. It allows you to get proper treatment without having a significant amount of cash to start the treatment. The costs covered are room charges, nursing expenses, doctor's fee, ICU, etc. 
Pre and Post Hospitalization
There are many pre and post hospitalization aspects of piles treatment, such as diagnosis tests and medications expense. These are also covered under the mediclaim policy up to a certain extent. 
Mediclaim policy has a beneficial feature, that is, if you don't claim the policy during your tenure, a bonus amount gets accumulated in the sum insured for every claim-free year. It means if you already had the mediclaim policy for some time and it is not claimed, you can use the sum to get piles treatment in the hospital of your choice without worrying about the budget. 
Mediclaim policy covers all kinds of daycare treatment, including piles where you don't need to stay in the hospital for more than 24 hours. 
Domiciliary Hospitalization 
In some situations, mediclaim policy also offers domiciliary hospitalization if you are not in the condition to go to a hospital for treatment. You will still be able to get reimbursement for at least three days of treatment. 
With mediclaim insurance, you can also cover additional expenses that occur during the treatment, such as ambulance charges, ICU charges, second opinions, alternative treatments for the same disease. 
Mediclaim policy covers the person insured along with his/her family including parents, children, and spouses. So, whether you need to get piles treatment for yourself or for any of your family members, you can utilize the mediclaim policy and get best-in-class treatment in the top hospitals of India under the care of best doctors. 
Pristyn Care Provides Cashless Payment Service for Piles Treatment 
In order to provide state-of-the-art facilities to the people, Pristyn Care offers cashless payment service for the advanced laser piles treatment. Our primary purpose is to ensure that our patients are comfortable and don't have to face any kind of hassle during the treatment. We have a very simple process to utilize the mediclaim policy or health insurance policy to cover the cost of treatment with Pristyn Care. 
The cashless payment service works in the following way:
We collect the insurance related documents from the patients and verify the documents with the insurance providers. 

The patients get two options, i.e., cashless payment and zero cost EMI to pay for the laser piles treatment. 

Our medical coordinators handle the cashless payment and submit the claim documents with the patient's insurance provider. 

As soon as the claim amount is sanctioned, the patient is admitted to the hospital and our care-buddy takes care of all the hospital related formalities during the treatment. 
Apart from handling the mediclaim and health insurance services, we also provide an assisted surgical experience to the patients with additional benefits like discounts on diagnostic tests, free deluxe room in the hospital, cab service on the day of surgery, free post-surgery follow-ups, etc. All these services are meant to make the advanced laser piles treatment accessible and cost-effective for people all over India. 
Takeaway
In the end, we can tell you that it is certain that piles treatment will be covered under mediclaim (medical insurance) in India as long as the healthcare provider has the insurance payment system. At Pristyn Care, you can not only get the best treatment for piles anywhere in India, but also get additional services, such as care-buddy, online consultation, 24/7 assistance, and much more that will make the treatment journey comfortable.