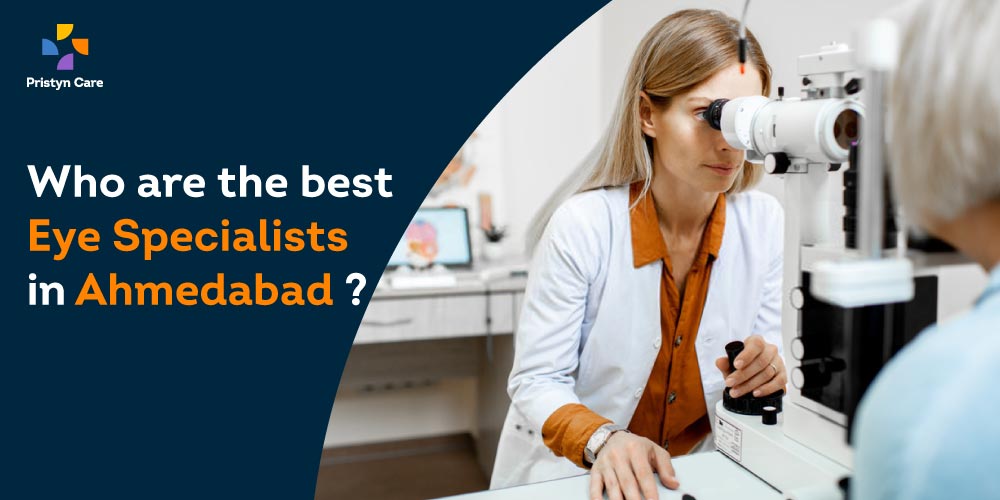 The eyes are possibly the most beautiful organs of the human body. They are the gate to the colorful world. But like any other human organ, the eyes are likely to get affected by some or other health conditions from time to time. The chances of the eyes getting affected by any disease increases as one ages.
Timely treatment and regular eye checkups are extremely important to prevent eye diseases and disorders from getting severe. The key to good eye care is an experienced and trained eye specialist or an ophthalmologist. Hence, this blog is intended to help the people of Ahmedabad get some necessary information about the best eye specialists in Ahmedabad.
Best ophthalmologists in Ahmedabad
Dr. Mehul R Patel – Dr. Mehul R Patel is a renowned, highly knowledgeable, and experienced eye surgeon in Ahmedabad. He has extensive experience as a Cornea Transplant Surgeon. He has more than 5 years of exclusive experience in the diagnosis and management of corneal diseases and has successfully performed more than 500 Corneal Transplant Surgeries and more than 1500 Corneal Trauma Surgeries. His special interests include Corneal Transplantations (PK/ DALK/ DSEK/ DMEK), Artificial Corneal Transplant Surgery, Keratoconus, Dry Eye Management, Ocular Trauma Management, Chemical Injury Treatment, and Ocular Surface Tumors among others.
Dr. Suchit Dadia – Dr. Suchit Dadia is an ophthalmologist in Ahmedabad with 9 years of experience and practices at Insight Eye Care Hospital in Thaltej, Ahmedabad. He completed his MBBS from B J Medical College, Ahmedabad in 2012 and MS – Ophthalmology from Lokmanya Tilak Municipal Medical College, Sion, Mumbai, in 2017. He currently works as a Visiting Consultant at Pristyn Care in Ahmedabad.
Dr. Tejas Shah – Dr. Tejas is a leading ophthalmologist in Ahmedabad with 33 years of experience. Dr. Tejas Shah practices at Amdavad Eye Laser – Ambawadi, Ahmedabad. He is available for both online and in-clinic consultations. His primary focus areas include Refractive Surgery Cataract Surgery. Eye Surgery, Corneal Collagen Cross-Linking, Diabetic Eye Checkup, Eyelid Surgery, Oculoplastic Surgery, Eye Checkup – General, Glaucoma Evaluation / Treatment, Avastin Injections, LASIK Eye Surgery.
Dr. Harshad Prajapati – With 30 years to his credit, Dr. Harshad Prajapati is considered one of the best eye specialists in Ahmedabad. He practices at his eye care center in Ambawadi, Ahmedabad. His key interest areas include Refractive Surgery, Eye Surgery, LASIK Eye Surgery, Cataract Surgery, Corneal Collagen Cross-Linking, and Diabetic Eye Checkup. He is a member of Ahmedabad Ophthalmological Society, All Gujarat Ophthalmological Society, All India ophthalmological Society, and Indian Medical Association (IMA).
Dr. Maitri Shah – Dr. Maitri Shah is an eye surgeon/ ophthalmologist in Ahmedabad. She is also an experienced Cataract and Refractive Surgeon and Glaucoma specialist with more than 27 years of experience in her account. She practices at Shilp Hospital – Paldi, Ahmedabad. She is best known for Phacoemulsification Surgery, LASIK Eye Surgery, General Eye checkups.
Dr. Dhaval S Modi – Dr. Dhaval S Modi is an accomplished eye specialist in Ahmedabad with 27 years of experience to his credit. He is also the founding Director of Modi Eye Care center. He specializes in minimally invasive eye surgeries. He is best-known and trusted for his commitment to patient care. He is a member of the Indian Medical Association (IMA), Ahmedabad Ophthalmic Society, Gujarat Ophthalmic Society, and the Indian Ophthalmic Society. His key areas of treatments include Cataract Surgery by MICS with OZIL technology, Premium IOL implantation(Multifocal & Toric IOL), and LASIK Eye Surgery.
All the above-mentioned eye surgeons and eye surgeons in Ahmedabad are available for in-clinic and online consultation. To know more about eye doctors, you can contact their clinics and speak to the respective medical assistant team.