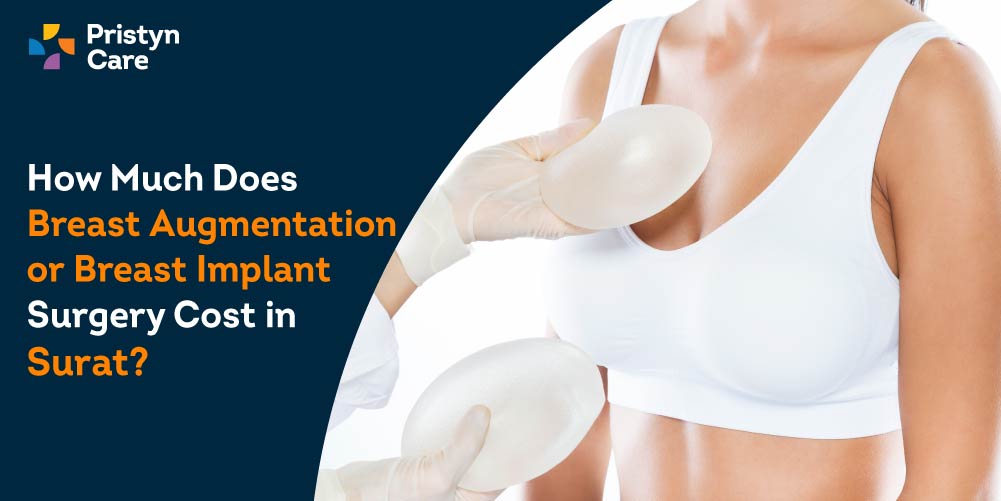 Breast augmentation, popularly known as breast implant surgery cost in Surat ranges from Rs. 1,00,000 to Rs. 1,50,000 approximately. The actual cost varies for each patient who wishes to get breast implants or use fat transfer to augment the size of their breasts.
A doctor is likely to give you an estimate of breast augmentation cost in Surat during the initial consultation. And if you think that the procedure is expensive, reconsider your thoughts. A breast augmentation will increase the breast size as expected and you'll get perkier and fuller breasts for a long time. Most of the women who undergo breast augmentation surgery are highly satisfied with the results. And the results make the procedure worth the cost.
If you also wish to do the same, read here and learn all about the cost breakdown for breast augmentation.
What is Breast Augmentation or Breast Implant Surgery?
Breast augmentation is a procedure that increases the size of the breasts. It can be done using an implant or by using the fat transfer technique. The most common method for breast augmentation is implants which is why the procedure is often called breast implant surgery.
The procedure successfully increases the size, add volume, and enhances the overall appearance of the breasts. Currently, breast augmentation is the most popular type of plastic surgery in India. Still, the treatment is quite affordable than in any other country.
Factors That Affect the Breast Implant Surgery Cost in Surat
Here are the key factors that influence the cost of breast augmentation in Surat.
Technique Used– As mentioned, there are two techniques for breast augmentation, fat transfer, and breast implants. If the fat transfer technique is being used, the procedure will cost around Rs. 50,000 to Rs. 1,00,000 approximately. And if breast implants are used, the cost will range from Rs. 1,00,000 to Rs. 1,50,000.
Types of Implants– There are two different types of implants – saline, and silicone. Each type comes in a variety of shapes, sizes, textures, and characteristics to fulfill the specific needs of a woman to enhance her breasts. The cost of implants varies from Rs. 5,000 to Rs. 30,000 approx.
Hospital Choice– The type of hospital you choose for surgery will also affect the cost as the expense will be higher at a private hospital than at a government facility.
Hospitalization– From admission to discharge, you'll have to bear various expenses, such as room rent, bed charges, food charges, medical consumables expenses, OT charges, etc. On average, per day of hospitalization will cost you around Rs. 5,000 to Rs. 15,000 minimum.
Surgeon's Fee– Every surgeon will charge a fixed amount for consultation and to operate. A highly experienced surgeon is likely to charge more for the treatment compared to a less experienced one. The average fee for a surgeon may be around Rs. 15,000 to Rs. 45,000.
Diagnostic Tests– Before and after the surgery, the doctor will suggest some tests that are necessary for the evaluation of the overall health of the patient. The common tests are ultrasound, MRI, CT scan, mammogram, etc.
Other than the above-mentioned factors, there are other aspects, such as anesthesia fees, travel expenses, physical therapy, compression bra, post-surgery follow-ups, etc. that will add to the final cost.
What are the different components of breast augmentation and how much do they cost?
Pre-surgery tests- Rs. 3,500 approx.
Implant cost- Rs. 30,000 to Rs. 40,000
Surgeon's fee- Rs. 30,000 to Rs. 60,000
Hospital stay- Rs. 2,000 to Rs. 8,000 per day
Follow-up consultation- Rs. 600 to Rs. 1,500
Post-surgery medicines and care- Rs. 500 to Rs. 2,000
Does Insurance Cover Breast Augmentation Surgery Cost in Surat?
Breast augmentation or breast implant surgery cost in Surat is usually not payable by health insurance. Increasing breast size is not a medical necessity. It is a personal choice and done primarily for aesthetic reasons. Thus, insurance companies do not provide coverage for cosmetic procedures.
In some cases, if the procedure is carried out as a part of breast reconstruction, the cost may get covered by insurance partially. For more information, talk to your health insurance provider.
Undergo Breast Augmentation Surgery Cost-Effectively at Pristyn Care
If you have been delaying breast augmentation surgery due to financial reasons, Pristyn Care is here for you. We understand that cost may be the biggest challenge when deciding whether or not to have the surgery. At Pristyn Care, we have competitive pricing and also offer flexible payment options to the patients.
You can choose to pay for the treatment using credit cards, debit cards, cheques, and with our No-Cost EMI service. All these options allow the patient to opt for a payment mode that is convenient for them. It means you can undergo surgery at cost-effective prices. To learn more about the breast implant cost in Surat, give us a call.