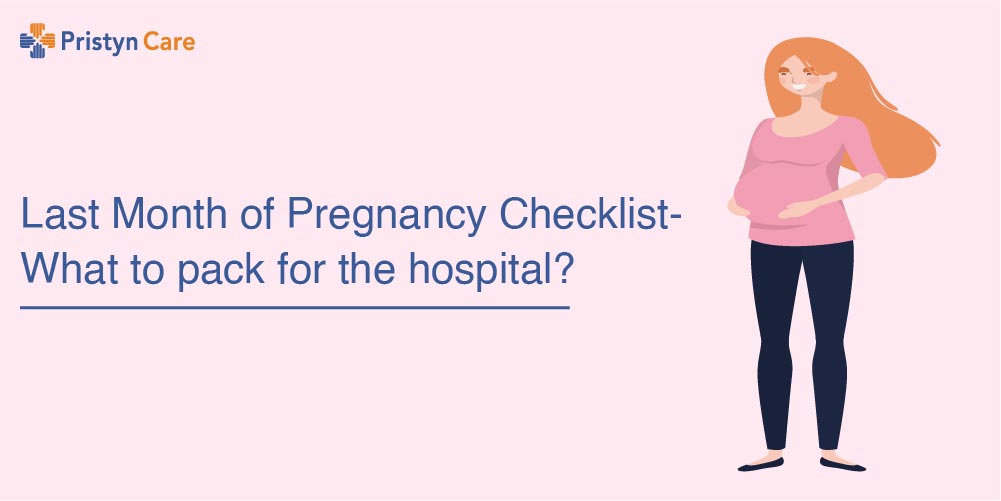 The expected date of the baby's arrival approaching? Here is a list of most-essentials to pack in your hospital bag for labor and delivery. These handy checklists include all the must-haves for you, your baby and your partner. Whether you have a normal vaginal delivery or by c-section, this list is your way to go! From essentials for mom to be, the baby or the dad, you will know everything you need to pack for the hospital.
When should you pack the bag for the hospital?
The hospital bag should be ready by the 36th week of pregnancy. Prepare your bags beforehand, the baby may arrive early or there could be a medical emergency for which you may need to get to the hospital earlier than expected. 
Having the hospital bags ready ahead of time is a smart idea. Even if you are having a planned c-section, the labor can start even before the scheduled date. So, take no chances and be prepared to welcome your baby without any hassles. 
Also Read: Water Birth In India Getting Popular
Essentials for the mom-to-be

A picture ID like driver's license, Adhaar Card or any other ID, your insurance card and details, and the name and contact number of your baby's doctor. Also,  check beforehand with the hospital regarding any paperwork you need to bring.

Pack a few personal items and toiletries, like toothbrush, toothpaste, lip balm, deodorant, a hairbrush or comb, and hairband to tie the hair if you want or a headband. Hospitals mostly provide lotion, soap or shampoo, and some people prefer to carry their own.

As there would be limited space in the bag, consider using small bottles of toiletries or other essentials. Carry small bottles of toiletries or other essentials for your convenience.

Spectacles, if you wear them. Many expecting moms who wear contact lenses prefer wearing spectacles as they are more comfortable and have no hassles.  Moms who are having a c-section will be asked to remove their contact lenses before the procedure. So make sure to carry your spectacles.

A bathrobe, a nightgown, a pair of slippers or other comfortable footwear, and socks. Gowns and socks are provided by the hospital but some females prefer to take their own comfortable clothing, of their choice. Just make sure that if you are planning to take your own gown, it should be either sleeveless or have short, loose sleeves so that the doctor or nurse can easily check the blood pressure. 

You can also invest in a specially designed birthing gown for the hospital. Whatever you decide to choose,  keep in mind that your clothes will probably get stained with blood or other body fluids.

You may not forget your mobile phone but make sure to keep its charger also. Also carry an extension cord in case the bed in the hospital is far from the nearest outlet.

Carry a notepad and pen to keep a track of the baby's feeding sessions and other details. You can also write down any questions that you have for the doctor.

You may have to stay in the hospital for quite a long time. It depends. But don't take chances as it will be troubling for you later. Pack the things that will help you stay comfortable and relaxed. It can be your own pillow, a picture of something or someone you love, your favorite essential oils (but you may have to take permission from the hospital ahead of time), or anything else that you find comforting.
What to pack for the labor?

Birthing ball and a pump, if you are planning to use them. The hospital may have a birthing ball or pump but check beforehand to confirm if it's the correct size for you. The birthing ball and pump would probably not fit in the hospital bag, but it will be worth carrying it along if you are comfortable with it.

Pick your favorite books or magazines to pass time. Labor can take long hours at times. You should keep your entertainment packet ready to keep yourself occupied and cheerful. You can also download your favorite movies and keep them on a tablet or laptop to carry along. Also, you can make your music playlist to keep yourself entertained. Basically, prepare yourself to stay occupied with things that help you stay calm and keep you distracted during the tough times.

Pack a small bottle of massage lotion or oil. A massage might help you relax in labor.

The hospital will provide water and probably juice also. You need to stay hydrated. So, consider packing some of your favorite beverages, such as pulp-free fruit juices, carbonated drinks, or tea. These are all clear fluids, which are generally safe to drink during labor for a female with an uncomplicated pregnancy.  But, consult your doctor ahead of time to be sure of what you can and cannot drink.

If having a planned c-section for an uncomplicated pregnancy, you may be permitted to drink clear fluids until about 2 hours before the surgery. So talk about this with your doctor to plan about the drinks you would like to carry along. 
What to pack if you have a C-Section?

If you are planning to have a C- Section, you should add a few things to your hospital carry-along list:
Soft, comfortable underwear which will not press on the c-section incision. Carry a size that fits your postpartum shape as you will look about 6 months pregnant after the delivery.

Comfortable clothing that will be appropriate over the incision. The hospital would provide a gown for post-operation recovery but you can also consider bringing your own loose, comfortable clothes. 

Get a compression belt that will help hold everything in place and protect your incision. The compression belt will help you move easily, reduce swelling and bruising, support back muscles and improve aesthetic outcome. Not all hospitals often provide these belts so make sure to be prepared ahead of time.

Stool softener for constipation, which is common after a c-section delivery. The hospital may provide you with stool softeners to take, but you can also bring the ones that you know work best for you. But, make sure to check with your doctor before buying the stool softeners.
For baby's Dad or labor partner

Toiletries such as toothbrush, lotion, shaving kit ( if needed ) or extra towels

Comfortable footwear and a few sets of comfortable clothes

Snacks and healthy beverages

Books, magazines or tablet  ( for movies or music ) to keep them occupied

Some cash money ( try keeping some change ) for parking, vending machines or other small expenses

A portable, handheld fan or a small water spray bottle to help the mom keep cool while in her labor

Pillow, some bedding like an extra bed sheet or a small blanket ( depending on the weather ). It is very important for the dad or labor partner to get rest during downtimes.

Prescription medications ( if any ),  pain relievers, medicine for a headache might be needed. So keep them handy beforehand. 

Essentials to pack for your baby
Installed car seat for the baby- You should not drive the baby without an installed car seat for the baby. Installed car seats are legally required in several countries to drive the baby around.  Get a rear-facing car seat installed properly ahead of time and learn how to buckle in and unbuckle the baby correctly.

Baby nail files, clippers, or mittens- Mittens are important to keep the baby from scratching himself. Also, carry baby nail files or clippers to trim the tiny nails properly. 

Fresh baby clothes for the hospital stay- Your newborn can wear clothes provided by the hospital, but you can also dress your baby in new clothes of your choice if you want.

Fresh baby clothes for coming home- The baby will need clothes to go home in. Pack socks, a soft cap or warm clothes, depending on the weather. In the winter season, pack a warm, fleece jumpsuit and mittens.

Cloth diapers or burp cloths for catching spit-ups while burping the baby.
What not to bring to the hospital 
Jewelry

Lots of cash or other valuables

Medications or vitamins. Any medication or vitamin you carry to the hospital from home must be approved by the hospital's pharmacy, and this process may take a long time. So avoid carrying such medicines unless they are important. 

Diapers or diaper wipes. The hospital provides diapers for the baby in the hospital. So, you can leave your supply at home.

Bottles and nipples. The hospital will have bottles and nipples for you.
Also Read: