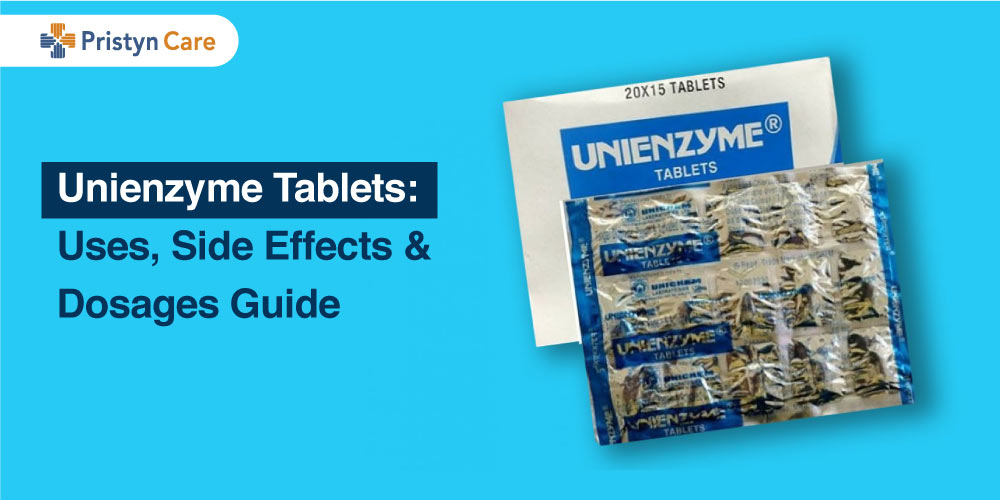 What is Unienzyme? 
Unienzyme Tablet is useful in treating flatulence, indigestion, acidity, bile flow problem during pregnancy, herpes zoster, hangover, poisoning, lower cholesterol levels and other digestion related problems. The tablet removes the toxic wastes from the stomach and gastrointestinal tract. 
Here are the details about Unienzyme Tablet uses, composition, price, dosage, side effects and reviews. 
Uses of Unienzyme Tablet
Unienzyme Tablet can be a very good remedy for the following conditions:
Treat indigestion, flatulence, bloating, hangover and intestinal gas.

It is helpful in the treatment of stomach poisoning and stomach bloating.

Tablet is useful for herpes zosters too.

Useful in treating heartburn, acidity, throat swelling, lower cholesterol level and bile flow during pregnancy.
Price of Unienzyme Tablet in India
The price of Unienzyme tablets in India is approx. INR 48.40 for 15 tablets and Unienzyme Syrup is approx. INR 88  for 200ml bottle.
Composition and how it works?
The composition of Unienzyme Tablet is Papain, Charcoal and Fungal Diastase.
The medicine comprises of Activated Charcoal- 75mg that helps in absorption of toxins from the body, Papain- 60mg that helps in breaking down proteins in the body and thus helps in aiding digestion and Fungal Diastase- 100mg which is a natural pro-digestive enzyme that helps in breaking down carbohydrates. Therefore, the tablet neutralizes the stomach acid secretion.
Dosage
Most doctors recommend a regular dose of 50 mg or 100 mg once or twice a day.

It is recommended that you must have it after food.

It is advised to always consult a doctor before starting or stopping the consumption of Unienzyme.

The drug must be consumed as prescribed by the doctor. Do not alter without talking to the doctor. 
How to take Unienzyme Tablet?
Unienzyme is usually available in tablet form. It is taken with a glass of water, after a meal. Do not crush or chew the tablet, swallow it completely. Complete the course as prescribed by the doctor. 
Important Note: Keep the medicine out of reach for children. Store this medicine at room temperature in cool and dry places. It should not have direct exposure to the sunlight. 
Side-effects of Unienzyme Tablet
Here is the list of possible side-effects due to the Unienzyme Tablet. Some of the side-effects may be severe and some may not be. Consult a doctor if you observe any of the following side-effects, especially if they do not go away. 
Black stools

Abdominal pain

Skin irritation 

Diarrhea

Abdominal distress

Temporary burning sensation 
Interaction with other medicines
If you are taking other medicine along with Unienzyme medicines, the tablet may affect differently. When you consult a doctor, tell him/ her if you are taking other medicines such as any supplements, vitamin tablets, herbal products, blood pressure or diabetic medicines. This helps the doctor to prevent interaction with other medicines. Some of the medicines that may have interaction with Unienzyme Tablet include: 
Digoxin

SilvaSorb

Tricyclic antidepressants

Theophylline

Miglitol

Acetaminophen

Silver sulfadiazine topical

Thimerosal topical

Acarbose
Precautions and warning
Patients with the complaint of abdominal bleeding must talk to the doctor before consuming this tablet.

There should be enough time gap between two doses of Unienzyme Tablet. More than two doses are not recommended. 

Consult a doctor before you self medicate.

Inform the doctor if you have undergone surgery in recent times. 

Always check the expiry date of the product before using them.

Do not start or stop the course of medicines abruptly without your doctor's consent. 

Talk to the doctor immediately if the medicine causes skin rashes or irritation.

If you are a pregnant woman or a lactating mother, ask your doctor if it is safe to take this medicine. 
Unienzyme Tablet Uses, Price, and Composition Table
Uses

Flatulence, indigestion, acidity, bile flow problem during pregnancy, herpes zoster, hangover, poisoning, lower cholesterol levels 

Price

Unienzyme Tablets – approx. INR 48.40 for 15 tablets

Unienzyme Syrup – approx. INR 88  200ml bottle

Composition

Papain 60mg, Charcoal 75mg and Fungal Diastase 100mg

Side-effects

Pain while urinating, nausea, diarrhea, black stool, constipation, abdominal pain
Take Away
Above all, if you think that Unienzyme Tablet is not solving the purpose even after completing the course of treatment, you must consult a doctor. You can visit our website for online consultation and talk to the medical expert or visit us at our clinic for any digestive disorder. At our clinics, you will be provided complete care of your stomach-related problems.