Total Knee Replacement- Minimally Invasive
If you have severe knee arthritis and difficulty getting out of bed, get in touch with the best orthopedists for advanced total knee replacement (TKR).
If you have severe knee arthritis and difficulty getting out of bed, get in touch with the best orthopedists for advanced total knee replacement ... (TKR). Read More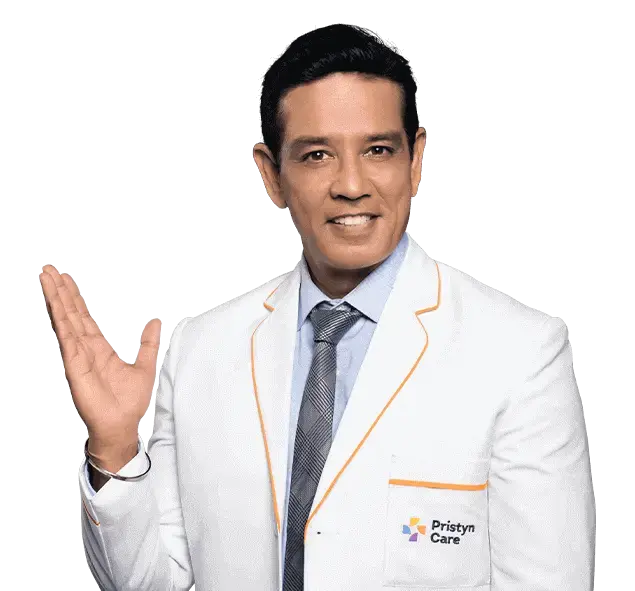 30 day free Phyisotherpy
Insurance Claims Support
No-Cost EMI
4 days Hospitalization
Choose Your City
Bangalore
Chennai
Delhi
Hyderabad
Kolkata
Mumbai
Patna
Pune
Ranchi
Best Doctors for Total Knee Replacement in India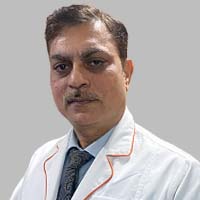 MBBS, MS(Ortho), M.Ch(Ortho)
Orthopedics
Joint replacement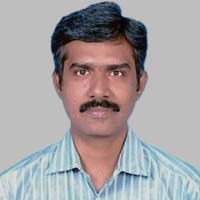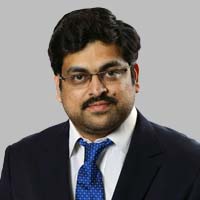 What is total knee replacement?
Total knee replacement (TKR), or total knee arthroplasty, is a minimally invasive orthopedic treatment for damaged, worn, or diseased knee joints by replacing them with an artificial prosthesis. The treatment includes surgery and postoperative physiotherapy. 
The main goal of the knee replacement is to ease the patient's pain and restore their joint mobility. Contrary to patellar replacement and partial knee replacement, total knee replacement involves the removal and replacement of the entire joint and as such, is performed only in severe cases.
Disease name
Osteoarthritis
Surgery name
Total Knee Arthroplasty
Treated by
Orthopaedic surgeon
Pristyn Care - Advanced treatment center for total knee replacement in India
Pristyn Care is one of the best surgery care providers in India for orthopedic surgery, including knee replacement surgery, hip replacement, ACL surgery, knee arthroscopy, etc. We specialize in advanced arthroscopic surgery with help from our panel of expert and experienced orthopedic surgeons. 
In addition to advanced treatment, we also provide other auxiliary services to the patient- such as documentation support, insurance assistance, free cab services for pickup and dropoff, complimentary meals, etc. If you have joint pain or stiffness and have trouble performing your day-to-day activities, you should get in touch with us for US FDA-approved advanced total knee replacement surgery.
Pristyn Care's Free Post-Operative Care
Diet & Lifestyle Consultation
Post-Surgery Follow-Up
Free Cab Facility
24*7 Patient Support
When is total knee replacement required?
Total knee replacement is often advised for patients with severely damaged or degenerated knee joints. Knee joint degeneration can occur due to the following issues:
Knee Osteoarthritis (Knee OA)

is the inflammation and breakdown of the protective cartilage at the ends of the bones. It is very common in weight-bearing joints like knees, hips, spine, shoulder, etc. and leads to pain, stiffness, tenderness, loss of flexibility, and swelling of the affected joint. Over time, patients may even lose complete mobility and need joint replacement.

Knee Rheumatoid arthritis (Knee RA)

, also known as inflammatory arthritis, is an autoimmune and inflammatory disease in which the immune system starts attacking the joint tissues and causes inflammation in joints all over the body. It commonly affects multiple joints simultaneously and leads to chronic pain, instability of the joints, and joint deformities, most commonly in knee, hand, wrist, and hip joints.

Post-traumatic arthritis

is inflammation of the joints due to improperly treated injuries. Over time, the joints will start degenerating. It most commonly affects the ankle, knee, hip, and elbow joints; and is characterized by pain, swelling, stiffness, and instability of the affected joint.
You should start considering total knee replacement surgery if you have:
Severe chronic knee pain that is limiting your mobility

Moderate to severe knee pain that happens throughout the day

Chronic inflammation of the knee joint that can't be treated even with rest and medications

Knee joint deformities, i.e., bowing in or out of the knee joint

Inability to get pain relief even after medications and exercises
Types of total knee replacement
Unilateral total knee replacement

Bilateral total knee replacement
Why Choose Pristyn Care?
| Benefit | Others | Pristyn Care |
| --- | --- | --- |
| Cuts | Multiple | Minimal |
| Blood Loss | Maximum | Minimal |
| Scars & Stitches | Yes | Minimal |
| Recovery | Low | High |
| Follow Up Consultation | No | Yes |
| Technology | Traditional | Advanced |
| Hospital Duration | Long | Short |
| No Cost EMI | No | Yes |
How to prepare for total knee replacement surgery?
Total knee replacement is a major treatment, so you need to prepare well before the surgery. Since the treatment extends over several months and needs extensive care, its preparation is done on two levels: medical and home preparation.
Medical preparation before knee replacement treatment includes:
Clearly relay your medical history to your knee replacement surgeon. Inform them about any pre-existing medical conditions you are suffering from and the medicines you are currently taking for them. If you are taking aspirin, steroids, opioids, and other similar medicines, your surgeon may ask you to limit or stop their usage before and after a week  of the surgery.

Stop tobacco use (especially smoking) before and after the surgery, as nicotine slows down the healing process and increases the chances of the patient developing post-surgical complications such as thrombus formation.

Undergo a complete health checkup to ensure you are healthy enough to undergo the surgery.

Alcohol can counteract with anesthesia and cause anesthesia-related complications during the surgery. Stop drinking alcohol for at least 2-3 days before the surgery.

In case you develop any sudden illness such as a fever, cold, flu, etc., inform your orthopedic surgeon immediately so that they can modify or delay the procedure as needed.

Arrange for someone to drive you home after the surgery, and if possible, get a home attendant for a few days as you won't be able to perform your daily tasks for a couple of days immediately after the surgery.
After the surgery, moving around the house can be difficult in the initial period. Hence, you need to make your house and surroundings more accessible and comfortable during your recovery period:
Remove throw rugs, toys, electrical cords, and other tripping hazards from your general vicinity. 

Rearrange your furniture to make it easier for you to use your walkers or crutches after the surgery.

You may have trouble bending down after the surgery, so move the items you may need after the surgery from lower cabinets to more accessible areas.

If possible, add safety rails to your bathroom to make it safer and easier to clean up after the surgery.

If you are living in a multi-storey house, then shift to the bottom storey so that it is easier for you to travel.
What happens during total knee replacement?
If you've made up your mind regarding the surgery, you will need to undergo thorough diagnosis to help assess the severity of the condition, determine the type of implant to be used, etc. Diagnosis involves physical examination of the affected joints, imaging tests like CT scan, MRI scan, X-rays, etc., followed by a general health check up.
Total knee replacement procedure takes about 1 to 3 hours and can be performed under either general or spinal anesthesia. During the surgery, the surgeon creates an incision over the affected knee, removes the generated joints, and places the chosen prosthetic in its place. Then the wound is closed, using sutures or clips, and dressed. 
The surgery can be performed traditionally or arthroscopically. In minimally invasive surgery, there is very little bleeding, and the procedure usually does not need any blood transfusions. However, open/traditional surgery requires more care.
What are the different types of knee implants?
There are three main components in a knee implant:
Femoral component

is directly attached to the femur and has a groove that allows the patellar component to slide while you are bending the knee joint.

Tibial component

is a flat two-piece part of the implant that is attached to the tibia. It may have a plastic part that acts as a cushion between the tibial and femoral components.

Patellar component

is a plastic dome-shaped component that is resurfaced to match the shape of the patella. 
The plastic components of the implant are made of polyethylene, while the metal component is usually made of cobalt-chromium, titanium, zirconium, and nickel. Knee implants can be categorized into four categories based on what they are made of:
Metal on plastic

Ceramic on plastic

Ceramic on ceramic

Metal on metal
Your orthopedic surgeon will discuss your treatment and prosthetic options with you and help you decide the best prosthesis for you.
What to expect after total knee replacement surgery?
Proper recovery and rehabilitation are crucial for the success of total knee replacement. If the patient doesn't take proper care during this period, the surgery can fail. Rehabilitation generally lasts for 12 weeks, but can take longer, if needed.
You will start walking with support from an assistive device like a walker, crutches, cane, etc., immediately after the surgery. Most patients are discharged within 1-3 days of the surgery, based on the type of surgery, type of implant, etc. 
You may have to wait 5-7 days before showering and 3-4 weeks before swimming, bathing, etc., to avoid soaking the wound. You may be able to start walking without support after 2-3 weeks. You will notice significant improvement in joint strength and range of motion within 4-6 weeks. Mild exercises can be started around the 7-12 week interval.
What are the benefits of total knee replacement surgery?
Some common benefits of total knee replacement surgery are:
It will return mobility to the affected joint. In patients who have become completely bedridden due to degeneration of both knee joints, it can provide a new lease on life.

It will enable the patient to perform realistic activities like walking, swimming, golf, driving, light hiking, biking, ballroom dancing, and other low-impact sports.

It will provide long-term relief from knee joint pain and inflammation to the patient for a better quality of life.
How to improve recovery after total knee replacement?
5 tips to help you promote your healing and reduce recovery period:
Keep the operated knee joint straight. Wear a knee brace to prevent any unnecessary strain. Use a crutch or wheelchair whenever possible.

Follow your physiotherapy routine, as approved by your physiotherapist and surgeon.

Avoid strenuous activities like running, gym exercises, lifting heavy objects, etc. to avoid straining the prosthetic before it has healed completely.

Avoid twisting your knee. Be careful while bending, kneeling, and sitting.

Don't schedule any other procedures before you have recovered completely.

Avoid smoking and drinking during the recovery period. Alcohol can react with pain medications and cause postoperative complications, and smoking can delay the healing process.

Use ice packs to massage the operated area to reduce postoperative swelling. On that has reduced, use heat packs for massaging to relax the joint muscle and ligament tissues and promote healing.

Eat a healthy diet to avoid constipation and boost the immune system.
Generally, outpatient physical therapy after knee replacement treatment lasts about 4 to 8 weeks. Your physiotherapy duration and requirement after total knee replacement surgery depends on:
The required range of motion of the joint

Patient's gait and mobility especially while using assistive devices.

Strength of the joint muscles

The amount of scar tissue

Post-operative inflammation
What are the risks and complications associated with total knee replacement surgery?
Although minimally invasive knee replacement surgeries are very safe, in rare cases, some complications that may occur are:
Anesthetic complications such as headache, nausea, drowsiness, sore throat

Heart attack or stroke

Infection or bleeding

Blood clots formation, i.e., deep vein thrombosis, pulmonary embolism, etc.

Failure to resolve pain and other symptoms

Nerve or artery damage

Allergic reaction to the implant or failure of implant to integrate
FAQs about Total Knee Replacement
What is the best age for total knee replacement surgery?
Most patients who undergo knee replacement surgery lie within the age bracket of 50-70 years. However, if they are healthy enough, even patients who are older can undergo the surgery successfully.
Will knee replacement completely treat arthritis?
Knee replacement surgery does not treat arthritis, instead it provides symptomatic management, i.e., it provides relief from symptoms like joint inflammation, stiffness, pain, etc.
Will I get complete joint mobility after total knee replacement?
TKR surgery provides significant improvement in joint mobility and function. However, it is not miraculous and you won't be able to perform joint movements you couldn't before joint degeneration, and other strenuous activities like running, playing extreme sports, etc.
How long does a knee prosthetic last?
If the patient takes proper care of themselves, performs appropriate physiotherapy, and leads a healthy lifestyle, their knee implants can easily last for over 30 years. 
Content Reviewed By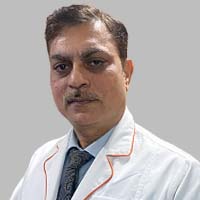 32 Years Experience Overall
Last Updated : This Week