Tummy Tuck: Diagnosis, Surgery, & Recovery
A tummy tuck is one of the most effective methods to get a flatter and more defined tummy (abdomen). If you wish to get rid of the excess fat and skin from the tummy region, get in touch with Pristyn Care and consult our expert plastic surgeons to plan tummy tuck surgery. Get advanced and safe treatment under the care of our expert surgeons. Book a consultation today.
A tummy tuck is one of the most effective methods to get a flatter and more defined tummy (abdomen). If you wish to get ... rid of the excess fat and skin from the tummy region, get in touch with Pristyn Care and consult our expert plastic surgeons to plan tummy tuck surgery. Get advanced and safe treatment under the care of our expert surgeons. Book a consultation today. Read More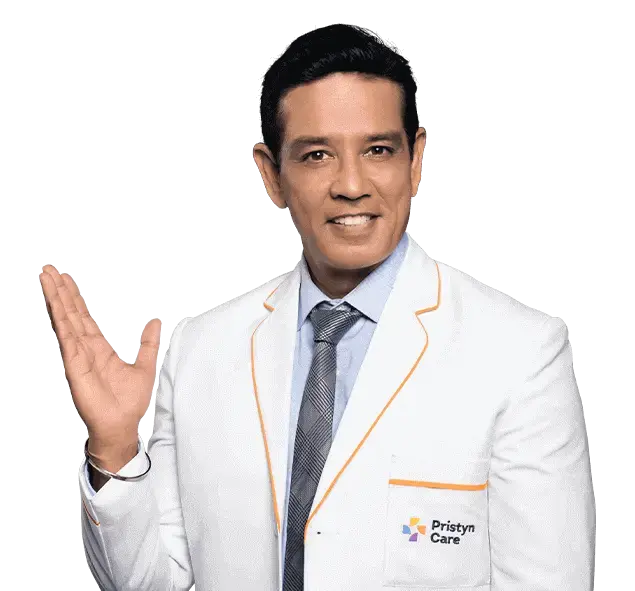 USFDA Approved Procedures
No Cuts. No Wounds. Painless*.
Insurance Paperwork Support
1 Day Procedure
About Tummy Tuck Surgery or Abdominoplasty
Tummy tuck is a surgery that flattens the abdomen by removing extra fat and skin and tightening muscles in the abdominal wall and the waistline. Your waistline plays a significant role in your physical appearance. Excessive fat accumulation, sagging skin, and poor elasticity, or weakened connective tissue in the abdomen can affect the appearance of your waistline. 
A tummy tuck could be an effective treatment for a person who has invested an extensive amount of time in reducing stubborn fats from the abdomen but sees no positive outcomes. Although most people confuse the treatment with liposuction, the two procedures are different. However, one may get liposuction and a tummy tuck.
A tummy tuck, also known as abdominoplasty or belly fat reduction surgery, is becoming an increasingly common plastic surgery, with around 1,50,000 surgeries performed yearly. In 2020, around 28,566 tummy tuck procedures were performed in India successfully.
Surgery name
Abdominoplasty
Treated by
Plastic surgeon
Types of Tummy Tuck Surgery
There are various types of tummy tuck surgery, and each of them allows the surgeon to focus on specific body parts to deliver the best outcome in terms of contouring and reshaping the abdominal region. People who wish to undergo tummy tuck can choose among the following options to get the desired results. 
Full Tummy Tuck:

A full tummy tuck, also known as an abdominoplasty, is a comprehensive procedure that addresses both the upper and lower abdomen. It involves making a horizontal incision above the pubic area and another around the navel to tighten the abdominal muscles, remove excess skin, and eliminate fat deposits. This type of tummy tuck is ideal for individuals with significant loose skin and muscle laxity throughout the abdominal area.

Mini Tummy Tuck:

A mini tummy tuck is a less extensive version of the full tummy tuck. It targets the lower abdomen below the navel and is suitable for individuals with minimal excess skin or muscle laxity in that area. The incision is smaller than in a full tummy tuck, and the belly button is usually not repositioned. This procedure is often chosen by those who want a more targeted treatment or have less extensive concerns.

Extended Tummy Tuck: An extended tummy tuck is similar to a full tummy tuck but with an extended incision that reaches around the hips. It is designed for individuals who have excess skin and fat that extends beyond the abdomen, particularly on the flanks or love handle area. This procedure allows for more significant body contouring and can provide improved results for those with excess skin in the hip and flank regions.
Fleur-De-Lis Tummy Tuck: The fleur-de-lis tummy tuck is typically performed on individuals who have undergone significant weight loss or have excessive loose skin in the vertical as well as horizontal directions. It involves an incision made in a vertical and horizontal pattern, resembling the shape of a fleur-de-lis. This technique allows for greater removal of excess skin and is suitable for patients with a significant amount of loose skin in the midsection.
Drainless Tummy Tuck: The drainless tummy tuck is a modification of the traditional tummy tuck procedure. In a drainless tummy tuck, techniques such as progressive tension sutures are used to minimize the need for drains post-surgery. This approach aims to improve patient comfort and reduce the risk of complications associated with drains. However, not all patients are suitable for a drainless tummy tuck, and the decision should be made in consultation with a plastic surgeon.
Tummy Tuck with Liposuction: Tummy tuck surgery can be combined with liposuction to achieve more comprehensive results. Liposuction is performed to remove excess fat from areas surrounding the abdomen, such as the hips, flanks, or waist, in addition to the tummy tuck procedure. This combined approach allows for better body contouring and sculpting, addressing both excess skin and localized fat deposits.
Non-Surgical Tummy Tuck: Non-surgical tummy tuck refers to non-invasive or minimally invasive procedures that aim to improve the appearance of the abdomen without surgical intervention. These procedures may involve techniques such as radiofrequency, laser therapy, or ultrasound to tighten the skin and reduce fat. Non-surgical tummy tucks generally have less downtime and are suitable for individuals with mild to moderate concerns who prefer a non-surgical option.
The suitability of each type of tummy tuck surgery depends on individual factors, such as the extent of the concern, the amount of loose skin and fat, and the patient's overall health. The plastic surgeon determines the most appropriate technique based on the individual's specific needs. 
Pristyn Care's Free Post-Operative Care
Diet & Lifestyle Consultation
Post-Surgery Follow-Up
Free Cab Facility
24*7 Patient Support
Who Should Consider Tummy Tuck?
Tummy tuck surgery, or abdominoplasty, is typically considered by individuals who have specific concerns related to their abdominal area. Here are some factors that may indicate that someone should consider a tummy tuck:
Excess Skin and Sagging: Individuals who have lost a significant amount of weight, either through weight loss efforts or after pregnancy, may be left with loose, hanging skin around the abdomen. A tummy tuck can remove this excess skin, providing a smoother and firmer abdominal contour. 
Muscle Laxity: Pregnancy or significant weight fluctuations can lead to weakened or separated abdominal muscles, resulting in a protruding belly or "pooch." Tummy tuck surgery can tighten and repair these muscles, helping to restore a flatter and more toned abdominal profile.
Stubborn Fat Deposits: Some people may have localized pockets of fat in the abdominal area that are resistant to diet and exercise. While a tummy tuck primarily addresses excess skin and muscle laxity, it can be combined with liposuction to remove these stubborn fat deposits and further enhance the overall contour of the abdomen. 
Postpartum Changes: Pregnancy can cause significant changes to a woman's abdominal area, including stretched skin, weakened muscles, and stretch marks. Women who have completed their family planning and wish to restore their pre-pregnancy abdominal appearance may consider a tummy tuck as a way to address these concerns.
Overall Body Contouring: Tummy tuck surgery is often part of a comprehensive body contouring plan for individuals who have undergone significant weight loss, such as after bariatric surgery. It can be combined with other procedures like thigh lift, arm lift, or breast lift to achieve a more proportionate and aesthetically pleasing body shape.
It's important to understand that tummy tuck is a major surgery and should be considered after consulting a certified and experienced plastic surgeon. 
Why Choose Pristyn Care?
| Benefit | Others | Pristyn Care |
| --- | --- | --- |
| Cuts | Multiple | Minimal |
| Blood Loss | Maximum | Minimal |
| Scars & Stitches | Yes | Minimal |
| Recovery | Low | High |
| Follow Up Consultation | No | Yes |
| Technology | Traditional | Advanced |
| Hospital Duration | Long | Short |
| No Cost EMI | No | Yes |
Diagnosis Before Tummy Tuck
Before undergoing a tummy tuck surgery, a thorough evaluation and diagnosis are necessary to ensure that the procedure is appropriate and safe for the individual. Here are some key aspects of the diagnosis process: 
Physical Examination: A plastic surgeon will conduct a physical examination of the abdomen to assess the amount of excess skin, the degree of muscle laxity, the presence of hernias, and the overall condition of the abdominal area. He/she will also evaluate the surrounding areas, such as the hips and flanks, to determine if additional procedures like liposuction may be beneficial.
Medical History: The surgeon will review the patient's medical history, including any previous surgeries, medical conditions, current medications, allergies, and previous experiences with anesthesia. This information is crucial in assessing the patient's overall health and identifying any potential risk factors or contraindications for the procedure. 
Imaging and Tests: In certain cases, additional diagnostic tests may be required. These can include imaging tests like ultrasound or MRI to assess the extent of muscle separation or the presence of hernias. Blood tests and other laboratory investigations may also be performed to evaluate the patient's overall health and assess their candidacy for surgery.
The surgeon will discuss the individual's goals and expectations to determine the safest and most effective treatment plan. Before proceeding, the surgeon also advises the patient to maintain a stable weight. Women are asked about their family plans and recommended that they don't get the surgery if they are planning to get pregnant in the near future as it can compromise the results of the treatment.
Tummy Tuck Surgery
Tummy tuck means tucking the tummy region to make it look thin and flat. The procedure involves the removal of excess body fat and skin to restore the weakened and separated muscles of the abdominal profile. Many people relate the procedure to abdominal liposuction, which is an entirely different procedure. That's why it is important to learn about the procedure. 
Benefits of Tummy Tuck Surgery
Preparation Before Tummy Tuck
Here are some of the essential points that the patient needs to keep in mind while preparing for a tummy tuck surgery:
Eat Healthy – Modify the meals and make them well-balanced. Include a lot of proteins in the diet, and stay hydrated.

Stay Physically Active – Don't give up on exercise only because the treatment is planned. Mild exercise can improve the looseness or laxity of the tummy. 

Stop Smoking: Smoking hampers the blood supply to the skin and may complicate the outcome of the surgery. Not quitting smoking may affect the outcome of the surgery and delay the healing process. 
Eat a Healthy Diet – Take a balanced and healthy diet that improves the body's healing abilities and provides the necessary nutrients to improve metabolism. 

Take Enough Time Off – Take at least 2 weeks off from work and other activities to rest and heal. 

Practice Fasting on the Day of Surgery – Don't eat or drink anything on the day of surgery 6 to 8 hours before the surgery. 
The patient should also prepare the home for the recovery period. He/she will likely need ice packs, loose and comfortable clothing, a bathroom chair, petroleum jelly, etc., while resting and healing at home. 
Tummy Tuck Procedure
There are different types of tummy tuck, and the steps of each may differ slightly from the other one:
Full tummy tuck
A small umbilical incision is made that is not externally visible.

The doctor positions a low, short waistline incision that generally gets hidden by clothes.

The plastic surgeon removes the necessary skin from the abdominal wall and tightens the abdominal muscles.
Mini Tummy Tuck
A mini tummy tuck ideally addresses the lower abdomen or the area below the belly button. The steps of a mini tummy tuck involve:
A small horizontal incision is made between the hip bones.

The excess sagging skin is removed, and the underlying abdominal muscles are tightened.
Extended tummy tuck
An extended tummy tuck can be an effective treatment for patients that have lost substantial weight and are looking for a treatment that can refine the contours of the stomach and flanks.
The plastic surgeon makes an incision between the hip bones. The scar might be reopened if an extended tummy tuck is performed after a C-section.

The muscles that have been separated are sewn together to give a full-taut appearance.

If there is any extra fat, the surgeon may perform liposuction along with the procedure. To do this, the doctor first removes the belly button.

The belly button is stitched in the original place unless the surgeon sees no need to change the shape.
In general, a tummy tuck will take around 2-3 hours to complete. But the exact duration will vary for different types of tummy tuck surgery. 
What to Expect After Tummy Tuck? 
Immediately after the surgery, the patient will be kept under observation for a couple of hours. The surgical site will be covered with an elastic bandage or a compression garment to reduce the swelling. 
Small tubes or drains will also be placed under the skin to drain excess blood or fluid that may collect after the surgery. Besides these, the patient can expect- 
The surgery is performed on an outpatient basis which means the patient will get discharged on the same day. Before discharge, the doctor will provide a detailed recovery guide with specific instructions that the patient must follow for optimal results.
Tummy Tuck Surgery Side Effects & Potential Complications
Like any surgical procedure, tummy tuck surgery has potential side effects and risks. While the side effects are temporary and resolve within a few days or weeks, some patients may experience serious complications that may require further intervention. 
Pain and Discomfort: Following the procedure, it is common to experience pain, swelling, bruising, and discomfort in the abdominal area. This can be managed with prescribed pain medications and usually improves gradually over time. 
Infection: Infections can occur after any surgical procedure. Proper preoperative preparation, sterile techniques, and postoperative wound care are essential in reducing the risk of infection. Still, a patient may develop symptoms of infection, including redness, swelling, increased pain, fever, and discharge after the surgery. If so, prompt medical attention and treatment with antibiotics may be necessary.
Hematoma: A hematoma is a collection of blood under the skin that can occur after surgery. It may cause swelling, pain, and a bruise-like appearance. If a hematoma is large or causing discomfort, it may need to be drained.
Seroma: A seroma is a buildup of fluid under the skin, resulting in swelling. It can occur after a tummy tuck and may require aspiration (fluid removal with a needle) to alleviate the swelling. Compression garments or drains may be used to help prevent or manage seromas.
Poor Wound Healing: Some individuals may experience delayed wound healing or wound separation. This can be influenced by factors such as poor circulation, smoking, diabetes, or other underlying health conditions. Following postoperative instructions, maintaining proper wound care, and leading a healthy lifestyle can help minimize the risk of wound-healing complications.
Skin Sensation Changes: Temporary or permanent changes in skin sensation, such as numbness or hypersensitivity, may occur in the abdominal area or around the incision sites. These changes often improve over time but may persist and require proper attention. 

Blood Clots: Surgery, particularly when combined with immobility, carries a risk of blood clots (deep vein thrombosis). To reduce the risk, the doctor will recommend early mobilization, compression stockings, and blood-thinning medications.

Scarring: Tummy tuck surgery involves incisions, resulting in scars. The size and visibility of the scars will vary depending on the surgical technique used. While efforts are made to place incisions discreetly, scars may be noticeable initially. However, they typically fade and become less prominent over time.
Anesthesia Risks: General anesthesia carries its own risks, including allergic reactions, respiratory issues, or adverse reactions to medications. An experienced anesthesiologist will closely monitor patients during surgery to minimize these risks.
To reduce the risk of complications after a tummy tuck, it's crucial to choose an experienced plastic surgeon. He/she will identify the potential risks and take the necessary measures to mitigate them.
Recovery After Tummy Tuck Surgery
The tummy tuck recovery timeline varies for each patient depending on the extent of the procedure and the patient's healing abilities. Typically, a patient will need around 4 to 6 weeks to recover completely after a full tummy tuck and 3 to 4 weeks after a partial or mini tummy tuck. 
The tummy would be swollen and bruised immediately after the surgery. The patient needs to wear a compressive corset during this time. After getting home, the patient should get plenty of rest for the first few days to allow for proper healing. Here are a few dos and don'ts that a person needs to follow during recovery.
Dos after tummy tuck surgery
Choose a diet that is rich in fiber to avoid constipation.

Bend your knees while sleeping. Sleeping flat can cause discomfort to anyone who has just had a tummy tuck.

Walk for at least a few minutes every day. You may start with just a few steps around the house.
Don'ts after tummy tuck
Do not walk with your back straight. Walking straight may put pressure on the incisions.

Do not laugh, cough or sneeze too hard. It can rupture the incisions and cause discomfort.

Avoid hot showers or baths. Although it may seem relaxing, hot water can increase the chances of infections at the surgery site.

Avoid strenuous physical activities. Even if you feel that you have recovered, the internal wound might still need time to heal completely.
Diet After Tummy Tuck Surgery
The postoperative diet following a tummy tuck surgery (abdominoplasty) plays a crucial role in the healing process and overall recovery. Here are some general dietary guidelines that are often recommended by the doctor:
Drink plenty of water, as adequate hydration is essential for proper healing and overall health. Water will keep the body hydrated and help to flush out toxins from the body. 

In the initial stages of recovery, take a clear liquid diet consisting of water, broth, clear juices, and herbal tea. It helps to keep you hydrated and provides essential nutrients.

Gradually progress to a full liquid diet, including smoothies, yogurt, soups, protein shakes, and other liquids that provide more sustenance and nutrients.

Incorporate soft foods in the diet that are easy to chew and digest, such as mashed potatoes, scrambled eggs, cooked vegetables, and blended soups. Avoid foods that are too spicy, fibrous, or difficult to digest.

Gradually introduce solid foods into the diet and focus on eating a balanced diet, including lean protein, fruits, vegetables, whole grains, and healthy fats. These nutrients are essential for healing and recovery. 

Avoid foods that may cause bloating or discomfort during the healing process. Such foods include carbonated beverages, spicy foods, greasy or fatty foods, and foods known to cause gas. Pay attention to the body's response and avoid foods that exacerbate discomfort.

Instead of large meals, consider eating smaller, more frequent meals throughout the day. This can help prevent overeating, aid digestion, and provide a steady supply of nutrients.
These dietary guidelines will help to improve the body's healing abilities to make the recovery quick and smooth. 
Tummy Tuck Surgery Cost in India
The average cost of tummy tuck surgery in India ranges from Rs. 1,00,000 to Rs. 1,50,000. The exact cost of the treatment varies for each patient due to the following factors- 
The type of tummy tuck 

Surgeon's fee 

Anesthesia charges 

Diagnostic tests and evaluations

Choice of hospital 

Hospitalization expenses 

The city where the patient lives 

Post-surgery care and follow-up consultations 
All these factors influence the cost of Tummy Tuck Surgery. To get a closer estimate, it'll be best to have a consultation with an experienced plastic surgeon and get an estimate of abdominoplasty surgery cost in India. 
Non-Surgical Tummy Tuck Options
While a traditional tummy tuck surgery (abdominoplasty) is an effective way to address excess skin and muscle laxity in the abdominal area, there are also non-surgical options available for individuals who prefer a less invasive approach. Here are some non-surgical tummy tuck options:
Body Contouring Treatments Non-surgical body contouring treatments can help tighten the skin and reduce fat in the abdominal area. These treatments use various technologies to target and reduce fat cells and stimulate collagen production. Some popular body contouring treatments include:
Injectable Treatments
Injectable treatments like dermal fillers and injectable skin tighteners can help improve the appearance of the abdominal area. Dermal fillers can add volume to sunken or hollow areas, while injectable skin tighteners stimulate collagen production and improve skin elasticity.
While non-surgical options can provide some improvement, they may have limitations compared to a surgical tummy tuck. The results may be more subtle and temporary, and they may not be suitable for individuals with significant excess skin or muscle laxity. In such cases, tummy tuck surgery will be more suitable for the individual.
Frequently Asked Questions
Is tummy tuck safe?
A tummy tuck is a very safe and trusted procedure that helps to achieve a smooth and flat belly that one can confidently flaunt.
Is a tummy tuck painful?
No, Tummy tuck surgery itself is not painful at all, as you'll be under anesthesia. However, once the anesthesia wears off, you may feel mild to moderate pain, which will steadily improve. You will be prescribed painkillers to manage the pain and discomfort.
How long does tummy tuck surgery take?
A full tummy tuck may take two to three hours. But from preparing for the tummy tuck to completing the surgery, the time might increase a little.
How long should I wear a bandage after a tummy tuck?
Following a tummy tuck, surgeons recommend patients wear bandage and compression garments for at least 6 to 8 weeks. The patient should wear the bandage throughout the day.
What is the difference between a tummy tuck and liposuction?
A tummy tuck surgery reconstructs the underneath muscles and removes excess skin. On the other hand, liposuction is excess fat removal surgery. Liposuction does not treat excess hanging, loose or sagging skin.
Can I get pregnant after a tummy tuck?
Yes, women can safely get pregnant and give birth following a tummy tuck procedure. It is only necessary to ensure that the body has completely recovered from the trauma of undergoing the tummy tuck surgery.
Does tummy tuck scars go away?
Similar to all surgical scars, tummy tuck scars never go away completely. They do fade away after 6 months or a year. To make them completely disappear, techniques like skin grafting may be used.
What are the risks associated with belly fat removal surgery?
Like any other surgery, there are several risks and potential complications associated with the tummy tuck procedure. Some of the risks involved in tummy tuck surgery are:
scarring
swelling and pain around the surgery area
skin discolouration
seroma
bleeding under the skin flap
loss of skin sensation
Is tummy tuck surgery covered under insurance?
Tummy tuck surgery is not considered a medically-necessary treatment. Hence, most insurance policies do not cover the surgery cost under insurance. However, you should still check with your insurance provider since everyone's circumstances differ.
How to choose the best plastic or cosmetic surgeon for a tummy tuck?
To choose the best plastic or cosmetic surgeon for a tummy tuck, you need thorough research and consideration. Here are some tips you can use: 
Look for a surgeon who has board certification and extensive experience performing tummy tuck surgeries and specializes in body contouring procedures. 

Review before and after photos of their previous patients to assess the quality of their work.

Schedule consultations with multiple surgeons to discuss your goals, concerns, and expectations.

Assess their communication style, attentiveness, and the level of comfort and trust you feel with them.

Ensure that the surgical facility where the procedure will be performed is accredited and meets the necessary safety standards.

During the consultation, don't hesitate to ask questions about the surgeon's training, experience, complication rates, and the specific technique they recommend for your case. A reputable surgeon will provide transparent and informative answers.
Does health insurance cover tummy tuck cost in India?
In most cases, health insurance in India does not cover the cost of a tummy tuck. Insurance typically considers it a cosmetic procedure rather than a medically necessary one. However, it is advisable to talk to the insurance provider to understand the policy and its terms and condition regarding coverage options. 
How painful is a tummy tuck recovery?
Tummy tuck recovery involves some discomfort and pain, which can vary from person to person. It is normal to experience soreness, swelling, and bruising in the abdominal area. The surgeon will prescribe pain medications to manage the postoperative pain. Over time, the pain will gradually subside, and most patients find that the discomfort becomes more manageable within a few weeks.
Does tummy tuck really work?
Yes, a tummy tuck (abdominoplasty) is an effective procedure for addressing excess skin, tightening the abdominal muscles. It can produce significant improvements in the appearance and contour of the abdominal area. However, the results may vary for each individual. 
Can I get a tummy tuck after a C-section?
Yes, it is possible to have a tummy tuck after a C-section. In fact, a tummy tuck can often address the changes in the abdominal area that occur as a result of pregnancy and C-section deliveries.
How long does a tummy tuck take?
Generally, a tummy tuck surgery takes around 2 to 5 hours to complete. The duration of a tummy tuck procedure can vary depending on the complexity of the case, the extent of the surgery, and whether additional procedures, such as liposuction, are performed.
Can I have liposuction and tummy tuck at the same time?
Yes. In most cases, liposuction and tummy tuck are performed at the same time. Often, patients have fat tissues and skin tissues that need removal to create a flatter tummy. And the best results can be achieved when both techniques are used coherently.
What is the average downtime after tummy tuck surgery?
On average, you will have to take 2-3 days off for complete bed rest. Within 4-5 days, you will be able to perform normal activities. After 10 days, you can resume work-related activities only if your work doesn't involve strenuous physical activity. 
Can I get a tummy tuck twice?
Yes, it is possible to have a second tummy tuck. However, the option may not be available for all patients. The decision is usually made by the doctor after a proper evaluation of the patient's overall health and the results of the first tummy tuck.
Can I have babies after a tummy tuck?
Ideally, you should not have a baby within 2 years of having a tummy tuck surgery. You can get pregnant, but the pregnancy will compromise the results of the abdominoplasty. The abdominal muscles will start to stretch and become wide enough to accommodate the growing fetus. Thus, it is always advised by the doctor that a female patient should undergo surgery after she's done having children.
Our Patient Love Us
Pristyn Care's tummy tuck treatment was a life-changing experience for me. Dealing with excess skin and stubborn fat on my abdomen was a constant struggle, but their cosmetic surgery team was incredibly supportive and understanding. They recommended a personalized treatment plan to address my concerns effectively. The tummy tuck surgery was performed with great care, and Pristyn Care's post-operative care was exceptional. Thanks to them, I now have a flatter and more toned abdomen, and I highly recommend Pristyn Care for their expert cosmetic surgery

Choosing Pristyn Care for my tummy tuck treatment was a transformational decision. Their expert team's guidance and modern techniques were evident. The procedure was conducted with precision, and I've gained newfound body confidence. Pristyn Care truly excels in enhancing self-esteem.

I opted for a tummy tuck at Pristyn Care to address loose skin and excess fat after weight loss. The plastic surgeon did an amazing job, and my abdomen looks more toned now. The post-operative care was thorough, and the staff was supportive throughout. Thank you, Pristyn Care!

I had a tummy tuck at Pristyn Care, and I'm delighted with the outcome. The plastic surgeon understood my goals and delivered the best results. Pristyn Care's tummy tuck services are reliable, and I'm more confident in my appearance now.

I underwent a tummy tuck procedure at Pristyn Care, and it was a life-changing decision. The plastic surgeon's expertise and the caring staff made the process seamless. The results exceeded my expectations, and I finally feel more confident in my body. Pristyn Care is the best!

Choosing Pristyn Care for my tummy tuck surgery was the best decision. The doctors were not only highly experienced but also empathetic, putting my concerns first. They carefully explained the surgical process and ensured I had realistic expectations. Pristyn Care's team provided personalized post-operative care, ensuring a smooth healing process. They were attentive to my needs and provided valuable guidance during my recovery. Thanks to Pristyn Care, my tummy is now flatter and firmer, and I feel more confident and comfortable in my own skin. I highly recommend their services for tummy tuck surgery.