Advanced Hydrocele Surgery (Hydrocelectomy) in India
A hydrocele can become problematic or even burst if not treated on time. Get safe and minimally painful hydrocele treatment from the best doctors in India. We provide treatment for unilateral and bilateral hydrocele at an affordable cost.
A hydrocele can become problematic or even burst if not treated on time. Get safe and minimally painful hydrocele treatment from the best doctors ... in India. We provide treatment for unilateral and bilateral hydrocele at an affordable cost. Read More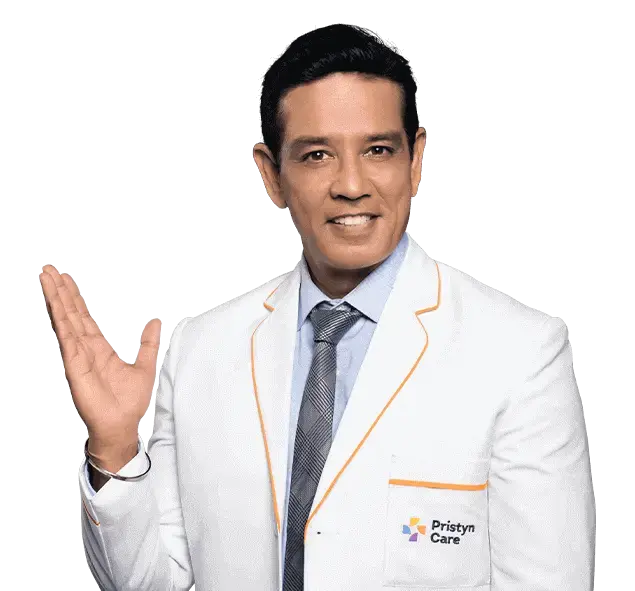 USFDA Approved Procedures
No Cuts. No Wounds. Painless*.
Insurance Paperwork Support
1 Day Procedure
What is Hydrocele?
A hydrocele is a type of swelling in the scrotum or the pouch of skin that holds the testicles. This swelling generally occurs when the sac surrounding the testicles fills with fluid. Hydrocele often isn't painful or harmful and can be left alone if it does not cause any symptoms. However, if your scrotum looks swollen, it is essential to consult your healthcare provider about it. Hydroceles are common among newborn babies and usually resolve on its own by age 1. But hydrocele can also occur in adults due to an injury within the scrotum or other health problems. 
Contact us at Pristyn Care and book a consultation with highly experienced urologists near you. Undergo effective and minimally invasive hydrocele surgery with Pristyn Care.
Diagnosis of Hydrocele
Before treatment, your urologist will likely perform a series of simple diagnostic tests. These tests are generally performed to determine the severity of your hydrocele and assess your overall health. To diagnose hydrocele, your doctor will perform a simple physical examination. 
If you have hydrocele, your scrotum will look swollen. Your urologist will also ask some questions regarding your medical and surgical history and if you have any pre-existing medications. Your surgeon may also enquire about any injuries you may have suffered around the scrotum that could have caused your hydrocele. Alongside, to better understand your condition, your urologist may also perform some tests such as:
Transillumination:

Transillumination is a simple test in which a light source is placed against the scrotum to detect the composition of hydrocele. If there is presence of fluid in the scrotum, the light will pass through this fluid and cause your scrotum to light up. However, if scrotal swelling is due to a solid mass, the light will not pass through the scrotum.

Ultrasound:

In some cases, an ultrasound may be performed to confirm the diagnosis and evaluate the size and characteristics of the hydrocele. Ultrasound is an imaging test that uses sound waves to make pictures of organs, tissues other structures inside your body.

Routine blood test:

In some cases, hydrocele can be caused by infections such as syphilis and epididymitis

.

A blood test will help your urologist detect such an infection and provide relevant treatment. 
Pristyn Care's Free Post-Operative Care
Diet & Lifestyle Consultation
Post-Surgery Free Follow-Up
Free Cab Facility
24*7 Patient Support
Hydrocele Treatment
Surgical Treatment of Hydrocele
A hydrocele surgery, medically termed hydrocelectomy, is generally considered a safe and effective treatment for hydrocele. It is a surgical procedure that involves making an incision in the scrotum or lower abdomen to drain any accumulated fluid. There are primarily two methods of performing a hydrocelectomy: 
Laparoscopic Hydrocelectomy:

A laparoscopic hydrocelectomy is an advanced and minimally invasive hydrocele repair surgery. Unlike traditional methods, laparoscopic hydrocelectomy involves making a small incision in the abdomen. Your surgeon will then use this incision to insert small, specially designed surgical tools and a laparoscope, a thin, flexible tube with a camera attached to it, to visualize the internal structure of the scrotum on a monitor. 
Once the instruments are in place and your surgeon has a clear view of the hydrocele sac, they will carefully drain the hydrocele sac of any fluids. Your urologist may excise and remove the sac to prevent the fluid from accumulating again. The entire procedure is performed under general anesthesia, meaning you will be asleep throughout the procedure. 
Open Hydrocelectomy:

In this procedure, the surgeon makes an incision in the scrotum or groin area to drain the fluid via suction. The surgeon then closes the communication between the abdominal cavity and the scrotum. Similar to laparoscopic hydrocelectomy, your hydrocele specialist may remove the sac or stitch it close to prevent recurrence. After the hydrocele sac has been addressed, the incision is closed using sutures or surgical staples. 
The procedure for open hydrocelectomy is very similar to laparoscopic hydrocele operation. The key difference between the two procedures is the size of the incision being made. The incision size for a laparoscopic hydrocelectomy is smaller as compared to the incision made for open hydrocelectomy.
Non-Surgical Treatments for Hydrocele
While hydrocelectomy is generally considered to be an effective treatment for hydrocele, your urologist may use some non-surgical methods before considering surgery. Some non-surgical treatments for hydrocele are given below:
Needle Aspiration and Sclerotherapy:

Aspiration and sclerotherapy is a commonly used non-surgical treatment for unilateral and bilateral hydrocele. In this procedure, your surgeon will attempt to drain the fluid from the hydrocele using a needle and syringe. This process is called aspiration. Once the fluid is removed, a sclerosing agent (such as a medication or chemical irritant) may be injected into the hydrocele sac to promote its closure and prevent recurrence. 

'Wait-and-see' Approach:

 If the hydrocele is small and not causing discomfort, your healthcare provider may recommend a "wait-and-see" approach. This involves regular monitoring to ensure the hydrocele does not worsen or cause complications. In some cases, hydroceles may resolve on their own without any intervention.
Home Remedies for Hydrocele 
To help relieve and manage some of the symptoms you may be experiencing due to hydrocele, your urologist may recommend some home remedies such as:
Draining the Hydrocele through Epsom salts:

Taking Epsom salt baths at least twice or thrice a week can help relieve the hydrocele's tenderness, soreness, and pain. Additionally, Epsom salt baths can help improve blood circulation in the scrotum.

Black Pepper and Cumin Paste:

Applying a paste made of black pepper and cumin powder is another commonly used remedy for hydroceles. The paste can help relieve pain and inflammation caused by the hydrocele temporarily.

Ice Packs:

If the pain and soreness become intense, your urologist may suggest the use of ice packs or cold compress. Cold compression can help relieve some pain and reduce scrotal swelling. 

Black Tea:

Black tea can significantly help you relieve hydrocele symptoms. Black tea can help soothe the pain and swelling caused by the hydrocele. 

Supportive Measures:

Wearing snug or supportive underwear or jockstrap can help provide some support to the scrotum and help relieve some symptoms related to hydrocele. This can also help reduce the sensation of heaviness or dragging associated with large hydroceles. 
Why Choose Pristyn Care?
| Benefit | Others | Pristyn Care |
| --- | --- | --- |
| Cuts | Multiple | Minimal |
| Blood Loss | Maximum | Minimal |
| Scars & Stitches | Yes | Minimal |
| Recovery | Low | High |
| Follow Up Consultation | No | Yes |
| Technology | Traditional | Advanced |
| Hospital Duration | Long | Short |
| No Cost EMI | No | Yes |
Recovery After Hydrocele Operation
On average, complete recovery after a hydrocele surgery can take anywhere from 2-3 weeks after surgery. However, most patients can return to their daily life within just 2 days after the procedure. The exact recovery time will likely vary depending on your overall health and the quality of postoperative care. During your recovery period, it is essential to follow some simple tips and guidelines to promote recovery and minimize the chances of any postoperative complications. Some guidelines and precautions that your surgeon may recommend include:
Avoid Strenuous Exercises:

After your hydrocele surgery, it is best to avoid any strenuous exercises such as bicycling, jogging, weight lifting, or swimming for at least 2-3 weeks. Such exercises can exert excessive pressure on your scrotal region and further irritate the area. 

Stay Active:

While strenuous exercises should be avoided, it is still important to stay active after your hydrocele surgery. Perform low-impact exercises such as walking or Yoga. Such exercises ensure proper blood flow and help recovery. 

Eat Light and Healthy Food:

Incorporate fiber-rich foods such as beans, broccoli, berries, brown rice, and nuts. Such foods are easy to digest and ensure a smooth recovery. Try to avoid heavy and greasy foods. Excessive consumption of such foods can cause constipation and hinder proper bowel movements, thereby causing strain in the scrotum. 

Keep Yourself Hydrated:

Make sure to drink plenty of water and always stay hydrated. Dehydration can impair the healing process and may slow down recovery. It is advised to drink at least 7-8 glasses of water every day.

Maintain Good Scrotal Hygiene:

Keep the scrotal region clean and avoid using water to clear the scrotum for at least 48 hours after hydrocele surgery. After 48 hours, gently wash the area using mild soap and warm water. Avoid using any alcohol or hydrogen peroxide-based products. They can slow down your recovery process and may cause irritation.

Avoid Tight-Fitting Clothes:

Avoid wearing clothes that are too tight or cause discomfort around the groin area. Instead, wear loose-fitting clothes that provide adept support to the scrotum. Wearing a jockstrap may also help you reduce any discomfort. 

Refrain From Sexual Activity:

Refrain from sexual activities or sexual intercourse for at least 3-4 weeks after hydrocele surgery. It is best to consult with your urologist before engaging in sexual intercourse, even after your recovery period.
Benefits of Laparoscopic Hydrocelectomy
Alongside its ability to effectively treat hydrocele in men, laparoscopic hydrocelectomy offers several benefits compared to traditional methods. Some benefits of laparoscopic hydrocelectomy are given below:
Minimally Invasive:

Laparoscopic hydrocelectomy is an advanced and minimally invasive hydrocele surgery. It involves making small incisions instead of large, open incision. This results in less trauma to the surrounding tissues, reduced scarring, and decreased postoperative pain.

Less Recovery Time:

Due to its minimally invasive nature, laparoscopic hydrocelectomy requires less recovery time as compared to open hydrocele surgery. The smaller incisions result in less tissue trauma, leading to a shorter hospital stay and a quicker return to normal activities and lifestyles.

Better Visualization:

A laparoscope is a thin, tube-like medical instrument with a light source and a high-resolution camera at the tip. A laparoscope gives the surgeon a better, magnified view of the surgical site. This enhanced visualization allows the hydrocele procedure to be more precise and meticulous. 

Reduced Risk of Complications:

Laparoscopic hydrocele surgery is generally associated with a reduced risk of postoperative complications such as infection, bleeding, and wound healing problems. 

Better Cosmetic Outcome:

The smaller incisions used in laparoscopic hydrocele surgery result in smaller scars, which can be less noticeable and cosmetically preferable compared to the larger incisions required in open surgery.
Preparation Before Hydrocele Surgery
Before your hydrocele treatment, following the preoperative preparations and guidelines recommended by your urologist is important. The exact preparations and guidelines will likely vary depending on your overall health and other factors. Some common preparations that are usually recommended before a hydrocele procedure include:
Refrain from eating or drinking anything at least 6 hours before the hydrocele operation. 

Inform your surgeon about any medications or supplements you may be taking. You can continue taking them as prescribed, but your urologist may instruct you to stop taking certain medications before the surgery.

Refrain from smoking for at least 48-72 hours before the surgery. Smoking can impair healing and increase the risk of complications during or after surgery. 

Make sure to have an empty bowel before arriving at the hospital. Your healthcare provider will likely provide detailed instructions if bowel preparation is necessary. 

Hydrocelectomy is usually performed under general anesthesia, and you may face some side effects such as nausea, sleepiness, or blurred vision. It is important to arrange for someone to drive you home or accompany you in a cab after your hydrocele operation. 

Make sure to take a shower before arriving at the hospital. Use antiseptic soap to clean your scrotum and groin area thoroughly. Avoid the use of lotions or creams. It is advisable to wear loose-fitting, comfortable clothes. 
Potential Risks and Complications
While complications of any kind after a hydrocele repair surgery are rare, they can still happen and should not be taken lightly. Some potential complications that may occur after your hydrocelectomy surgery are given below:
Excessive bleeding

Abnormal healing

Infection

Mass of clotted blood or hematoma

Swelling or bruising

Formation of scar tissue

Recurrence

Complications from anesthesia
If you are facing any persistent side effects that worsen over time or notice any odd symptoms during recovery, it is advised to inform your healthcare provider about them. These could be signs of potential complications and require prompt medical attention.
What is the Average Hydrocele Surgery Cost in India?
On average, hydrocele surgery costs in India can range anywhere from Rs. 30,000 to Rs. 80,000. The exact surgery cost, however, is likely to vary depending on various factors. Some common factors that may affect hydrocele operation costs in India are:
Consultation charges 

Operating charges

Hospital charges

Cost of preoperative diagnostic tests

Cost of postoperative medications and follow-ups.  
Is Hydrocele Surgery Covered by Insurance?
Yes, a hydrocelectomy is generally covered by most health insurance plans in India as it is generally deemed a medical necessity. Hydrocele can significantly affect a patient's daily life and, if left untreated, may also lead to serious complications. Additionally, hydrocele treatment is considered a standard medical procedure and is recognized by medical professionals as a necessary intervention to treat the condition. Therefore, health insurance companies are required to cover hydrocelectomy costs under Affordable Care Act (ACA).
Prior to surgery, it is advised to have a detailed discussion about your insurance plan and its inclusions and exclusions with your insurance provider. If you still have any queries, you can also get in touch with our insurance team at Pristyn Care for further assistance.
What happens if hydrocele is left untreated?
Hydroceles are generally harmless and don't pose any serious risks. However, if your hydrocele is symptomatic, it is important to consult with your healthcare provider as soon as possible. If left untreated for a prolonged period, some complications that may arise are given below:
Rupture of the Hydrocele:

If left untreated, the fluid accumulated in the scrotum may increase. Over time, it could exert excessive pressure on the scrotum. The hydrocele may even rupture due to excessive pressure or strain. Such a complication can be dangerous to the overall health.

Formation of Hematocele:

Hematocele is a swelling caused by blood collection in a body cavity. Any injury or trauma around the scrotal region can cause spontaneous bleeding inside the sac. The formation of a hematocele around the scrotum can be severe and requires an immediate medical response from your healthcare provider. 

Fournier's Gangrene:

If left untreated, hydrocele can increase the risk of developing Fournier's gangrene. It is a rare bacterial infection that can occur on your scrotum, penis, or perineum and can be life-threatening. It often requires emergency care and management. 

Damage to the Testiscles:

Any injury to the testicles can lead to excess pressure on the testicles and may lead to testicular torsion (a condition where the spermatic cord within your scrotum becomes twisted). Testicular torsion is a very painful condition and requires prompt medical attention. If left untreated, testicular torsion can cause permanent damage to the testicles.

Sexual Dysfunction:

While rare, hydrocele can have a negative effect on spermatogenesis and reduce sperm quality. Accumulation of fluid in the scrotum can cause an increase in the temperature inside the scrotum.
Frequently Asked Questions on Hydrocele Treatment
What is the best treatment for hydrocele in men?
Hydrocelectomy is generally considered to be an effective treatment for hydrocele in adults. A hydrocelectomy is a surgical procedure to remove or repair a hydrocele, a fluid-filled sac surrounding your testicles.
What are the types of hydrocele?
There are primarily two types of hydroceles:
Communicating Hydrocele:

A communicating hydrocele is a type of hydrocele that has contact or communication with the fluids in the abdominal cavity. A communicating hydrocele is generally caused due to the failure processes vaginalis, a thin membrane that extends through the inguinal canal and into the scrotum.

Non-communicating Hydrocele:

In a non-communicating hydrocele, the inguinal canal did close, but there is still excess fluid around the testicles in the scrotum. A non-communicating hydrocele usually remains the same size or has very gradual growth.
Can hydrocele occur in females?
No, hydroceles do not occur in women. A hydrocele is a condition characterized by fluid accumulation within the sac surrounding the testicle in the male scrotum. This sac called the tunica vaginalis, is absent in the female anatomy. As a result, hydroceles are exclusive to males and are not found in women.
What happens when a hydrocele bursts?
When a hydrocele bursts, it means that the fluid-filled sac surrounding the testicle ruptures, resulting in the release of the accumulated fluid into the surrounding tissues. The bursting of a hydrocele can cause a sudden change in symptoms and may lead to certain side effects or complications, such as:
How can I contact a hydrocele specialist near me?
To book your appointment with a qualified urologist near you, simply call us at Pristyn Care or fill out our appointment form, after which our care coordinators will contact you. You can also download the Pristyn Care app and get in touch with highly qualified and experienced urologists near you.
Is hydrocelectomy is major surgery?
A hydrocelectomy is generally considered to be a minor surgery. Most patients return home on the same day and can continue their daily routine just 2-3 days after surgery. 
Can hydrocele surgery cause infertility?
No, a hydrocelectomy, whether open or laparoscopic, is not expected to cause infertility. In a hydrocelectomy, the surgeon focuses on removing the fluid-filled sac around the testicles or repairing it to prevent recurrence. The testicles and their surrounding tissue, which are responsible for sperm production, are typically unaffected during surgery.
What is the difference between a hydrocele and an inguinal hernia?
An inguinal hernia is when a part of the intestines drops into the scrotum. This results in swelling of the scrotum or with a protrusion either in the scrotum or in the groin area. On the other hand, a hydrocele is a fluid-filled sac that develops around the testicles within the scrotum. In the case of hydrocele, there may not be any protrusion. In some cases, inguinal hernia and hydrocele can co-occur. 
Is hydrocele cancerous?
No, a hydrocele is not cancerous in nature. While hydroceles can be uncomfortable or embarrassing, the majority of them are harmless. Even then, if you are experiencing any abnormal swelling or discomfort around your scrotum, it is advised to get it checked by a qualified healthcare professional.
Can hydrocele go away on its own?
In some cases, hydroceles can go away on their own, particularly in newborns. In newborns, hydroceles often resolve within the first year of life without any intervention. However, hydroceles are less likely to resolve spontaneously in teenagers and adults. If a hydrocele persists or causes discomfort, medical evaluation and potential surgical options should be considered.