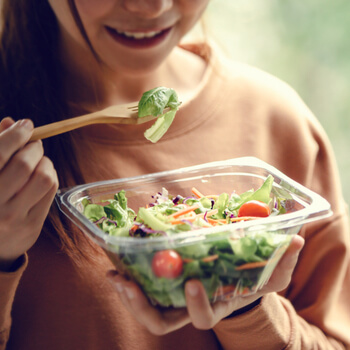 In the words of Steven Kussin, a gastroenterologist based in New York, "Hemorrhoids are normal features of anatomy. We all have them." Though people find it extremely discomforting to talk about piles or hemorrhoids, they are actually very common and can happen to anyone. There are no definite ways that can help prevent piles, but the condition can definitely be managed. Adopting the following can surely go a long way in helping you keep the painful anal disorder at bay.
Swear by fiber in your diet
Piles is most common in people who do not consume enough fiber in their regular diet. To prevent piles, one of the easiest and natural ways is to stock up your diet with fiber-rich food. If you want to keep piles at bay, it is crucial to eat at least 25-30 grams of fiber per day. Some foods rich in fiber are:
– Whole grains, oatmeal, and brown rice
– Beans and lentils
– Vegetable and Brussel sprouts
– Fruits such as bananas, apples, pears, and berries
Drink sufficient water
Water along with a fiber-rich diet is very important for the prevention of piles. Drinking enough water prevents constipation which in turn decreases the need to strain while passing a bowel movement. If you want to prevent piles or manage your current condition of piles from becoming worse, add 6-8 glasses of water to your system. It will help your digestive system function properly.
Don't hold the urge to pass stool
If you feel you need to go to the toilet, go, don't wait. Going to the toilet when the system calls is actually a very simple way to prevent piles. Ignoring nature's call can have its own complications and repercussions. When your body says you need to go and sit on the toilet seat, go, don't hold. When you listen to your body calls, preventing piles from becoming worse is much easier and simpler.
Stop sitting on the toilet seat for too long
Don't spend long hours reading a book or scrolling through the mobile sitting on the toilet seat. The more time you spend sitting on the toilet seat, the more likely you are to strain and make your bowel movements worse. The position of sitting on the toilet seat directly exerts pressure and stress on blood vessels of the anus causing them to protrude.
Stay physically active
Hemorrhoids have a direct relation with physical activities and how you keep your body active. Staying physically active keeps the colon active and functions in a regular manner. But that being said, you should know which physical activity is good for you and which is not. Avoid any activity that puts strain and pressure on your abdominal region. Do not lift weights. Do not sit in one place for long hours. Moderate exercises like walking, jogging, yoga, and swimming can help the piles tissues from flaring.