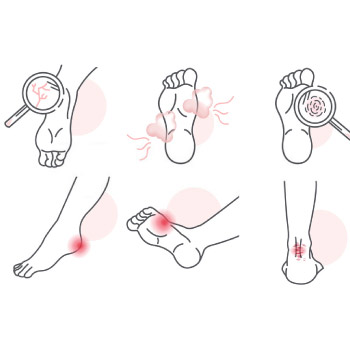 Proper foot care can help you prevent a lot of common problems and treat them before they lead to serious complications. Here are the tips that will help you prevent foot problems:
Take care of your overall health diabetes and follow your doctor's advice to keep your blood sugar levels in the ideal range. 

Wash your feet in warm water and test the temperature with your elbow as the nerve damage in the feet will make you unable to feel the coldness or hotness of the water. Also, make sure that you do not soak your feet and dry them well. 

Check your feet for sores, blisters, redness, calluses, or other injuries every day, especially if you have poor blood flow in the feet. 

Make sure that your feet don't get too dry. Keep it moist using lotion but don't put lotion between your toes. Also, make sure that you consult your doctor before using any type of lotion for the feet. 

If calluses or smooth corns form in the feet, use an emery board or pumice stone to remove them after you take a bath or shower. The skin in the feet will be soft during and after the shower. Hence, it will be easier to remove. 

Always wear stockings or socks that fit you well and have soft elastic. Also, avoid walking barefoot or wearing sandals to ensure that your feet don't get injured. Prefer wearing closed-toed shoes or slippers. 

Protect your feet from extreme heat and cold.

Make sure that the blood flow in your feet is maintained properly. Keep your feet up while sitting, move your ankles, wiggle your toes, and don't sit cross-legged for a longer duration. 

If you smoke or drink alcohol, stop as soon as possible. Both these habits can make the existing foot problem worse, especially smoking. 

Visit the diabetes doctor regularly and make sure that the doctor checks your feet during each checkup. 

If an ulcer has already formed, contact a vascular specialist without any delay.