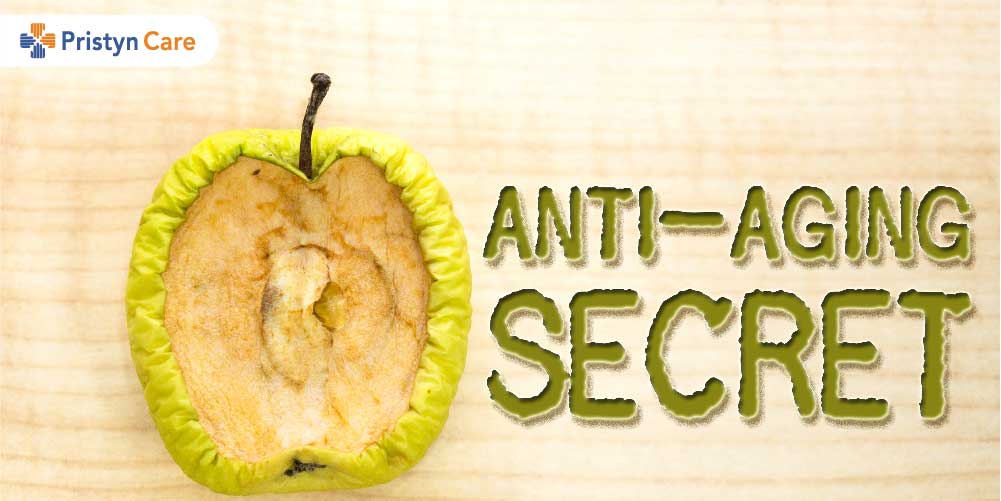 All of us have an ardent desire to look young and beautiful forever. But as we start aging, it becomes challenging to hide the effects of aging on our skin. That is why, at some point in time, most of us do look out for anti-aging tricks and treatment. 
Let's bring forth the anti-aging secrets that will make your life simpler:
Anti-aging home remedies and foods
The most common way to beat the signs of aging is through home remedies. When these home remedies are used regularly, they show wonderful anti-aging effects. 

Aloe Vera
Aloe vera is enriched with Vitamin C and E, which keeps the skin healthy and radiant. It is also rich in antioxidants and slows down the signs of aging. Aloe vera is among the most widely used skin-care remedy. It is also used in numerous skin-care creams for hydrated skin. The pulp of aloe vera in natural form when applied on skin gives the best results. Consuming aloe vera juice twice to thrice can also make you look younger and give you a plum skin.
Citrus Fruits
Citrus fruits such as orange, lemon and grapefruit are among the most effective anti-aging secrets. These fruits are loaded with antioxidants and anti-inflammatory properties. Therefore, they replace the old skin cells with new ones, slowing the effects of aging. 
Enzymes present in citrus fruits are also known to destroy any cancer-causing cells present in the body, hence prevent the risks of developing cancer in the body. So, clearly, citrus fruits have miraculous health benefits and there is no reason to ditch them.

Cucumber
Cucumber also acts as an antioxidant and promotes the growth of new skin cells. You can also rub it gently for a brighter and smoother skin.
Ginger
Ginger is a well known and easily available kitchen remedy for various health issues. The anti-inflammatory or healing properties of ginger make it a wonderful anti-aging remedy. For magical anti-aging effects, have a cup of hot ginger tea with some honey every morning. Ginger tea will impart a healing effect on your body and make you feel younger and lighter. 
Also Read: Home remedies to get rid of pimples
List of other anti-aging foods enriched in antioxidants, vitamins, and nutrients are-

Papaya 

Avocado

Nuts

Berries

Bell Peppers

Broccoli

Pomegranate

Spinach.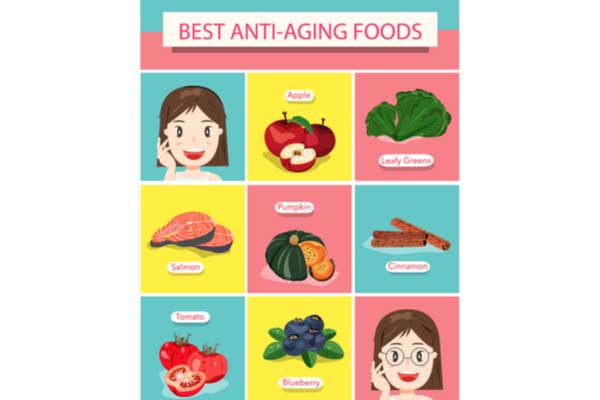 Making these foods a part of your regular diet will surely do wonders for your skin and you will glow inside out. 
The Best Exercises To Beat The Effects Of Aging
Exercising regularly is the best way to keep yourself active and young. Exercise holds equal importance as a healthy diet to stay young and fit. It keeps the body muscles flexible and boosts the blood circulation throughout the body. Simple exercises can have amazing effects on your health. 
Let's look into some of the best anti-aging exercises:
Stretching to stimulate the mind and body–


Ditch the inactive lifestyle and begin with mild stretching exercises for the entire body. This makes the body muscles flexible and healthy. Initially, start with 20-30 minutes of stretching and gradually increase the time.
Make stretching exercises an integral part of your morning routine and witness your body getting fit and younger.

Physical activities to keep you young

These simple physical activities can make you feel rejuvenated. Go for either brisk walking or jogging every day to keep your cardiovascular system healthy. If you enjoy swimming or want to learn swimming, then do not wait any longer. Swimming boosts the stamina and builds the strong lean muscles. So, indulge in these physical activities to look and feel young.

Get rid of the flab

If you want to get rid of the flabby body to feel young and radiant again, then try strength-building exercises.
Squats, planks, sit-ups, and crunches build your strength and get you rid of the flabby torso. 
Perform these exercises only after stretching as it warms up the body and lowers the risks of cramps. Carefully lookout for the instructions to perform the above-mentioned exercises to hit the right posture. On regularly performing these exercises, you will observe major changes in your body in just a few days.
Also Read: The Holistic Relation Between Yoga And Meditation

Cosmetic Treatments For Anti-Aging 
Apart from natural ways to beat the effects of aging, people also resort to undergoing cosmetic treatments. Such cosmetic procedures make people appear quite younger in age.
The most common cosmetic treatments that people choose to look young are:

Facelift surgery 

Eyebrow lifting

Cosmetic treatment of the eyelids

Chemical peels to remove the old layer and give a radiant look

Botox  to soften the wrinkles 
Also Read: Can Technology Outsmart Aging?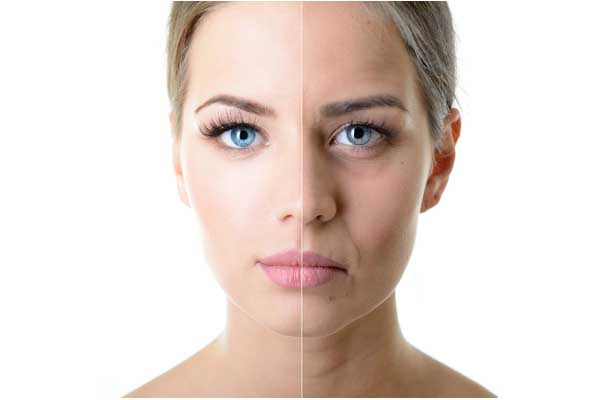 People have been choosing these cosmetic treatments since the time they are available and the trend is only increasing with time. Over a period of years, people have become more aware of the pros and cons of these treatments. 
It is interesting to observe that women today are choosing to undergo cosmetic treatments to improve their intimate areas (vaginal tightening, vaginal rejuvenation, hymenoplasty, etc). Specialized gynecologists perform such cosmetic treatments for the intimate areas.
Also Read: How to Lighten Body Parts Safely?