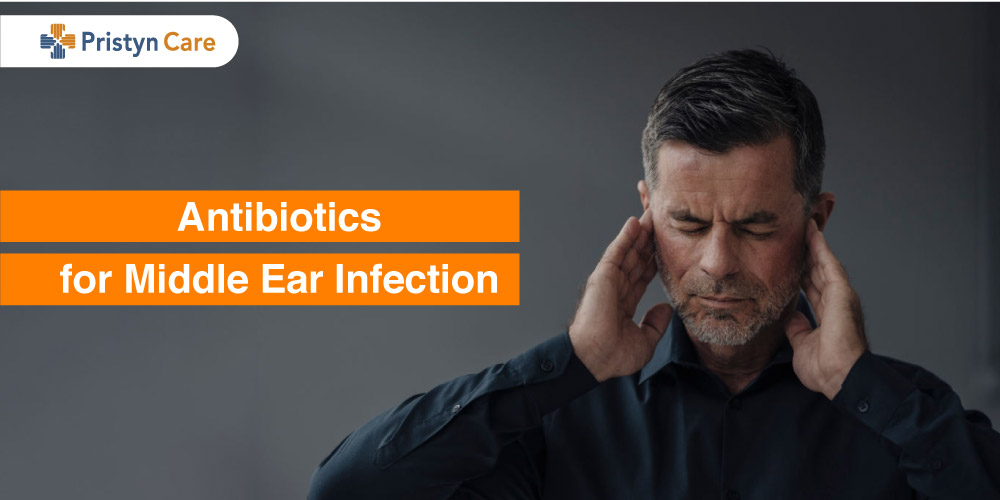 Middle ear infection or Otitis Media is not only common in children but also a common condition that occurs in adults. Some of the symptoms of middle ear infection are- 
Pulling one or both the ears

Crying

Fever

Difficulty in sleeping

Fuzzy hearing 
Read Here: Most common causes of middle ear infection
Treatment of Middle Ear Infection
Pain relievers for Middle Ear Infection
Acetaminophen 
This medicine is used to treat mild to moderate pain including pain that occurs due to an ear infection. Other than this, it can help in getting relief from mild to moderate pain including headaches, toothaches, menstrual cramps, osteoarthritis, or pain due to cold/flu. Moreover, this can also help to reduce fever. However, some of the side effects that can be caused due to acetaminophen are- rash, itching, swelling, dizziness or difficulty breathing, etc. 
Ibuprofen 
This is a nonsteroidal anti-inflammatory drug (NSAID) that can treat conditions such as headache, toothache, backache, arthritis, period cramps, or injury. This medicine works by reducing hormone production that can cause inflammation and pain. Although it is deemed safe, people with a history of heart disease, stomach ulcers, liver or kidney ailment should consult with a doctor first. Moreover, there's nothing to worry about if there are side effects such as bloating, abdominal pain, diarrhea, heartburn, unable to pass stool, etc.
Antibiotics for Middle Ear Infection
When suffering from an ear infection that has occurred due to bacteria and not viruses, then doctors prescribe an oral or topical antibiotic. Some of the common antibiotics that ENT doctors prescribe are-
Amoxicillin
This is the best medicine to treat various bacterial infections. This penicillin-type bacteria can stop the growth of bacteria. However, this medication can work only for bacterial infections and not viral infections such as a common cold or flu. 
Pregnant or lactating women should consult with the doctor before taking this medicine. In addition to this, some of the side effects that these medicine causes are nausea, vomiting, abdominal pain, diarrhea. While some severe side effects include chronic sore throat, vaginal yeast infection, yellowing of the eyes, etc. 
Augmentin
Augmentin is another penicillin antibiotic that can treat various bacterial infections such as pneumonia, ear infections, urinary tract infection, and other dermal conditions. This antibiotic is composed of two ingredients- amoxicillin and clavulanate potassium. The former is an antibiotic while the latter is an inhibitor that prevents bacteria from becoming resistant to amoxicillin. Let the doctor know if you are suffering from liver problems, kidney ailments or mononucleosis before taking this medicine. 
The above two medicines are generally the most prescribed antibiotics for treating otitis media. However, when the above medicines are not available then the doctor recommends the following medicines-
Cortisporin

Cortisporin TC

Ciprodex

Cipro HC

Ciloxan

Ocuflox

Floxin

Acetasol HC
Who should take antibiotic ear drops?
People with the following conditions should take antibiotic ear drops-
Suffering from Swimmer's ear, an infection in the outer water caused due to the collection of water in the ear. Hence, putting these drops when there is a middle ear infection won't help.
Children who have undergone surgery to get tubes in the ears. When there is an infection, one can put ear drops through the tube. 
Who should take oral antibiotics for middle ear infections?
When children without ear tubes have a severe earache or running a high fever, they should take oral antibiotics for treating middle-ear infections. However, this doesn't necessarily mean that children without ear tubes cannot take antibiotics.
How to prevent middle ear infections?
According to the Center for Disease Control, you can reduce the risk of developing ear infection by simply keeping the ears healthy. Here's what you can do-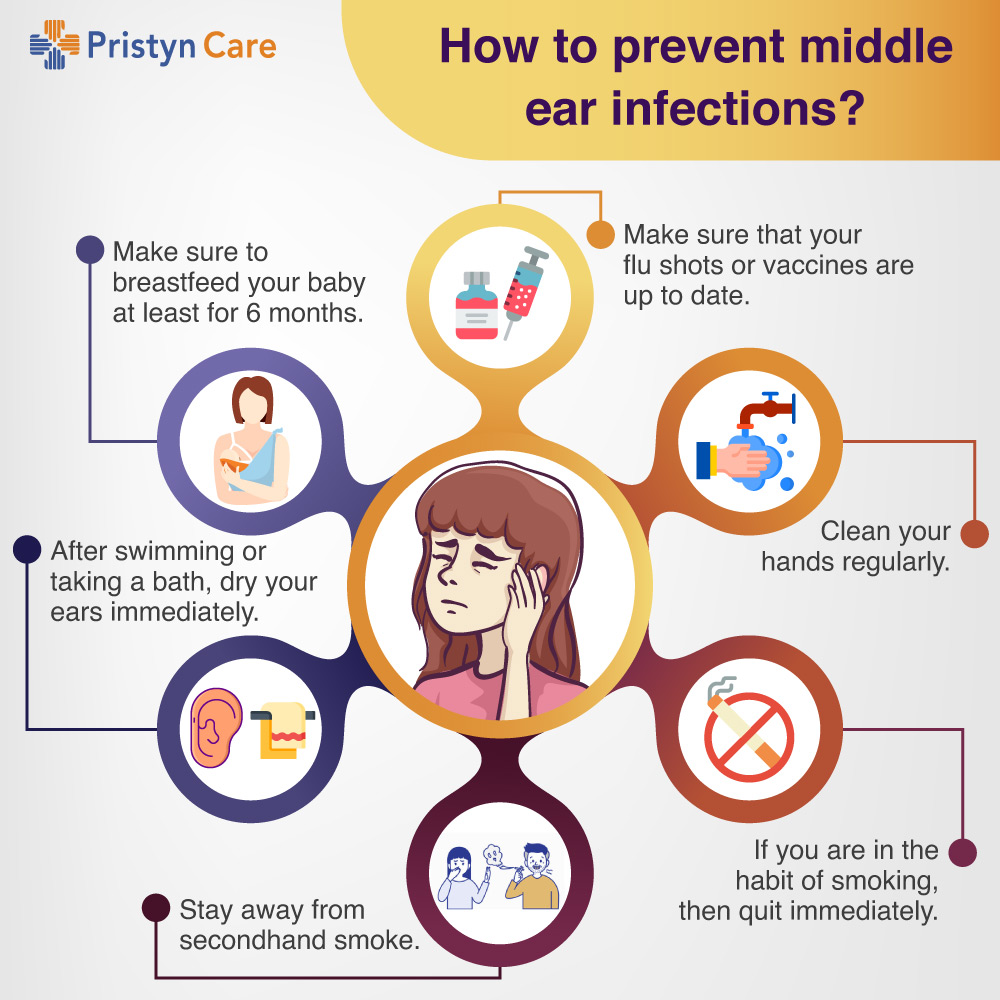 Make sure that your flu shots or vaccines are up to date.

Clean your hands regularly.

If you are in the habit of smoking, then quit immediately. Stay away from secondhand smoke.

After swimming or taking a bath, dry your ears immediately.

Make sure to breastfeed your baby at least for 6 months. 
Also Read: Home remedies for treating an ear infection
When to Visit The Doctor
Antibiotics might alleviate the symptoms of ear infection. However, if you have any of the following signs and symptoms then visit the doctor immediately-
Pus or blood oozing out of the ear

High fever

Feeling dizzy

Swelling behind the ear

Ear pain that comes and goes in waves (this indicates

a ruptured eardrum

)
Also Read: How to stop earache fast?
Looking for an online consultation for earache at home? Book an appointment with a Pristyn Care ENT doctor of your choice today!
References