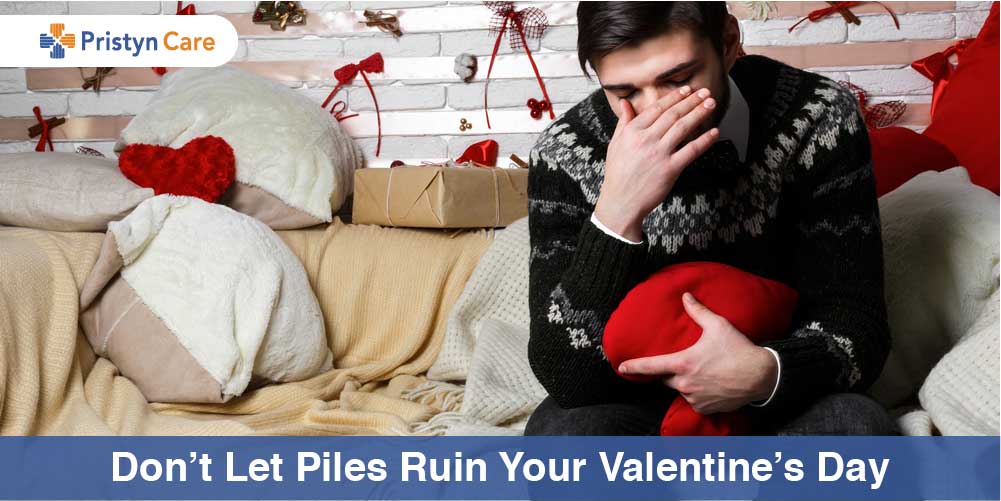 Today is the day of love. Think that you have a rosy dreamy plan of holding the hands of your partner, visiting a quiet serene place, sitting down to look into each other's eyes to have endless talks about the future you both wish to make. But, what if that beautiful intimate moment gets interrupted by something prickly and discomforting? Imagine making romantic valentine's day plans with your partner from days before 14 Feb, and then realizing that none of those could be lived in real because the pain in your anal area due to piles is too excruciating to bear. There could be nothing worse than getting your romantic plans ruined because of something so unwanted. What is even upsetting is that the day is ruined for not just you, but also for your loved one.
How can piles look and feel like?
Piles is a painful and discomforting disease. The feeling of an incessant pain while sitting, walking, or even passing the bowel movement is very irksome. Your normal life can come to a halt suddenly.
Piles or Hemorrhoids, commonly known as Bawaseer in Hindi, is a medical condition where the veins in the rectum and anus become swollen leading to pain in the region. The size of the piles can vary from person to person. There are four grades of piles, ranging from Grade-I to Grade-IV; Grade-I being the least severe and Grade-IV being the most severe of all the grades. 
What can cause piles and what does the patient go through?
Piles can be caused due to chronic constipation, chronic diarrhea, too much straining while passing stool or lifting too heavy weights. A person suffering from the dreadful piles will always feel irritation and itching in and around the anal region. This will often be accompanied with pain, discomfort, and blood and pus discharge along with stool. The person's anal area would get swollen, itchy, become red or sore. (Also Read: Bleeding Piles–Causes, Symptoms, Stages, Prevention & Treatment )
What is the best surgery for piles? Where to find the right Proctologist?
If you witness any of these symptoms in and around the anus, consult a doctor and end it, before it ends your plans. If your doctor/ proctologist is well experienced, he/ she can diagnose the severity of the piles by doing a physical rectal test. Also, if your piles has reached a severe stage, the doctor will suggest surgery right after the diagnosis. The surgery could either be an open surgery or laser surgery. While open surgeries could be painful, have major cuts and stitches, the laser surgeries are simpler and safer. The process includes very minimal incisions and is comparatively much painless. The chances of recurrence are cut down to a large extent in laser surgeries but, there would hardly be any guarantee of no recurrence in open surgeries.
In laser surgery, no tissues are cut during the process. The affected area is treated with laser energy in a very precise manner. The patient can be discharged within 24 hours and begin a normal diet and lifestyle thereafter. 
What needs to be made sure is that you undergo the surgery only in the hands of a reputed and experienced proctologist. If you are facing any symptom even remotely close to that of piles, it's time you contact the doctors and surgeons at Pristyn Care. Our doctors come with vast experience of permanently treating piles in hundreds of patients throughout the nook and corner of India.
Delaying is Denying
Diseases are not meant to be loathed or delayed. It is meant to be treated; the sooner the better. And if the disease encompasses issues as delicate as these, you should not consider any other time for treatment, but, NOW.
Book your appointment today. Get cured soonest and celebrate a new day of love with your partner. Better late than never!!
Don't let the awful pain in your anus dim and diminish the lovely feeling in your heart. 
Celebrate love, not with pain and disgust, but only happiness and smiles.
Also Read: