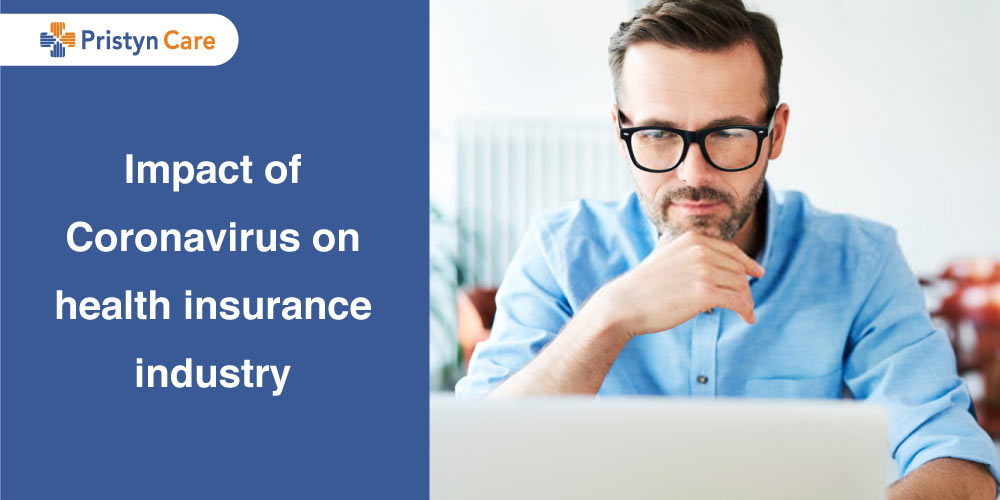 Generally, each year in March, the health insurance industry sees a higher growth with respect to the sale of health insurance policies. This is because people normally buy insurance policies before the end of the financial year in order to save tax.
During the coronavirus pandemic, the demand for health insurance policies is seeing a huge rise since last month. With the increasing number of Covid-19 positive cases in the country, people in India are becoming more aware of the importance of having a reliable health insurance policy. Apart from this, even the health insurers are doing their best to make sure they provide seamless services and support to their existing and new policyholders. 
Here is how Covid-19 has impacted the health insurance industry in India. 
Also Read- Does Coronavirus hit men harder than women?
Online sale of health insurance 
As discussed earlier, sales of health insurance policies in India are higher each year in the month of March. Premium paid for the health insurance policies is deductible from the person's income, subject to certain conditions and limitations, before levying of tax. 
Rise in sale of online health insurance policies in March 
Based on the statistical data, the sale of health insurance policies witnessed a growth of 20-30 % in a span of 25 days in March 2020 (from March 6 to March 31) as compared to February 2020 (before COVID-19 pandemic). The number of health policies issued in March 2020 were much higher, even after the collective results of January and February 2020.
Sale of Coronavirus insurance policy vs comprehensive Health insurance policy 
On the advisory of IRDAI, many health insurers have come up with health insurance plans that provide coverage only for COVID-19. These health insurance plans are disease-specific and offer a lump-sum amount on the diagnosis of COVID-19 infection. Such insurance plans are an effective and reliable way to compensate for the loss of pay during the treatment of the COVID-19. The policyholder is paid the entire sum insured (the lump sum) in case of testing positive for COVID-19 and 50 % lump sum if the individual is advised quarantine. 
Reliance General Insurance has launched COVID-19 Protection Insurance with various unique benefits.  
It is a first-of-a-kind health insurance policy by Reliance General and offers 100% of the sum insured in a lump sum on a positive diagnosis of Coronavirus. The insurance policy also would give 50% of the sum insured if the person is advised quarantine.
Also Read- What is Coronavirus Immunity Passport?
Benefits of COVID-19 Health Insurance
Covers pre and post hospitalization expenses

Covers test charges covered as part of hospitalization expenses

Covers loss of pay if suggested quarantine 

Ambulance charges covered

Hospital expenses covered

Cashless and reimbursement claim process
Importance of COVID-19 health insurance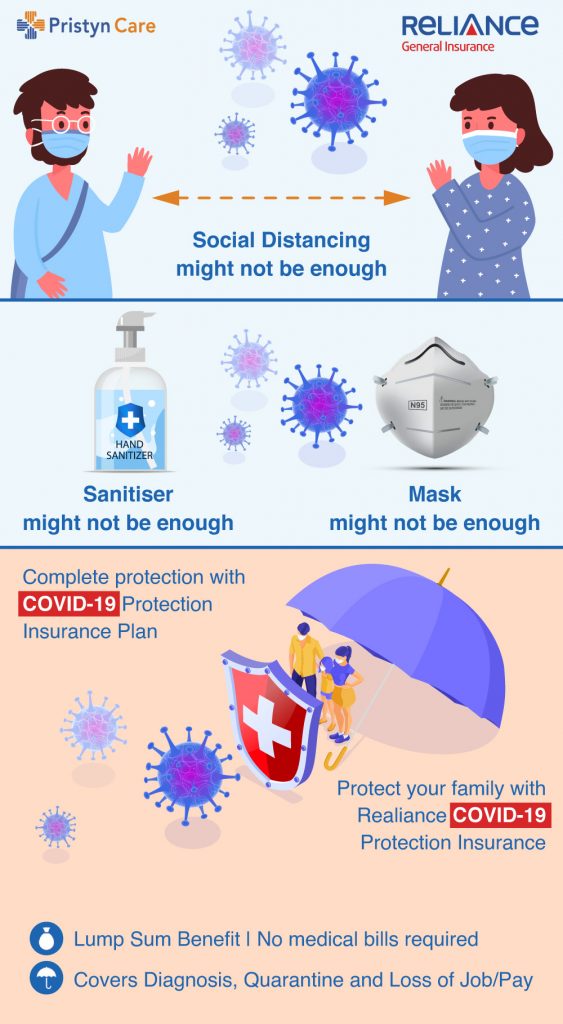 High treatment cost-

Buying a health insurance policy for yourself and your family is essential as the treatment costs for COVID-19 are actually expensive. The spread of this disease is so rampant that it can put all of the family members' health at risk. In India, a diagnostic test for COVID-19 costs nearly INR 4500. Apart from that, the hospitalization charges could reach around Rs.10,000 for a single individual. So, bearing such expenses can be prevented with COVID-19 insurance policy.  

Protect senior members:

Treatment cost for COVID-19 for old people and people with serious ongoing medical conditions is really high. This deadly virus is more likely to affect senior citizens and people with low immunity levels or ongoing health problems. For the safety of your old ones, you should have a COVID-19 plan that shields them from all possible health risks. 

Financial security:

A reliable health insurance keeps one financially secured. The COVID-19 health insurance will cover all the expenses made for medical tests, doctor consultation fees, hospitalization costs (both pre- and post), ambulance charges, quarantine costs (loss of pay)l. This will reduce financial stress in case of any medical emergencies.   
Click here to buy COVID-19 health insurance for complete protection of you and your family in the COVID-19 pandemic. 
Also Read- Why is COVID-19 testing and Insurance the need of the hour?