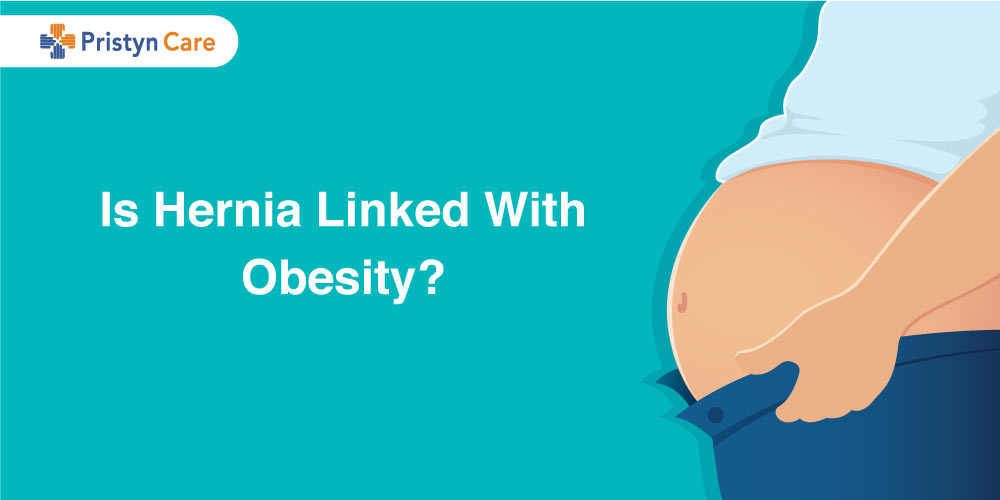 Is There Any Link Between Hernia and Obesity?
In 2016, more than 1.9 billion adults, 18 years and older, were overweight. Of these over 650 million were obese.
~World Health Organization
Obesity is declared as a disease by the World Health Organization. The percentage of obese people around the globe is gradually increasing. Along with this, obesity-associated comorbidities are also on the rise. 
According to a study published in the journal Annals of Laparoscopic and Endoscopic Surgery, rising life expectancy, an increasing percentage of obesity and comorbidities such as diabetes are leading to an increasing prevalence of incisional hernias. 
How Obesity Affects Hernia?
Obesity is a major contributing factor to the risk of developing hernias in the abdomen. Let's understand the reason behind this. When someone is overweight, it increases the strain and pressure on the abdominal muscles. This eventually results in the weakening of the muscles. Hence, over time, the additional weight results in the development of hernia followed by growing size of the hernia. 
In addition to this, obese people are at a higher risk of incarceration as well as strangulation. Obese people can also develop multiple hernias in the abdominal wall. 
Moreover, people who have already developed a hernia and scheduled for a surgery are at higher risks for complications after the surgery. Some of the complications include-
Higher risk of recurrence after hernia repair.

More chances of infections around the wound.

Longer stay at the hospital as well as longer periods of operation.

Lesser chances of desirable results including postoperative pain.

Higher chances of blood clot
Why It Is Important To Lose Weight Before Hernia Surgery?
It is essential to reduce weight in order to reduce the risk of complications and improve the outcomes after hernia surgery. Loss of weight can help you decrease the postoperative pain and reduce the size of the bulge due to hernia. It is recommended to reach a Body Mass Index of less than 35 prior to the laparoscopic hernia repair. 
Depending on the amount of weight needed to be reduced, the general surgeon suggests a simple diet as well as a structured regimen for weight loss. 
Some of the advantages of losing weight before a hernia surgery are mentioned below-
It becomes easier for the doctor to treat the hernia 

Reduces risk of complication

Faster healing of the wound

Quicker recovery to daily life 
How To Lose Weight Before Hernia Surgery?
As overweight or obesity are noncommunicable diseases, these can be easily prevented. If someone suffering from hernia makes the choice of consuming healthier foods and indulging in daily physical activity, then they can lose weight very easily. 
Here are some tips that can help at individual level-
Limit consuming total fats or sugars

Increase the amount of fruit and vegetables including legumes, whole grains and nuts

Indulge in physical activity on a regular basis 
There is a faster method to reduce weight before hernia surgery- a weight loss surgery. However, doctors do not recommend hernia repair and weight loss surgery together. According to findings of research study, undergoing bariatric surgery and hernia repair increases the risk of infection near the mesh as well as risk of recurrence. Rather, patients who had hernia repair after 1.3 years of weight loss surgery had better results- decreased BMI as well as no recurrences even after 20 months.
Fortunately, people looking for a bariatric surgery or hernia repair can visit Pristyn Care clinics to undergo treatment. 
 

References