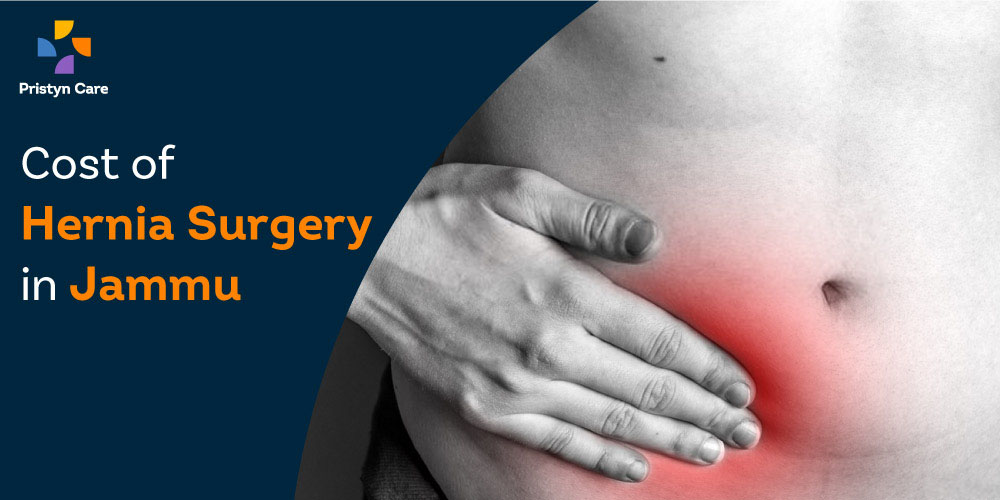 It's an urban myth that the hernia can be resolved on its own or yoga can help reverse the condition.
Medically, the statement holds multiple loopholes and the delay in treatment can rather severe the complications, lead to strangulation, gangrene, tissue death and damage to surrounding organs. This is why, once detected with hernia, accurate diagnosis, timely treatment and regular follow up is the only way forward.
To help you prepare for the type of surgery and its average cost, this blog underlines the estimated cost of hernia treatment in Jammu, factors affecting the surgery cost and information on insurance and its nuances.
Estimated Cost of Hernia Surgery in Jammu
An estimated cost of hernia surgery in Jammu between INR 60,000- 80,000. However, the specifics vary case to case and are influenced by multiple factors including- the severity of your condition, added complications, choice of hospital, doctor's expertise and the method of surgery.
Cost Breakup of Hernia Surgery 
Some of the factors that affect hernia surgery cost include-
Doctor's Consultation 
As with any cost factor, your doctor's expertise and surgical experience alters your surgery cost. A specialist trained in advanced laparoscopy may charge anywhere between INR 1000- INR 1500 per consultation in Jammu. However, a slightly less experienced doctor may  counsel for anywhere between INR 500- INR 1000.
Diagnostic charges
While a physical exam is usually enough to detect a hernia, your doctor may suggest one or more imaging tests such as X-Ray, Ultrasound, MRI  and CT Scan to assess the exact location and severity of your hernia. Though rare, at times, a blood test may also be suggested to assess any underlying conditions and suggest a plausible treatment method.
| | |
| --- | --- |
| Diagnostic Test for Hernia  | Estimated Cost in Jammu |
| X-Ray | INR 500- INR 800 |
| Abdominal Ultrasound | INR 800- INR 1,000 |
| MRI | INR 2,500- INR 6,000 |
| CT Scan | INR 1,500- INR 5,000 |
| Blood Test | INR 300- INR 700 |
| | |
Type and Location of Hernia
Depending on its location, hernia is majorly classified into six (6) types. While a majority can be treated through a general surgeon, some may require specific expertise. Similarly, these specific types of hernia may also require more advanced diagnosis, treatment method or specific medical equipments. Based on same, here is an approximate cost for each-
| | |
| --- | --- |
| Hernia Type | Surgery Cost |
| Inguinal Hernia | INR 80,000 |
| Femoral Hernia | INR 75,000 |
| Umbilical Hernia | INR 78,000 |
| Incisional Hernia | INR 60,000 |
| Epigastric Hernia | INR 75,000 |
| Hiatal Hernia | INR 80,000 |
| | |
Size and Severity
As with any treatment, the size and severity of hernia play a major role in the marker of final surgery cost as it directly decides the level of surgeon expertise required, method of surgery, surgery time and possible complications. A general estimate for hernia treatment in its initial stages runs between INR 70,000 to INR 85,000. Whereas, a more complex and last grade treatment may range anywhere between INR 85,000 to INR 1,00,000 and more.
Age of the Patient
A hernia can happen at any age. However, hernia in infants and older ages at times require more expertise and additional care. This is why it may act as a varying factor in some cases.
Hospital Charges 
The choice of your hospital almost invariably affects the total surgery cost. This is largely because of the difference in hospital's amenities, choice of operating surgeons, infrastructure, and the holistic patient experience. The choice between a single or shared, general or deluxe room also supplements the final cost.
Method of surgery
The method of surgery most certainly defines the surgery cost. As laparoscopic surgery is more advanced, and requires specialised medical tools, it costs higher than the traditional open cut surgery.
| | |
| --- | --- |
| Method of Surgery  | Surgery Cost  |
| Open Surgery | INR- 55,000- INR 65,000 |
| Laparoscopic Surgery | INR 70,000-  INR 90,000 |
| | |
Surgical Mesh 
A hernia surgical mesh is a specialised medical instrument used to provide extra support to the damaged tissue as it heals after the surgery. It is used in more than 90% of hernia repair cases and rests as an important factor for determining specific surgery cost. Factors that differ the cost of different surgical meshes may include
The type of surgical mesh (patches, plugs or sheets)
Long term/ Short term (Absorbable or Non Absorbable)
Composition (Synthetic/ Animal Derived/ Composite)
Brand Manufacturer (Local/ Home grown)
Pre and post medication and follow up
The success of a surgery almost as equally depends on the post medications and follow up as it depends on the surgery itself. This is why medications and follow up are another factor that invariably add to the total cost.
Does Insurance Cover Hernia Surgery?
Yes, since hernia repair surgery falls under the list of necessary medical procedures, the basic treatment cost  is covered by almost all major general and health care insurance providers in India.
However, since every policy is different and so is the individual case, the cost bracket may differ.
Please note that as with any other treatment, insurance covers only the surgical expenses and you must be hospitalized for at least 24 hours to file the claim. Depending on the nature of your policy, you may opt for cashless/ reimbursement claims.
Post approval, insurance covers all necessary costs including diagnostics, consultation, medications, hospital admission, surgery, bed charges, stay and other miscellaneous consumables.
Some of the leading and most popular healthcare insurance providers include:
Religare Health
Manipal Cigna
Oriental
New India Insurance
Bajaj Allianz General Insurance
ICICI Lombard
Max Bupa Health Insurance
United India Insurance
*Pristyn Care understands the hassles of insurance approvals. This is why one of our most popular USPs is our 30 MINUTE INSURANCE APPROVAL FACILITY. We have a dedicated team of insurance experts who can help you guide through the finer nuances of your insurance policy and help you with all the paper work, insurance and reimbursement claims.

To know more, we suggest you call us directly or fill the 'Book Your Appointment' form through /the site. Our medical coordinators could help you connect with the most  specialised surgeons,  ensure seamless patient experience and offer end-to-end assistance.
Why Pristyn Care is a more cost effective option for Hernia repair treatment than any other health care provider in Jammu?
Pristyn Care is a holistic health care provider. We not only offer you the most modern and advanced laparoscopic surgery with 3D surgical mesh, but also work with some of the most experienced and expert laparoscopic surgeons and multi-speciality surgeons in  Jammu.
Not only this, we might be your best choice because of the following cost effective options:
End-to-end Assistance
We are with you right from your first call to the very last follow up. As soon as you book an appointment with one of our medical coordinators, we help you connect with an experienced doctor, brief you through the entire patient journey, clear all your possible queries and find you your preferred choice of consultation and surgery time. Therefore no more running around different doctors and patient reviews.
30 Minute Insurance Approval 
Our team of experts will help you guide through your insurance policy and manage all the requisite paper work from your side. Therefore, no insurance hassles at all.
No Cost EMI
Not everybody has insurance and sudden surgeries can come as a heavy financial decision. This is why, we provide you the facility of – zero cost EMI so you can get your surgery now while pay later in smaller installments.
Free Transportation
Wherever you are in Jammu, do not worry about hospital travel. We offer you free pick up and drop throughout Jammu on the day of your surgery and take care of all necessary requirements. Our cab would reach your residence, take you to the assigned hospital and drop you and your attendant back to your place safely post-operation.
Free Followup
Treatment does not end at surgery, nor does our alliance with you. We offer you a free followup post surgery and make sure you are recovering well and have no complications or side effects.
Dedicated Care Buddy
 We also assign you a dedicated 'Care buddy' on the day of your surgery. This person will stay with you in your hospital throughout your surgery time and assist you through all the paperwork, including admission and discharge, thus making your experience seamless.
If you are looking for a second consultation, or  planning a hernia repair surgery in Jammu, we suggest you directly reach us through our /site. Our medical coordinators will help you end-to-end through the entire process and help clear all your specific doubts and queries. You could also 'book appointment' directly through the site by filling in our 'book my appointment form' and our experts will revert you the soonest within the next 24 hours.
*Disclaimer: The Cost mentioned in this blog is what Pristyn Care charges as per the City and Treatment and this cost may vary as well depending on the other factors which increase and decrease the cost. The market cost of the treatment may vary depending upon the healthcare service provider and the functional city.