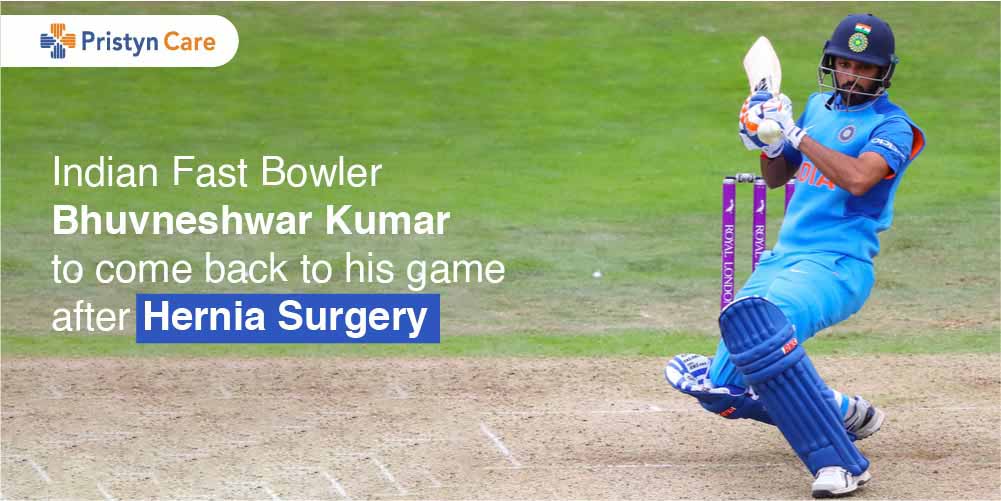 Injury-plagued fast bowler Bhuvneshwar Kumar underwent a sports hernia surgery in London. The Indian cricketer went for rehabilitation at the National Cricket Academy (NCA) after returning back to India post his surgery, the BCCI said. He is now set to come back to his game in the upcoming T20 matches after recovering from a hernia surgery earlier last month. 
Sports hernias are mostly caused due to explosive or repetitive motions, especially the ones which require twisting of the pelvis like football, hockey, cricket, rugby, running and hurdling. 
"The soft tissues which perform these movements are found in the lower abdomen and pubic area and are most frequently torn or injured due to strenuous sports", says Pristyn Care's Laparoscopic Surgeon.
Bhuvneshwar is on his road to recovery after a hernia operation. Dinesh Karthik, Mandeep Singh, Rahul Tewatia, Varun Chakravarthy and young Maharashtrian batsman Ruturaj Gaikwad will represent the D.Y. Patil A team.
A total of 16 teams, including CAG, IOC, Bank of Baroda, Income Tax, and RBI, will compete for the trophy and the final is set to be held on March 6, 2020.
Sportsmen or people who regularly play a sport are at an increased risk of hernia. Doing the following can prevent sports hernia, suggests Pristyn Care's Hernia expert-
Use proper lifting techniques

Lose weight, if needed

Avoid constipation by eating plenty of fiber

Drink lots of water

Go to the bathroom as soon as you have the urge

Exercise regularly, and focus on strengthening the abdominal muscles.
Pristyn Care's team wishes good health to the country's famous cricket star. 
An untreated hernia can lead to serious complications and pain. Pristyn Care excels at performing the most advanced Laparoscopic surgeries. Call us or drop your number to book an appointment for pain-free and safe hernia surgery. 
Also Read: