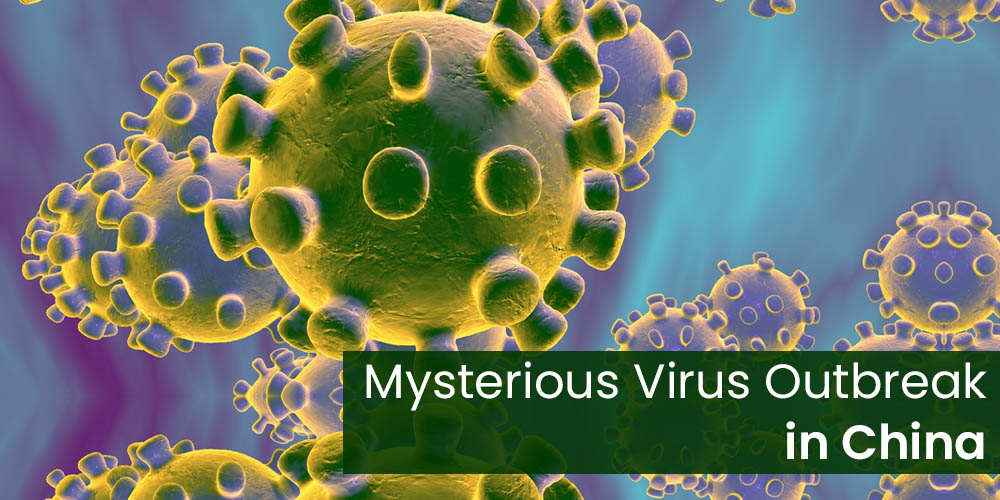 SHANGHAI, CHINA – A 61-year-old man died from pneumonia in Wuhan after an outbreak of "a yet to be identified" virus. As confirmed by the Wuhan Health authorities, there are 7 other patients in critical condition.
In a statement on their official website, the Wuhan Municipal Health Commission said that 41 people have been diagnosed with the same pathogen, which the preliminary lab tests by Chinese state media pointed to a new type of virus from the coronavirus family.
2 of the patients have been discharged from the hospital and the rest of the patients are in stable condition now. Although 739 people thought to have been in close contact with the patients have been cleared.
The outbreak began in December and its first victim was a regular buyer at a seafood market in the Chinese city. The man had been previously diagnosed with chronic liver disease and abdominal tumors, the health authority confirmed.
Though, various treatments and intense care did not improve his symptoms after he was admitted to the hospital. The man died on Jan 9 when his heart failed. He was tested positive for the same virus.
While the virus belongs to the same family as the SARS virus, it is ruled out to be a new disease, which has been connected to a seafood market in China. Further but investigation is still ongoing on the same. 
Tests rule out MERS/SARS
According to the World Health Organization, initial information provided by Chinese authorities about the pneumonia cases in Wuhan indicated Coronavirus (CoV) as a possible pathogen causing this outbreak.
Wuhan Chinese authorities later reported that primary lab tests ruled out SARS-CoV, MERS-CoV, Adenovirus, Influenza, Avian influenza and other common infectious agents.
What is a coronavirus?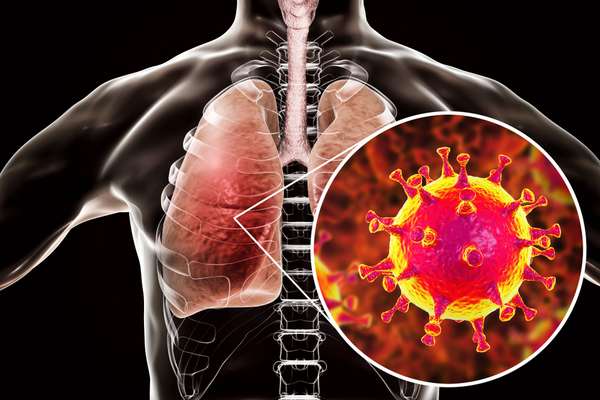 Coronavirus is a large family of viruses, with some of them causing less-severe diseases, like the common cold. Some of the viruses transmit easily from human to human while others do not.
Most coronaviruses are harmless and usually just cause mild to moderate upper respiratory tract illnesses, just like the common cold. Most people get infected with these viruses (of the coronavirus family) at some point in their lives. Though, most of them do not cause any fatal or serious damage to their health. 
The virus causing this outbreak in China is still unknown right now but is being typed. Health authorities are running more tests and research to find out what type of virus and whether it is more similar to SARS or MERS. Though many think it to be a new virus.
Wuhan authorities have confirmed that the virus is still in question but can cause severe illness in patients. The Chinese authorities also confirmed that this virus does not transmit easily between people.

The infection may spread easily, no treatment available
Most human coronaviruses can most commonly spread from one infected person to others through:
Contact with air by coughing and sneezing

close personal contact, like touching or shaking hands

touching an object or surface with the virus on it and then touching the mouth, nose, or eyes before washing the hands
Both SARS and MERS outbreaks were from animal to human contact. SARS was most likely spread from contact with bats and MERS was spread by contact with camels. 
As the organism causing this infection is a virus, until now, there are not any specific antiviral medications to treat the condition. 
Stay cautious, if planning to visit China 
The Confederation of Medical Association of Asia and Oceania has warned people who are planning to travel across China in the coming weeks or so. People are suggested to avoid contact with animals, sick people and seafood markets as the virus has been linked to those. So if you are planning to visit China anytime soon, avoid eating kinds of seafood as well as a measure to prevent catching this mysterious virus. 
Hong Kong's Department of Health has reinforced checks and serious cleaning measures at all border checkpoints, such as the ports, airport and Hong-Kong's high-speed rail station which gets passengers from Wuhan city.
At least in some cases, the likely source of the virus has been identified as a wholesale seafood market in Wuhan, China.
Health experts pinpoint that since a virus is causing the illness, there are not any treatments available and the infection can only be allowed to run its course.
Latest Updates as on January 27, 2020
The number of deaths in China has reached 80, with 76 in Hubei, a Chinese province. As of today, a total of 1,423 cases of Coronavirus are confirmed in the Hubei province. Wuhan, a city with a population of 11 million, has been under strict lockdown since it was confirmed as the epicenter of the Coronavirus.
The Chinese Government has ordered and implemented strict travel restrictions in Wuhan. Urban transport has been shut and outgoing flights from China have been suspended. Among other measures to contain the virus, the Chinese government and health authorities have taken several measures to contain the virus and from January 27, all group tours to and fro the country has been suspended, which has affected tourism both at home and to other countries.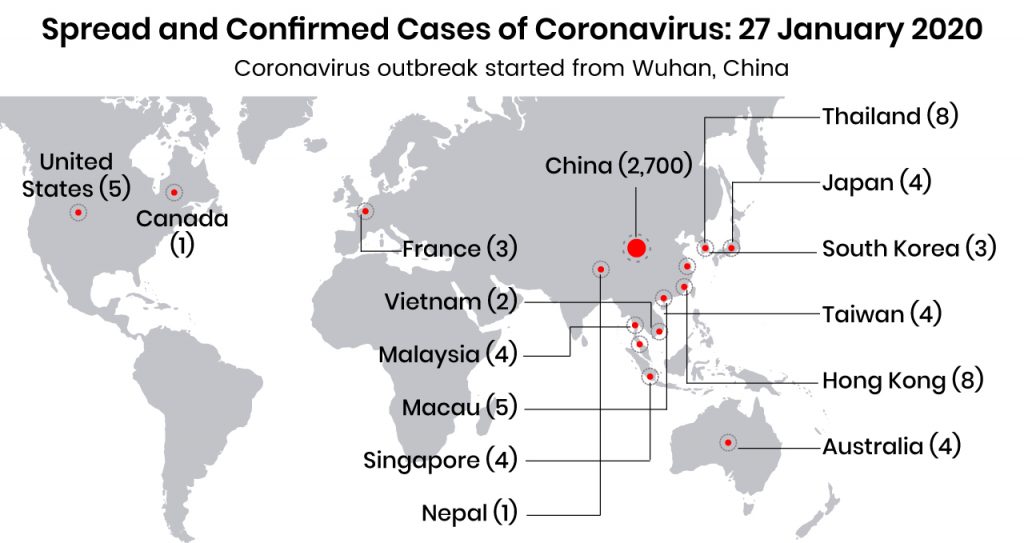 HIV Drug Being Tested as Treatment- Coalition for Epidemic Preparedness Innovations confirmed that 3 research teams have begun work on developing potential vaccines to treat and cure this deadly virus. Scientists are hoping to test the first possible vaccines in a period of 3 months. Chinese health authorities and scientists are testing "Aluvia" the HIV drug as a treatment.
Jan 27, 2020 
India- As of today, over 29,700 passengers have been screened at various Indian airports to check for signs of Coronavirus infection. Though the virus originated in China and is largely restricted to the same, it has risen a global scare with cases reported in several countries including the US, Europe, Thailand, Nepal and more. 
In India as well, there are suspected cases of this virus that have been reported in many states, like Kerala and Maharashtra. However, none of the cases have been tested positive for the virus to date. 
36-year-old Mumbai Man in Hospital for Possible Exposure to Coronavirus (1:25 pm)-  In the 4th such incident in the city, a 36-year-old Mumbai resident has been admitted in the isolation ward of a hospital on suspicion of possible exposure to Coronavirus. The man is a resident of Tardeo (South Mumbai) and has been kept under observation at Kasturba Hospital in Mumbai. Last week, 3 people were admitted to Kasturba Hospital for possible exposure to this virus, after the screening was done at the Mumbai International Airport.  As a precautionary measure, all 3 were hospitalized on January 25.
Jan 27, 2020
"Special Aircraft on Standby to Carry Out Evacuation of Indians from China," said Air India (2:02 pm)- Air India declared that their aircraft, "Boeing 747" has been kept on standby for the evacuation of Indians from Wuhan (China). The aircraft is waiting for the Indian government's decision on the same. 
Also Read: