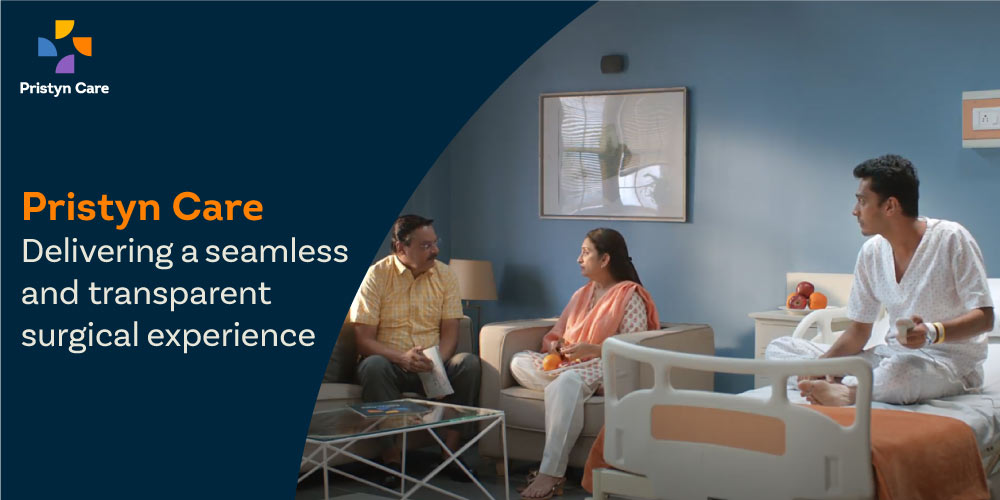 Pristyn Care is back again with another television ad campaign for the ongoing Indian Premier League Season. The advertisement has been launched in multiple languages, including English, Hindi, Kannada and Tamil.
Our latest commercial for this IPL campaign launched on Disney+ Hotstar and Star Sports Network including Star Sports HD, Star Sports Select and Start Gold shines light on one of our founding principles- "transparent, and nonpareil healthcare for all without any additional or hidden expenses".
About the ad-
The commercial shows a middle-aged man speaking against his son's spontaneous decision to undergo a surgery. The father's concerns are put to ease when the son explains that he is undergoing a surgery from Pristyn Care because not only do they have expert doctors, but also because he was well-informed about the final costs of the surgery beforehand.
The idea to provide a seamless, transparent and honest surgical experience
What is the first thing that would come to your mind when a doctor says that you need surgery? For many, it would be the concern of finances. No kidding, going under the knife is a big deal but so is the expense. The mere thought of undergoing a "surgery" can be frightening for an average Indian citizen. The common reason? Those "unexpected surgical expenses" often seem to crawl their way in to add to the "already heavy bill".
The journey is equally stressful for those who have health insurance plans. The process of getting the insurance claim and multiple approvals from the hospital and insurance department is no less of an extra distress when you already are in a tough time.
Our co-founders realised this drawback in India's healthcare industry and made it a point to fill that gap with Pristyn Care's patient-centric model and make the edges meet, where it is absolutely suitable for the patient.
Whenever a patient comes to us, he or she is connected with a medical coordinator, who takes the lead and assists the patient in every step. Our medical team gives an average sum of the surgery expenses and any diagnostic tests beforehand, so the patient is clear about the whole procedure and expenses involved. The estimate given to the patient before the surgery is a close approximation of the final bill and there will be no additional charges at the time of discharge. With expert doctors on-board, we aim to provide high-end treatments to our patients, with no hidden or extra costs.
We understand the importance of financial planning prior to the surgery. Thus, we always inform our patients, the exact bill of the surgery, prior to the procedure. Pristyn Care will help you plan your finances prior to your surgery. You will be informed about the exact bill amount before the surgery. You will not have to bear any additional costs or hidden expenses at your final bill. No cost EMI options are also available for surgical procedures with leading financial partners in the country. And for those who have health insurance, we will assist you to get insurance approval for all major leading health insurance policies. We also have a dedicated team of medical experts who work hard to get our patient's insurance approvals without hassles.
About Pristyn Care
Pristyn Care is a modern healthcare startup that focuses on less invasive, elective surgery with the latest, cutting-edge technology and offers valuable benefits to the patients. We are a team of 300+ doctors who can treat more than 50 diseases including piles, hernia, gallstones, kidney stones, cataract, etc and are present in more than 30 cities across the country.
We use less invasive and successful surgical techniques, and connect anyone facing a health problem with the best doctors near them who are considered top in their field. Our doctors and the medical team helps the patients make a fully-informed decision with confidence. We aspire to deliver a hassle-free experience to all patients and help them live healthy again!