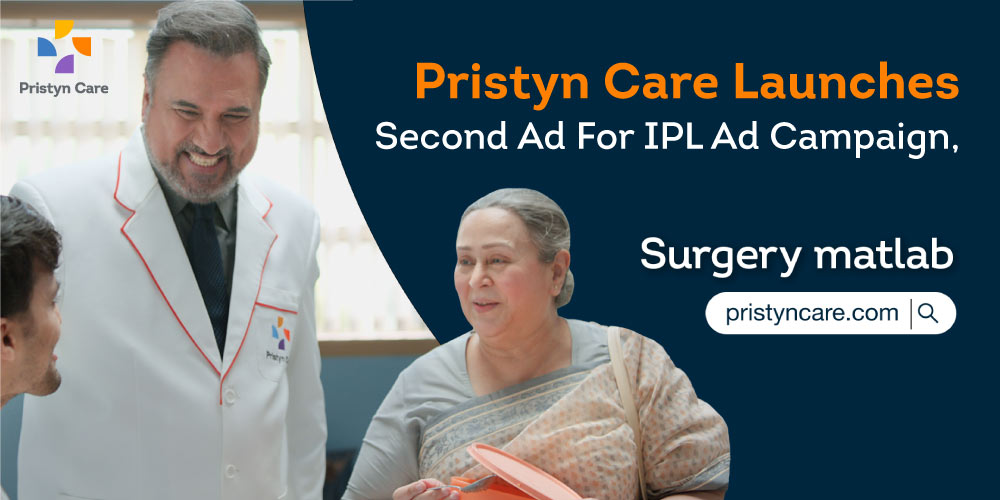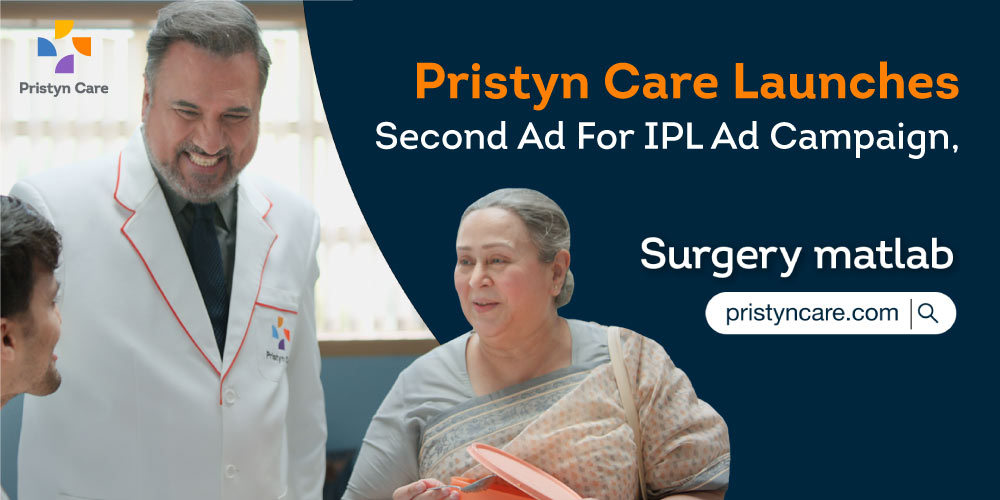 Pristyn Care, a modern healthcare platform, has rolled out its second television commercial under its ad campaign for the ongoing Indian Premier League Season (IPL). The ad is developed in seven languages- Hindi, Tamil, Telugu, Kannada, Marathi, Bengali, and English. Moreover, it is launched across the Star Sports Network including Star Sports HD and its OTT platform, Disney+ Hotstar. 
The nationwide commercial highlights that the healthcare platform has a team of more than 300 dedicated doctors who have expertise in curing more than 50+ diseases such as hernia, piles, cataracts, etc with the most advanced medical technology.   
Surgery Matlab PristynCare.com
The face of this ad campaign is one of the most versatile actors from the acting fraternity, Mr. Boman Irani.  The protagonist of the commercial is an experienced Pristyn Care expert who is also empathetic and compassionate towards his patients. 
Some of the qualities such as empathy, trustworthiness, knowledge, etc. are easily identifiable with the actor with his past work. Eventually, the in-house creative team of the company landed on the idea that Actor Boman Irani fits aptly for the role. 
The commercial can be summarized as follows- 
In a hospital, a Pristyn Care expert played by Boman Irani is checking up on a young man who has recently undergone surgery. Surprisingly, the grandmother of the young patient, swoops in and feeds him with a spoonful of gajar ka halwa and asks him to return home as soon as possible. The grandmother shows gratitude to Boman Irani for curing her grandson so soon immensely.
The primary takeaway from the commercial includes Pristyn Care's team of more than 300+ dedicated doctors who have expertise in curing more than 50+ diseases and are dedicated to curing patients with the most advanced technology such as Laser and Laparoscopy and more. 
About Us:
Headquartered in Gurgaon, Pristyn Care is founded by three members Harsimarbir Singh, Dr. Vaibhav Kapoor, and Dr. Garima Sawhney in 2018. Within a short span, the health tech startup has grown unprecedented with a patient-first approach. With a laser-sharp focus on serving patients, we are able to provide fast-forwarded patient experiences that are hassle-free. 
With an army of 1000+ medical workers and support teams, we ensure that the patient undergoing surgery is assisted at every stage as a part of the experience. From matching the right expert doctor basis patient's disease and current condition to booking tests and collecting diagnostic reports for patients, as well as helping the patient in the filing of the insurance paperwork, our teams work tirelessly to ensure that the patient's treatment is not delayed in any way. In addition to this, we offer cab services on the day of surgery as part of the package, completing hospital admission formalities before the patient arrives, quick discharge formalities post-surgery, complimentary diet and health consultation after the surgery, medicine delivery at home post-surgery.
Pristyn Care is currently present in 30 cities and towns viz. Agra, Ahmedabad, Bangalore, Bhopal, Bhubaneswar, Chandigarh, Chennai, Coimbatore, Delhi, Gurugram, Guwahati, Hyderabad, Indore, Jaipur, Jammu, Kanpur, Kochi, Kolkata Lucknow, Ludhiana, Mumbai, Mysore, Nagpur, Noida, Patna, Pune, Ranchi, Surat, Thane, Vizag.