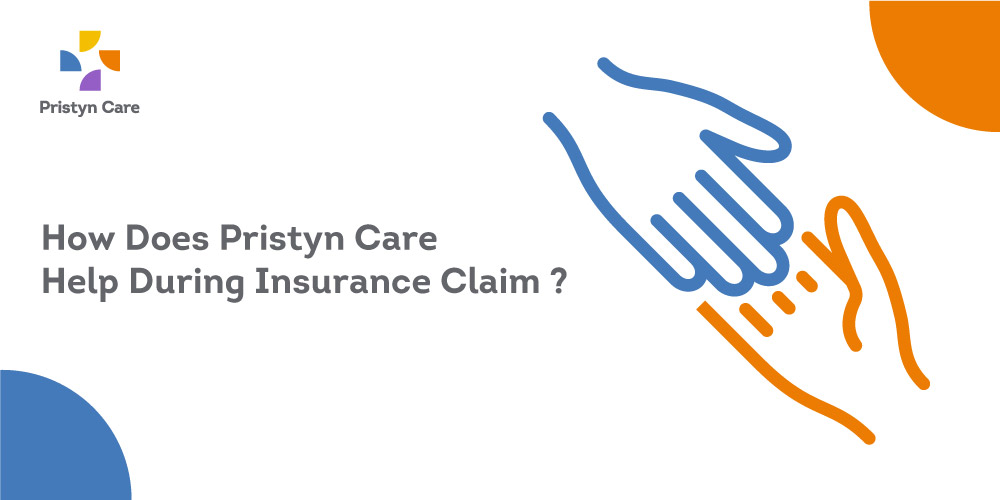 Pristyn Care understands the several challenges a patient has to face during filing the health insurance claim. Hence, we take care of the entire procedure, including paperwork, of getting approval on an insurance claim. This is to make sure that the patient nor their family members has to face any additional hassles. We strive to provide a hassle-free experience to all our patients and filing an insurance claim is an essential part of this process. 
Pristyn Care helps you in the claim process and ensures you get the maximum claim amount. Pristyn Care is a one-stop solution for all your health insurance needs. We simplify the claim process and make it transparent for you. 
End to End claim Assistance:

Pristyn Care Insurance specialists take care of your claim processing from start to payment journey (Documents review, File preparation, dispatch to TPA / Insurance, Claims status real time follow up & update to customer, quick early claim payment with maximum amount)

Claim Rejection:

There are reasons insurance companies deny claims that can be valid sometimes while can be disputed too. Inconsistencies in the medical bill, admission within required duration and documentation. Pristyn Care ensures you don't get upset or driven by the claim rejection and take the right step. Our Insurance specialists are just a call away to get customized expert advice. 

Delay in Claim Process:

Unfortunately, there may be delay from either your end or from the insurance company. To overcome these delays, you can contact Our insurance specialists to know the reason for the delay in process. It can be an incomplete documentation problem, query response issue or miscommunication. Connect with Pristyn Care to and get 360 degree claim assistance.

Policy Rejection

:

Pristyn Care guides you in case of policy rejection cases. Many people forget to pay the premium on time or their policy expires. Insurance companies send them reminders and give them grace periods but still insurers fail to pay. Even the entire policy becomes void if the insured has intentionally misrepresented any medical condition, involved in fraudulent conduct or made any false statement to claim the insurance money. Call Pristyn Care to check your policy and claim status.

All time Insurance support:

Pristyn Care ensures that you do not lose your money which the insurance company owes you. We help you with the complexities of your claim. Call Our Insurance specialists before you take any step so that we can provide you with specific instructions and advise how to proceed. 
About Pristyn Care
Pristyn Care is a healthcare startup having full time surgeons doing elective procedures in categories of Proctology, Laparoscopy, ENT, Gynecology, Urology and Vascular. We are series-B funded led by Sequoia Capital, Hummingbird Ventures and Greenoaks Capital. Founded by a team of Ex Max And Medanta doctors and Ex UrbanClap, Mobowik Business Head, we are disrupting the surgical ecosystem. 
We are listed among the Top 25 Startups to work for in India by LinkedIn. 
Pristyn Care, headquartered in Gurgaon, is operational since Jun, 2018 and since then have expanded to 20+ cities across India including Delhi NCR, Bangalore, Hyderabad, Chennai, Kolkata, Mumbai and Pune. With the team size of 500+ including 70+ surgeons, we are proud to have served more than 25,000 happy patients till now. 
We are a dream organization with the aim to resolve the purpose to create significant revolutionary changes in the healthcare industry. The organization comprises top experienced healthcare professionals having great experience in various Healthcare activities. We deal in all kinds of Patient and Hospital level assistance and support, audits, NABH Accreditation, Hospital billing, Hospital TPA process handling end to end, TPA/Insurance payment recovery for Patients & Hospitals and much more. Having both the expertise – Health professionals and Senior Insurance specialists, we give you a unique and hassle-free health insurance services offering seamless TPA claims process end to end.
Our objective is to provide hassle-free services pertaining to complete TPA / Insurance / PSU's
process and recovery of Reimbursement/cashless claims payments from TPA/Insurer for hospitals. We endeavor to help you come out of the health insurance issues helping you get the maximum out of it. 
Read more:
*Disclaimer: The content is written and reviewed as per the expertise and knowledge of the author and reviewer. For a final call related to ailment, we highly recommend people to Consult with a Specialized Doctor and take necessary decisions as per the Doctor's suggestions.