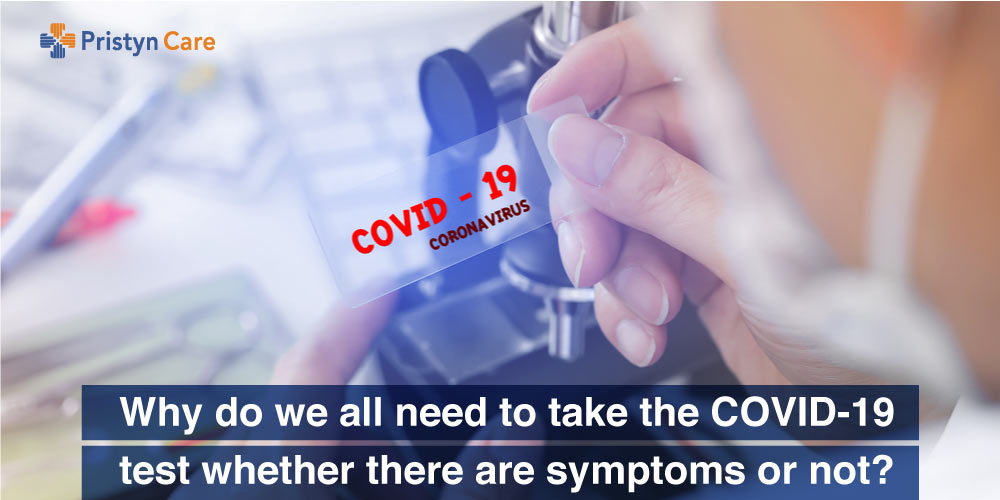 Should I get the test for COVID-19 even if I do not have symptoms? Should I take a test if I have only one of the symptoms of COVID-19? Well, folks! It is crucial to understand that testing is the only way out to slow down global pandemic.
Scientists are still learning how immunity fights COVID-19 and how long it will last. While they are trying to know whether there is a chance that people could be reinfected, testing can be a huge boost to front-line healthcare. 
Still, if you are wondering whether you should go for testing or not then here are a few things that might help you decide whether you need a medical professional to diagnose you. 
Obviously, if you show common symptoms such as fever, dry cough and shortness of breath
The primary symptoms of COVID-19 are fever, dry cough and shortness of breath. In this case, if a person has symptoms, you must follow the incubation period. During this, medical professionals advise to quarantine the person for 5-14 days (depending on the condition). 
Exposure to any infected person in last 20 days 
If you think you have come in contact with any infectious person or have a past history of traveling to the affected area, you must consider getting tested. Another condition is when you have come in contact with a person who has traveled to the affected area. 
Even doctors have asked asymptomatic people to monitor their temperature and choose to give people COVID-19 tests. 
What are the tests conducted for coronavirus?
The lab acquires one of the following samples from you: 
A swab test

: The lab technician will use a special cotton swab and take a sample from inside of your throat or nose.

A blood test:

The collected blood sample is analyzed for the virus, either through a blanket test for all variants of the coronavirus (including regular flu) or through a specialized gene sequencing test that locates the marker for the novel coronavirus. 

A nasal aspirate

: The healthcare expert will inject a saline solution into your nose, then remove the sample with gentle suction. 

A tracheal aspirate

: A thin, lighted tube called a bronchoscope is inserted into your lungs, through which a respiratory sample is collected. 

A sputum test:

Sputum is a variation of mucus from your lungs that can be coughed out or sampled from the nose with a swab. 
Most commonly performed test
For a patient, the COVID-19 testing process is easy and can potentially be done almost anywhere. It typically involves taking a swab from deep in a patient's nasal cavity to collect cells from the back of the nose.
The sample is then sent to a lab where it is tested to determine if the patient's cells are infected with the virus. Similar process is followed to collect a sample from a patient tested for flu.
What experts say on testing?
The reason why testing is important is because asking people with mild symptoms just to isolate themselves at home may lead to more infections around them. 
But if you get tested whether negative or positive, people can either be isolated in a facility or put on strict home isolation (which they are more likely to adhere to if they know they have the virus for sure). 
When resources are limited and when the healthcare system is overcrowded, you don't want a lot of non-sick people coming to health facilities and risking contagion. Therefore, get yourself tested as even a minute symptom can infect a large number of people around you. 
How to take care until more tests are being made available?
Meanwhile, authorities are trying to increase the availability of COVID-19 test kits. But till then, everyone needs to wash or sanitize their hands properly and try to minimize their risk of exposure. Maintain social distancing, boost your immunity and follow lockdown rules given by the Indian Government. 
What Pristyn Care is doing to fight Coronavirus? 
Pristyn Care has partnered with over 50 labs across the country to conduct COVID-19 tests. We also have telemedicine through online consultations for generic queries related to cough, cold, fever, headaches, etc. This will prevent you from traveling amid lockdown due to coronavirus. 
We are conducting tests in Delhi NCR, Mumbai, Bengaluru, Pune, Chennai, and Hyderabad with the authorization of the Government of India and The Indian Council of Medical Research (ICMR). 
Visit our website to book a test or call us for online consultation. The reports will be available to the patient within 24 hours. You can call the helpline number for coronavirus related queries 801 000 2266. 
https://wap.business-standard.com/article/news-ani/pristyn-care-launches-tele-medicine-services-partners-with-over-50-laboratories-for-covid-19-testing-120040200964_1.html
Also Read: What lesson does Italy teach for Coronavirus?
Also Read: Consult With ENT Specialist Without Fail During Coronavirus Pandemic