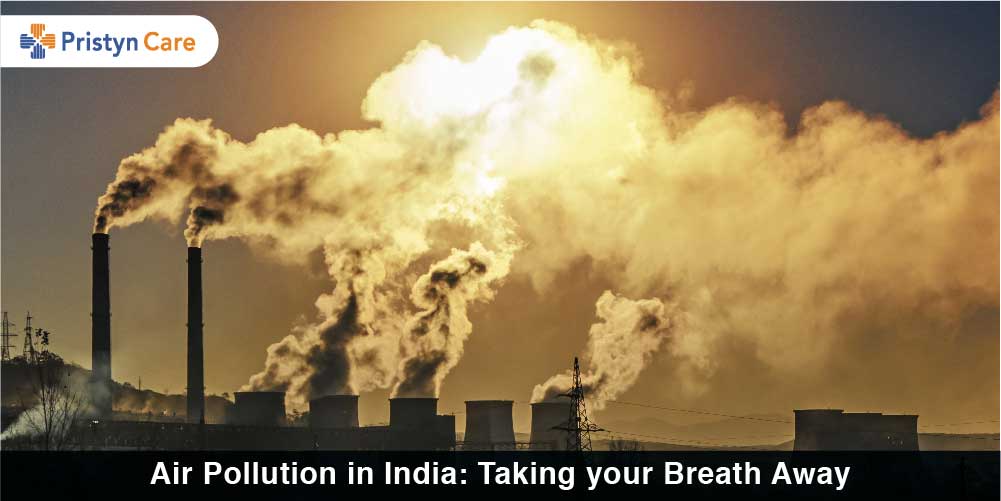 Diwali season has just finished and so is the fresh air in India.
The air quality is becoming worse with every passing day. India is once again heading into the worst time of the year in terms of air quality. The air quality during the pre and post-Diwali period have become even more toxic.
In India, there are plenty of cities that have been hit hard. The effects are hard to miss in the national capital. The air pollution is quite visible in Delhi. Don't believe me? Right! You can see the image below: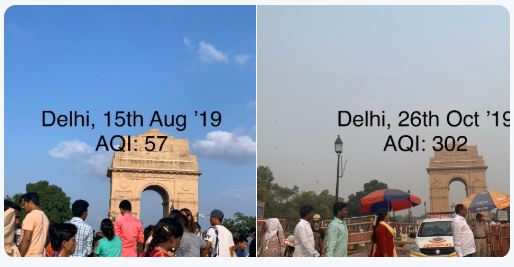 Another cause of air pollution becoming worse is "stubble burning" in the neighbouring states of Haryana, Punjab and Uttar Pradesh. 
"Air pollution kills a child every 3 minutes in India"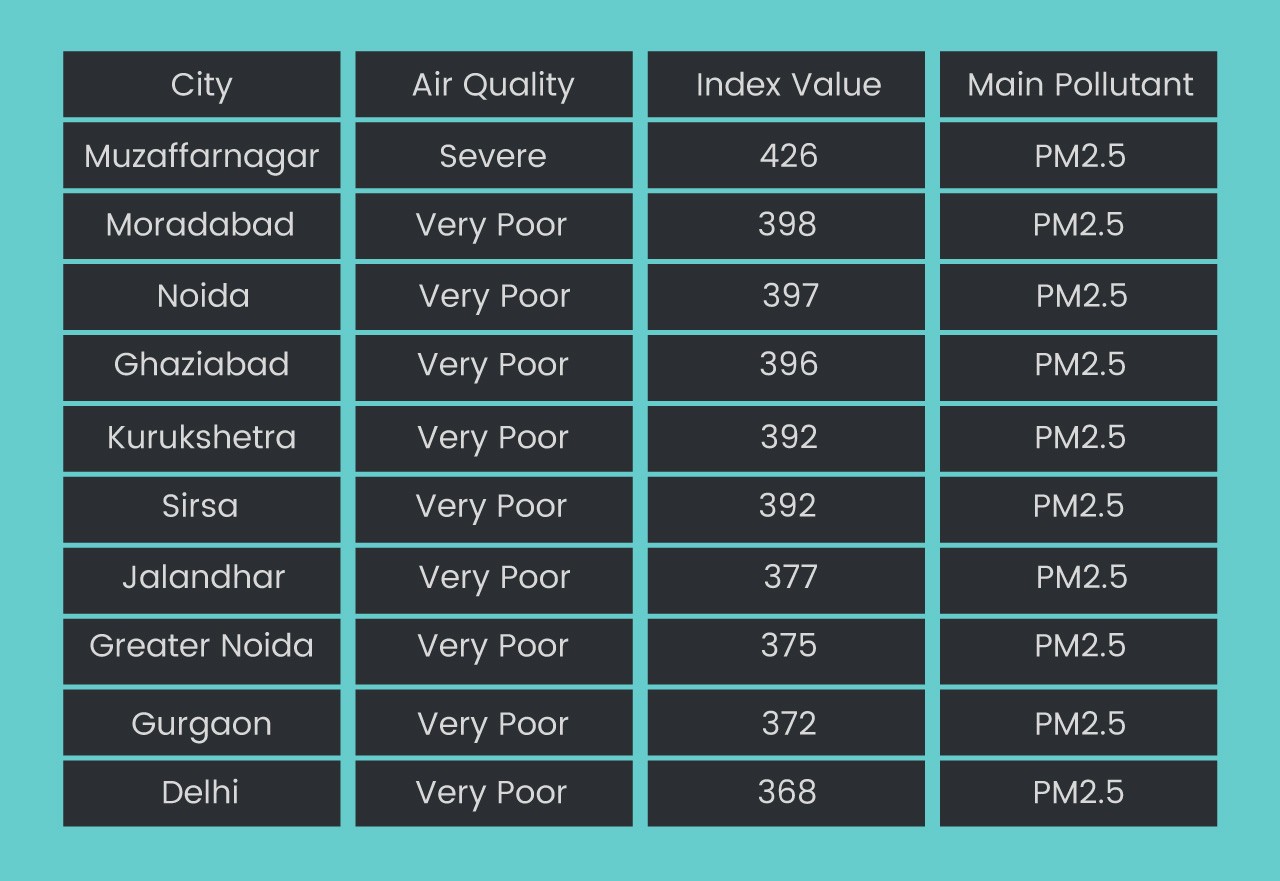 With an air quality index value of 426, Muzaffarnagar is the only city to have recorded severe levels of air pollution Diwali this year.
A day before Diwali, the air quality of Muzaffarnagar was 357, which is still poor. Delhi comes in the 10th position with an index value of 368. 
Air pollution is a killer
Long-term exposure to outdoor and indoor air pollution is estimated to have contributed to nearly 5 million deaths of which India and China reported 1.2 million deaths each
. According to State of Global Air report of 2019, air pollution reduced life expectancy by 1 year and 8 months worldwide which is higher than smoking. This means that a child born today will die 20 months sooner.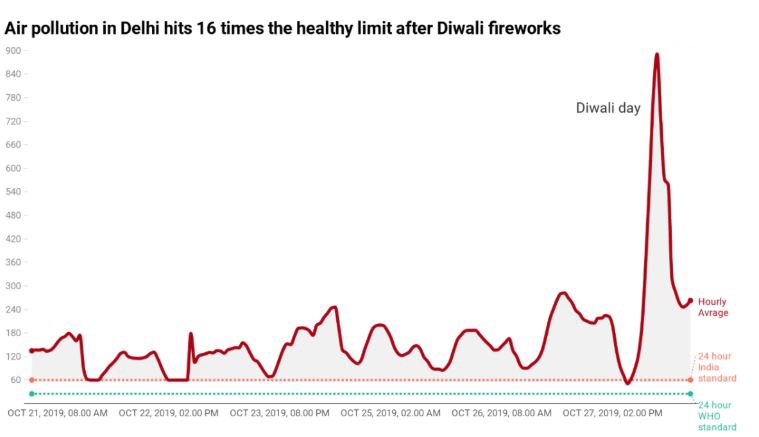 The data shows that Delhi's air remains polluted throughout the year but stubble burning and Diwali add to the misery. Delhi which is already the most polluted city has become a gas chamber.
The biggest problem with air pollution is its reach. We all need air every moment, we don't have any luxurious options to replace the air quality, we will have to breathe the air again and again just to survive or rather die. 
"Breathing in Delhi is same as smoking 15-20 cigarettes day" 
According to Doctors, even the lungs of teenagers have started to show black spots. The main pollutant is PM 2.5 and exposure to this chemical can lead to problems like diabetes. 
Why India's air is so toxic
Delhi is home to nearly 19 million is infamous for choking air that is turning iconic white marble walls of Taj Mahal green in color.
The city faced a major air quality crisis last year as pollution went off the charts, it forced flight cancellations, closed schools, accidents and also sparked protests. Dozens of other cities are dealing with pollution.
There is not much difference in air quality in the rural and urban regions. 
"Two-thirds of India's population still lives outside of cities"  
This community relies on biomass like wood and dung for cooking and heating. The stoves can cause indoor pollution which is harmful to children.
A lot of smaller cities have poor waste management as there is a lot of burning, solid fuel use. Agricultural practices such as burning crop stubble also remain widespread. 
Another major cause of India's pollution is politics. There are anti-pollution laws but they are not enforced well, so controlling this kind of pollution requires coordinating across the city, but rural and urban politicians have different constituencies, which makes it less difficult for farmers to use less polluting practices.
That's all we can hope to stop air pollution in India.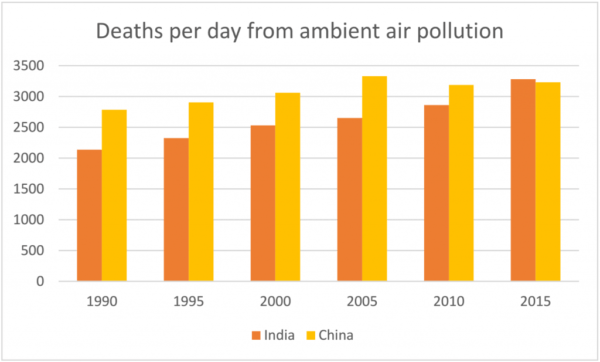 From the above graph, you can see that air pollution is causing more deaths in Indian than in China. In India, it can be seen that numbers have risen by 24% over the past decade, making 2015 the worst year on record.
The total number of deaths in India in 2015 was more than four times greater than the numbers recorded for the whole of the European Union. 
Rise of anti-pollution products: Answer to air pollution?
Pollution not only affects our health but also our skin and hair as well. The demand for anti-pollution products has jumped after Diwali. This is a trend which is going on for the past 3 years. 
"There is a 30% increase in sales of anti-pollution products in the last 6 months"
Anti-pollution masks have been a must for anyone who steps out in this weather. But the skin also gets affected, so many companies are coming out with anti-pollution products to cope up the air pollution.
Masks are getting old, nasal filters are the new trend to stop air pollution, they get fit inside your nostrils. So, there is no need to cover your face with masks.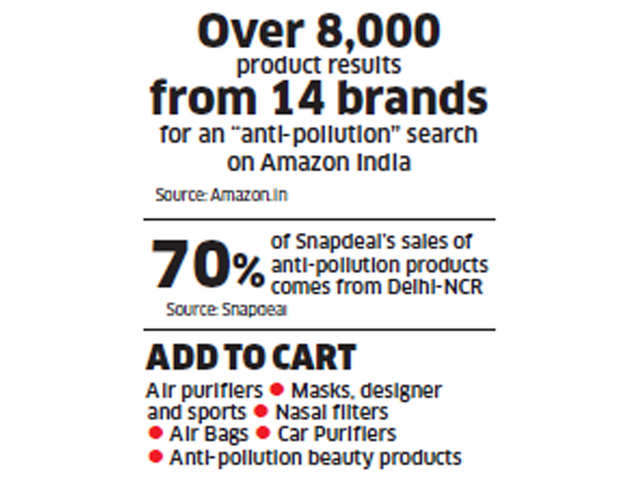 Online sellers like Snapdeal are also putting the effort into making India pollution-free. During Diwali and winter season, they organize special pollution stores, where a user can find all anti-pollution products with ease.
There is a stigma around wearing masks, there are several companies who are giving several designs to make air pollution masks more fashionable. 
There are air products that can increase the level of oxygen indoors and improve the quality of air.
Air purifiers help to remove triggers for asthma attacks, they also eliminate allergens like dust, they also trap tobacco and cigarette smoke which prevents lung disease, it also reduces carbon dioxide levels in your home, etc. 
AI solutions for air pollution in India
Technologies like the Internet of Things and Artificial Intelligence in place, air pollution can be forecasted in a certain area and actions can be taken before the situation becomes worse.
Sensors can be placed in every lamppost across the city to capture the data and also the cause of pollutants.
Takeaway
As air pollution is on the rise, one can prevent breathing problems by using air-masks, air purifiers. We all have to take a big step to curb pollution from India.
With the use of AI technology, we would be able to curb pollution by 2035.
Also Read: