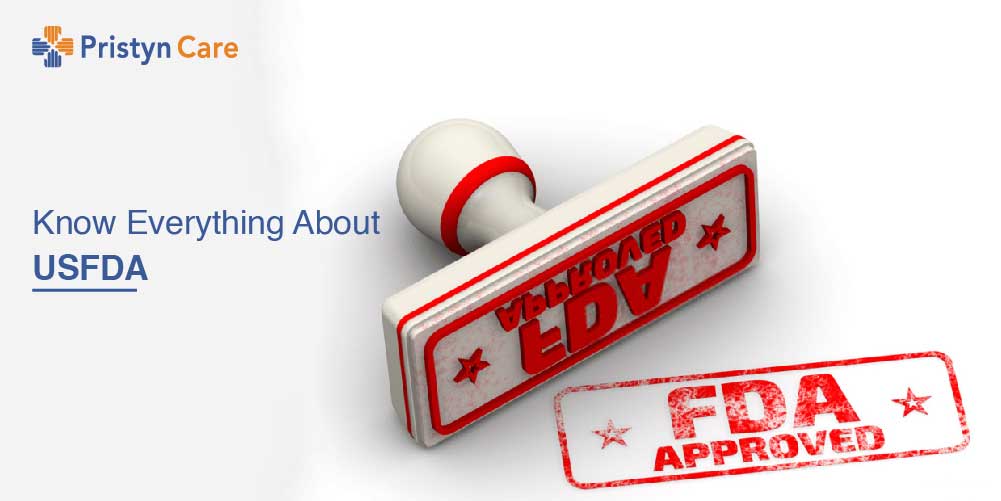 Introduction
'USFDA approved'. You might have often seen these words outside a clinic or a company's website or an advertisement talking about a new treatment. In the first place, what exactly does USFDA mean? Additionally, why do people associate a sense of assurance when they hear about this organization? 
The responsibilities of the organization range from regulating misbranded foods and drugs to approving and regulating medical devices and pharmaceuticals. 
What To Expect-
What is USFDA?

Responsibilities of the FDA

How medical devices are approved?

Can USFDA conduct recalls?

Conclusion 
What is USFDA?
The government of the United States established the U.S. Food and Drug Administration (USFDA) as the regulatory body that reviews, approves and regulates medical products, including pharmaceutical drugs and medical devices. 
Products the USFDA Regulates
With this in mind, the agency is mainly responsible for protecting public health by regulating the following-
Human drugs and biologics

Animal drugs

Medical devices

Tobacco products 

Food (including animal food)

Cosmetics

Electronic products that emit radiation
Regulatory Process of USFDA
The Center for Drug Evaluation (CDER) is one of the six centers of USFDA that regulated prescriptions and over-the-counter medications. A team of CDER scientists, physicians, statisticians, chemists, and pharmacologists work closely with the drug company seeking approval. They review the entire review process- from application to final drug approval and provides the final answer of yes or no. 
Not all of the above-mentioned products follow the same process of approval. In very few cases, the body continues to review the statistics and safety enforcement efforts after the drugs are already for sale. 
Responsibilities of the USFDA-
Established as a fact, the mission of the health agency is to protect public health. The organization divides this mission into several responsibilities to go one step towards this vision. 
The regulation responsibilities of the body include- 
Protecting public health by ensuring the safety, efficacy, and security of human and veterinary drugs, medical devices, vaccines, and biological products. 

Empowering the public by giving them accurate, science-based information to ensure they use medical products and foods with safety. 

Ensuring the safety of food by properly labeling them.

Protecting public health by manufacturing, marketing and distributing tobacco products and providing cautionary measures to reduce tobacco use by minors.

Ensuring public safety from radiation released by certain electronic products. 

Advancing public health by speeding up innovations that make medical equipment more effective, safer, and more affordable. 

Fulfills the role of Nation's counterterrorism capability by ensuring food security supply and fostering the development of medical products that can respond to public threats caused deliberately and naturally. 
Can USFDA conduct recalls?
Yes. The USFDA is authorized to 'recall' any product found unsuitable for use. Removing or correcting a product due to issues that are in violation of the regulatory guidelines decided by the authority is known as a 'recall'. A recall can be-
Decided by the drug company themselves

Requested by the FDA

Ordered by the FDA
Authorized to recall biologics (products made of human cells or tissues like vaccines), devices and infant formulas, the body does not have the right to recall any drugs. 
How medical devices are approved?
The method of approving medical devices by the U.S. Food and Drug Administration is quite notable. The agency, simply, classifies the devices according to the risk they hold. 
Class I medical devices-

Devices that endure a low risk of harm to the patients and are subject to general controls only are put under this umbrella. Hence, these are usually exempt from premarket approvals. Non-powered breast pumps, elastic bandages, tongue depressors, and exam gloves are some of class I medical devices.

Class II medical devices-

Also known as 'moderate-risk medical devices', the FDA clears these devices once it has been established that these are equivalent to a predicate device that does not require pre-market approval. 

Class III medical devices-

Mechanical heart valves and implantable infusion pumps which present a high risk of harm to the patient comes under this category. In addition to this, approval is given once it is demonstrated with sufficient, valid scientific evidence that the devices are safe to use and highly effective for their intended uses. 
Conclusion
To sum up, the regulatory body U.S. Food and Drug Administration aims to foster safe and secure public health for the people of the United States. The organization achieves this goal by practicing several responsibilities. Moreover, it has also the authority to recall any product which poses a risk to human health. 
To make sure none of the patients come across any complication during or after the surgery, you'll be glad to know that Pristyn Care uses only USFDA equipment. The laser-based procedures that we use to provide treatment for curing piles, fistula, fissure, varicose veins, etc. incur no cuts or incisions and ensures a faster recovery to the patients. 
Also Read: