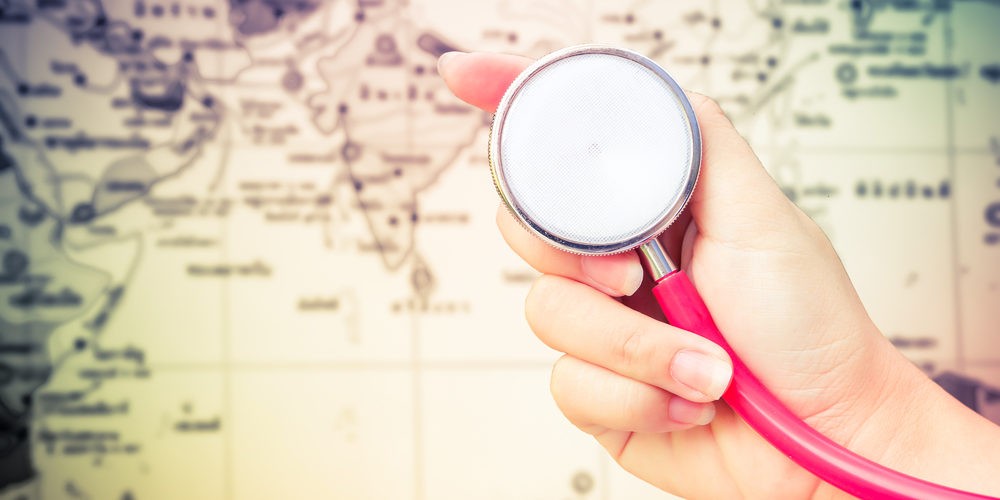 Today, people consider themselves global citizens and are accessing services, especially medical treatment services, from across the world. However, the current environment in some countries constrains such a practice. Thus, ease of travel and accessibility becomes a driving force for choosing a medical destination.  
India's rise as medical hub
India is mushrooming exponentially in international medical tourism industry, otherwise known as Medical Value Travel (MVT). By 2020, India's MVT industry will be more than double its current US$3 billion in revenue to US$8 billion, with a compound annual growth rate of 15.6 percent.
A growing number of tourists are flocking to India for the superlative medical treatment that is being provided by skilled doctors. This has made India grow for medical tourists every year. Expat patients choose their medical tourist destination based on price, availability of knowledge, proximity, and ease of obtaining proper paperwork
The prime reason being the cost of medical treatment in India being cheaper when compared to Western Europe, North America and some Southeast Asian countries. India has been getting a good revenue turnover from its medical tourism from the past 4 to 6 years.
There is increase of 16% in CAGR (Compound Annual Growth rate) from year 2012 to 2018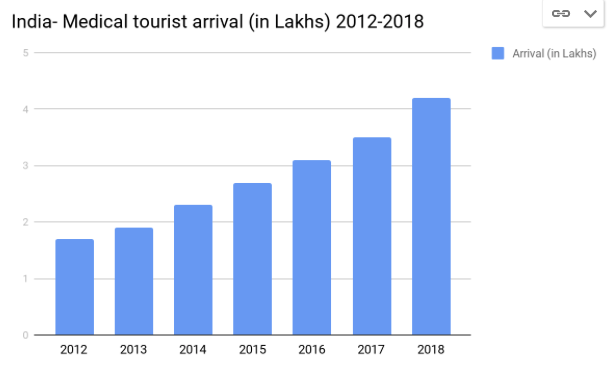 Why is India becoming famous as medical tourism destination? 
India is one of the fastest-growing medical destinations around the world and is getting better with time. Everybody can get tertiary medical treatment in India which is either not available or people cannot afford it in their home country. Here are some paramount factors which make India an ideal medical destination. 
Cost-effective treatment in comparison to developed countries such as the US and UK
Easy medical visas for patients than ever.
Personalized care and immediate service are what entice foreign medical tourists
India being a developing country, it provides world-class and standardized medical services with the help of the latest technology.
Therapies such as Ayurveda, Naturopathy and Yoga play major role in post retreatment recovery. 
India has a strong base of qualified, experienced and skilled doctors. The other major factor that has made India succeed in inviting the medical tourists is the populace of good English speaking doctors, guides and medical staff.  They make it far easier for the foreign tourists to correlate well to Indian doctors.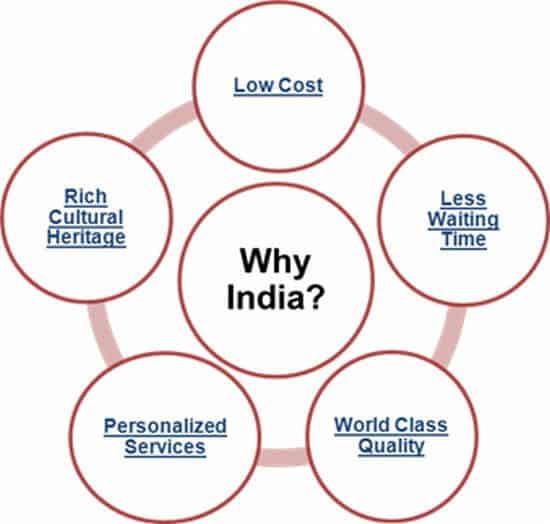 What makes India the best destination for medical tourism?
India was never so advanced in terms of medical infrastructure and services. It was difficult for the limited number of healthcare professionals to look after the medical needs of the domestic patients itself. 
However, the scenario has drastically changed in the last two decades. There are huge advancements in technology, infrastructure and manpower in the Indian healthcare sector. The steps taken in the last 10 years have made the country rank among the list of best medical tourism destinations in the world.
As per a survey: 
"Medical Tourism is growing at a rate of 18% CAGR. It was 3 billion industry in 2015 and it is expected to become a 9 million industry by 2020.
Currently, it has nearly 18% of the global medical tourism market share and is expected to be 20% by 2020. India received 4.95 medical travelers in 2017."
According to the Confederation of Indian Industry (CII), Chennai, Mumbai, Andhra Pradesh and Delhi-NCR are the most favorable medical tourism destinations for foreigners who avail treatments in India.
Understanding the importance of medical tourism, the best hospitals in India and the government have joined hands to extend their support to patients from across the globe. They especially help people who look forward to seeking the best medical facilities in India at the most affordable cost.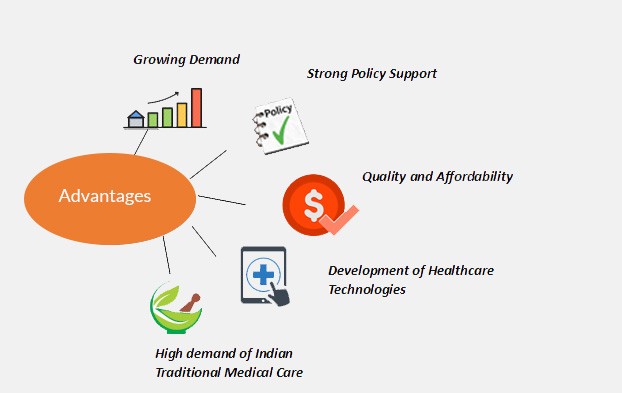 This is just one out of many reasons that make India the place for medical tourism in the world. Below are the reasons why India has emerged as a medical tourism destination:
People can generally expect to save at least 50% when receiving treatment and care in India as compared to other countries like the US or UK. This includes all the travel expenses like airfares, hotel, and food during one's stay. Some treatments can be provided for little as 10% of the cost that it would be available for in the Western nations with supreme quality care. The vast savings of receiving treatment in countries like India can provide the patient life-altering or life-saving treatment that may not otherwise be affordable.
Getting a medical visa is easy
The introduction of "Medical" visa (M-visa) in India for medical purposes makes it much easier than ever. Visas are given out in a rather short period of time. Priority is given to the patients with the most life-threatening conditions. This is to avoid more medical complications, permanent disabilities, or sometimes even death situations.
Those who will have the hardest time obtaining visas will be those from underdeveloped or developing countries. This includes countries such as Bangladesh, Ghana, Kenya, or Pakistan. The government of India is working on visa expedition program to ensure that people who need critical, life-saving treatment should get their visas in a timely manner. Being able to easily obtain a visa is one of the key reasons that people seeking treatment come from abroad to visit India to get affordable treatment. India has been successful in saving countless lives due to timely treatments and is likely to save much more in the future.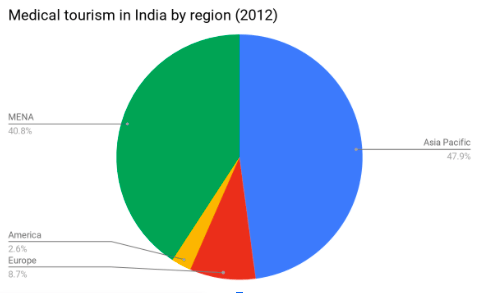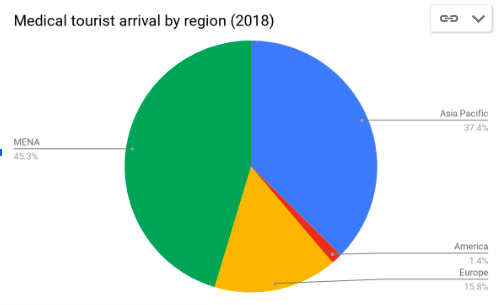 Offer treatment and therapies like Ayurveda
Many hospitals in India launching holistic, natural treatments like Ayurveda, Naturopathy, and Yoga. It is existing India from centuries and is origin of India. These are some popular ways of treatment in India. The therapies provide a relaxing aspect to healing, which helps many patients feel better much sooner.  
World-class services and care
Despite being in a "developing" nation, hospitals and healthcare centers in India provide premium, Western-standardized care to their patients. Most hospitals will offer typical Western-style accommodations from individual to shared rooms and personalized dining schedules. Many also offer personalized services that are generally specified on their website. Some of these services can include things like language translators or personal assistance for those who are disabled. These hospitals also provide patients with 24/7 access to the hospital facilities as a standard of excellent service.
Doctors are mostly trained in the country's top medical universities. Most speak fluent English as well, so language barriers are rarely an issue. Infrastructure at the hospitals and clinics is also world-class and is improving rapidly along with technology. 
According to the survey, here is the approximate count of medical facilities in India in the year 2015 which is increasing every year: 
| | |
| --- | --- |
| District hospitals | 550 |
| Community Health Centers(CHC) | 3,700 |
| Primary Health Centers (PHC) | 23,000 |
| Sub-centers | 140,000 |
| Medical colleges (including private) | 170 |
| Hospitals (including private) | 15,000 |
| Hospital beds (including private) | 875,000 |
| Retail chemist outlets (including private) | 350,000 |
| Allopathic doctors | 600,000 |
| Practitioners of other systems | 115,000b |
| Nursing staff | 737,000 |
| Traditional dais (midwives) | 700,000 |
| Bonesetters | 60,000 |
| Herbal healers | 80,000 |
Cosmetic surgeries in India
Government's support for medical tourism is appreciated. Various medical areas are sought after in India. If we talk about  cosmetic surgeries, doctors are surely doing great work in India. We get patients from Afghanistan, Uzbekistan, Bangladesh, Kuwait, UAE, Mauritius, Maldives, Turkey etc. for treatments like skin allergies, vitiligo, hair loss, pigmentation etc. and its numbers are surely on the rise annually.
Ayurveda brings India at the top of wellness tourism
With rising demand for traditional healthcare practices and a growing emphasis on preventive health care methods, medical and wellness tourism is gaining immense popularity and attention among people. Moreover, the country is known for offering alternative medicines and has certified and accredited wellness and Ayurveda centres.
Challenges for India to overcome in medical industry
In spite of so many advantages of medical tourism opportunities for India, there are certain aspects that can hinder its efforts. An important concern is the infrastructure that lacks at some parts of India. Better flight connectivity, proper roads, and healthy water and food are still the topics to ponder upon. To get support in attracting more tourists to India, we need to target infrastructure development.
In addition, many medical facilities are still not internationally accredited in India. This is a good area to work in, as making these facilities meet higher healthcare standards can add extra facilities to its kitty.
Apart from the above factors, patients are concerned about hygiene levels in medical facilities. Thus, medical attendants need to be made more aware of it. Some other important concerns are:
Lack of uniform pricing policy cross hospitals

No proper accreditation and regulation system for hospitals across the country

Lack of insurance policies

Inequalities in healthcare access between private and private sector

Mindset of contagious diseases, proper sanitation and hygiene standards in India

Lack of coordination between different players in the industry- hotels, airlines and hospitals

Low investment in healthcare infrastructure
Additionally, there is a good scope for improvement in the service marketing sector. People around the world need to know how India can help them effectively regarding their health issues. Some collaborations with medical care firms in other countries would also support its marketing efforts. There is an overall better review of policies required to grow in the medical tourism industry. Thus, opportunities can be well cashed-in if the country overcomes its limitations.
Conclusion
India has become one of the major medical tourism destinations in the world for a lot many reasons. Lower cost does not mean lower quality of care. The treatments range from open-heart-surgeries to bariatric procedures or organ transplants to cosmetic surgeries. Many of these hospitals are open enough to provide care much more rapidly than other Western nations. They ensure that you receive top-quality treatment before conditions get worse and cause more complications. This is a massive advantage for many people from Western nations where waiting lists are often long. Above all, the money they save makes it even more of an obvious choice where to choose treatment in the future.
Also Read: