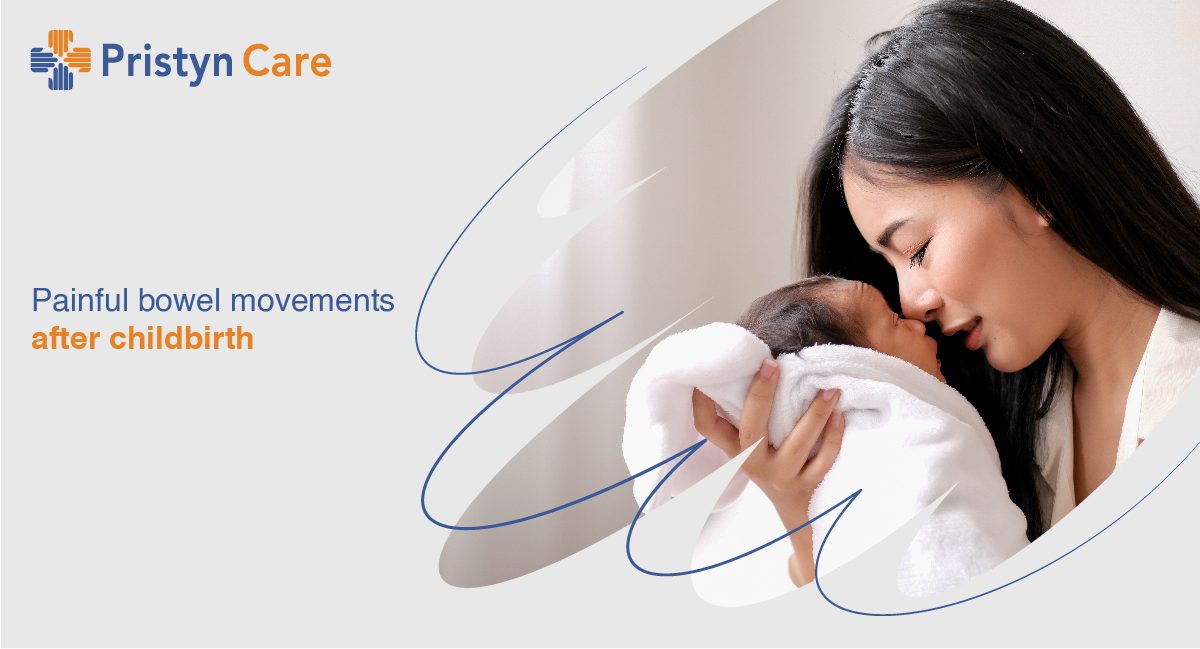 You hear from a lot of ladies that after vaginal delivery, one of the most intimidating situations is anticipating the "first" bowel movement. Bowel movement after childbirth is common for new mothers that resume after a few days. Before we discuss how to deal with postpartum bowel movements go smooth, let us know what leads to painful bowel movement after delivery. 
Causes of painful bowel movement after childbirth
Constipation after childbirth:


It has a connection with how your body undergoes changes before, during and after pregnancy. The factors causing constipation after pregnancy may be stretching or weakening of muscles. Even some women start with a regular diet that may result in acidity or constipation. There are dietary changes that can prevent constipation after childbirth. Talk to your doctor about the right diet. (Also Read: Nutrition Health – To Get Rid of Piles & Constipation!!)

Hemorrhoids or piles after delivery:

After a vaginal delivery, many women develop piles. Symptoms of piles are pain in the anal region, itching, blood in stool and soreness around the anus. Sitz bath, witch hazel or over-the-counter ointment may be helpful in such situations but consult your doctor first. You can go through our blog to know how to prevent or treat hemorrhoids during childbirth in detail.  

Postpartum stomach pain after eating:

Usually, the stomach pains after eating every meal due to poor digestion and acidity or even due to anal incontinence. Some women may experience uncontrollable gas that may last more than 2-3 months after delivery. There are cramps and discomfort in muscles during delivery which may persist even after delivery.



Abdominal pain after childbirth:

Lower abdominal postpartum pain may be due to prolonged contractions of the uterus and breastfeeding. Sometimes, the pain could also be the result of complications such as genital infections or appendicitis or ovarian cyst torsion or cyst rupture. Upper abdominal pains are not common and may occur due to infections or gut swelling or inflammation. You should, however, let your doctor know about it.

Baby blues or stress:

As you are not used to this routine, initial days after delivery may be stressful. There is a feeling of tiredness, sleeplessness, feelings of loss, irritation, anger, frustration, mood swings or change in appetite. All of this may lead to irregular bowel movements or painful ones. If you do not feel better after a few days, make sure you talk to your doctor about it.

Also Read: Know About the Risk of Piles during Pregnancy
Other common problems after childbirth
Excessive bleeding

Breast problems such as swollen breasts, clogged ducts

Discomfort during sex

Weight gain after pregnancy

Stretch marks

Gallbladder stones

Uterine, bladder or kidney infection
Conclusion
It is essential to take care of yourself so that you can take care of the little one. To know more about the changes in the body during and after pregnancy, you can go through the information given by our Gynecologist Dr. Garima Sawhney or contact us to know more.

Also Read: Which Food Habits Ease Evacuation?