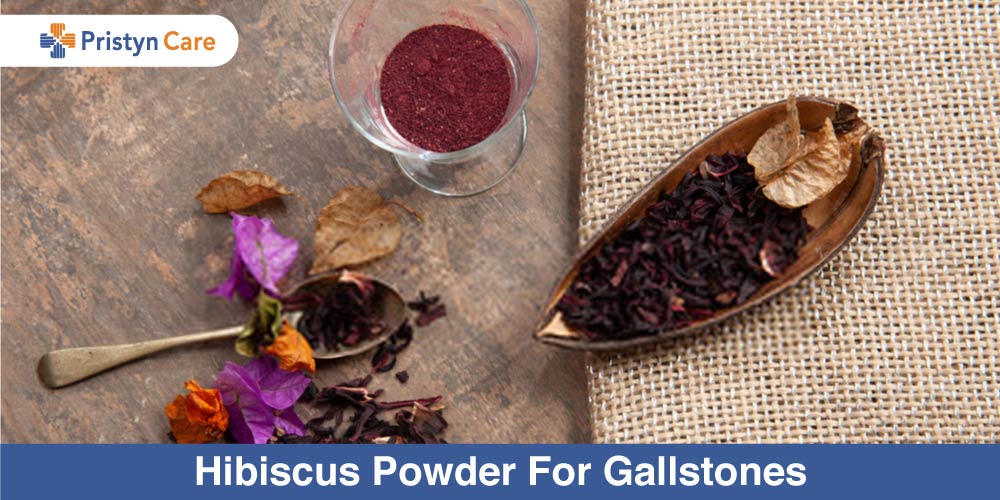 According to Ayurveda, removing gallstones naturally with the help of a hibiscus plant. Hibiscus powder is made out of this plant from its dried flowers. It is easily available in stores that provide natural and herbal medicines. Hibiscus powder is also available online to purchase. 
Hibiscus or Japa Pushpa is originally grown in parts of East Asia and is said to work great even for hair and skincare along with gallbladder stones treatment.
As recommended by experts, hibiscus powder used for the removal of gallstones must be natural and pure. No adulteration. Hibiscus powder promotes urination which is essential to keep gallstones away. 
How to take Hibiscus powder for gallstones?
Those suffering from gallstones or who get frequent gallbladder attacks should take hibiscus flower powder with a glass of warm water. It must be taken after one hour of having dinner. 
People do ask if hibiscus powder can be consumed empty stomach. So, hibiscus tea can be consumed before having a meal. Make sure about the quantity consumed. For those who want to avoid surgery, they consider this as one of the best home remedies for gallstones. 
How does hibiscus powder work?
The fruit acids in hibiscus may work as a laxative agent. Other chemicals in hibiscus may lower blood pressure; reduce levels of sugar and fats in the blood; decrease spasms in the stomach, intestines, and uterus; reduce swelling, and work like antibiotics to kill bacteria and worms.
Benefits of hibiscus powder for gallstones
Hibiscus powder contains a lot of medicinal properties and specially used as an effective herb for numerous reasons. The astringent and cooling properties of hibiscus powder cool down an overheated stomach, reducing your appetite to natural levels. The diuretic and blood-thinning qualities of hibiscus will help in weight loss and also improve your mood.
People use hibiscus for high blood pressure and high cholesterol which further prevents the formation of gallstones. But there is no good scientific evidence to support most of these uses. 
Some of the most noted benefits that are related to hibiscus powder are detailed below:
Hibiscus is a mild diuretic, which eases constipation and regulates bowel movement. It also prevents colorectal cancer by keeping the gastrointestinal system healthy. (Also read: Banana in Gallstones)
Hibiscus lowers the absorption of glucose and starch from carbohydrate-rich foods. So, it helps in maintaining a healthy weight.
As hibiscus is high in iron, it increases the hemoglobin level in the body. This can prevent and even help in curing anemia.
How to store Hibiscus powder?
It must be stored in a cool and dry place and should be kept away from the reach of children. 
Are there any side-effects of Hibiscus powder?
There are downsides associated with consuming hibiscus. Some of them are described below:
Risk for liver: Hibiscus tea can be dangerous for the liver if consumed in high dosage. However, consuming 400 mg-500 mg in a day is considered a reasonable amount.

Blood pressure: It may cause blood pressure to drop to below normal level.

Pregnant women: It can put pregnant women at risk for premature labor.
Note: Do not consume alcohol while taking hibiscus powder course. Also, it is not addictive but one must not self medicate with it. Consult a doctor for the right dosage and method to consume hibiscus powder
Take Away
Therefore, if you notice symptoms of gallstones, you can take hibiscus powder as a home remedy after consulting a doctor. If home remedies do not show improvement or the symptoms of gallstones get severe, you might need medical intervention. Visit your nearest doctor for a diagnosis to find out the underlying cause as it may be gallbladder infection. You can also write to us at Pristyn Care and our medical coordinator will get back to you. You can also book an online consultation with a gastroenterologist to know more about the gallstones and its treatment. 
Also read: Diet to cure gallstones
Also read: Gallbladder treatment without operation