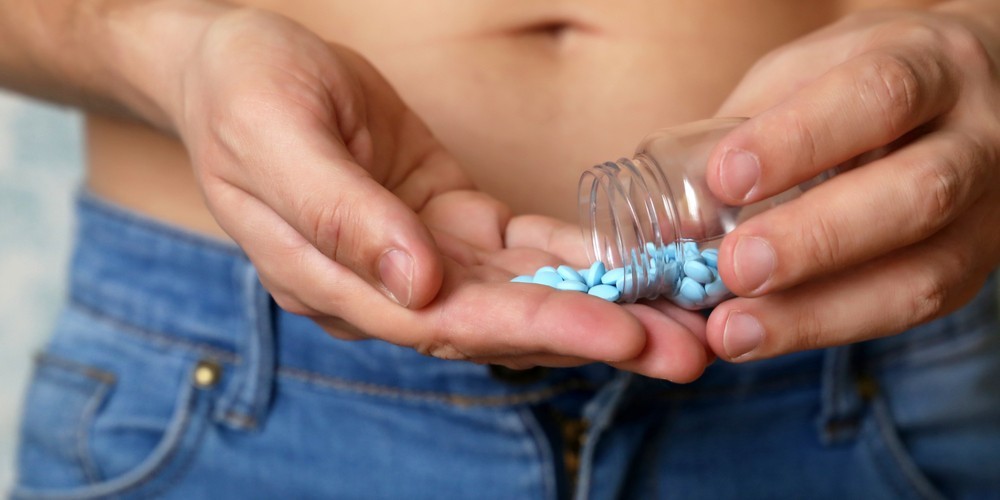 History of Viagra
Initially, Viagra was designed by Pfizer scientists who were working in the U.K. They were working on a drug which was developed to cure hypertension and blood pressure, angina pectoris which is a symptom of heart disease. During phase 1 trials, this was noted that the drug did so little to prevent angina. It hit the market in 1998, Viagra was the first oral treatment which was approved to treat the erectile dysfunction problem in the U.S. Viagra's meteoric rise to popularity has seen it used as an illicit drug. Viagra use by individuals without having an erectile dysfunction problem does not seem to have any effect. Although researches have noted that there might be a placebo effect. There has been proven a benefit for women taking the drug. In 2008, viagra generated around $1.95 billion of revenue for Pfizer.
5 facts about Viagra: The Blue Pill
Viagra was originally intended to treat the chest pain

Viagra won't boost your sex drive

It shouldn't be taken with some medications

Erectile dysfunction isn't the only condition viagra treats

Viagra works by blocking an enzyme found in the penile tissue
Viagra is one the controversial and widely used pharmaceutical drugs which have hit the market in the last 40 years. People use viagra to overcome erectile dysfunction. It works to help relax the muscles which are there in the walls of blood vessels in various areas of the body. In some cases, viagra works well and has changed people's lives for better. The word viagra is the brand name for sildenafil citrate and used to treat erectile dysfunction and arterial hypertension.
The common question for everyone is that the use of viagra is it good or bad. Is it safe or not.
Let's see this first.
Is viagra safe?
Viagra is safe to use in small amounts or moderation. However, taking viagra can cause a range of adverse effects. The most common side effects of viagra include:
Nasal congestion

Impaired vision

Headaches

Sensitivity to light

Indigestion
In some cases, users have also experienced cyanopsia, where everything appears like a tinted blue tinge. And in very rare cases, viagra can also lead to nonarteritic ischemic option neuropathy. Some other effects of viagra can also include:
Heart attack

Sudden hearing loss

Ventricular arrhythmias

Painful long-lasting erection

Increase in intraocular pressure
Viagra can also decrease the blood supply to optic never, which can cause sudden vision loss. This is a rare adverse event which can occur in people with heart disease, high cholesterol, diabetes or eye problems.
How long does viagra last?
The duration of viagra will vary from person to person, but it can stay for up to 5 hours at a time. This doesn't mean that you will get an erection for 5 hours, it means that you will be able to get them easier this time. Most men will find the effects of viagra which will start to wear off 2 to 3 hours after taking it for the first time. To make sure that viagra lasts long as it's supposed to, you should provide with the correct information about your current health.
Determining whether to take viagra tablet
Talk to your doctor first: You might be a good candidate for viagra if you are suffering from erectile dysfunction. It's also important to discuss the medication with the doctor to make sure that this drug is good for you. You should inform your doctor if you are having any allergy to certain drugs so that doctor can determine whether you are allergic to viagra or not. Also tell your doctor if you are taking any other medications, which include herbal supplements.

Don't take viagra if you are on the medication for alpha-blockers: These drugs, which are prescribed for the prostate problems and blood pressure, which can cause the blood pressure to drop too low when these are mixed with viagra.
How long does viagra tablet take to work?
The effects of viagra will depend on you. Viagra starts working in most people around 30 minutes when it's taken. Viagra should be taken with some form of sexual stimulation for the erection to occur. If you want something which starts quickly, then spedra can work in just 15 minutes.
These things will affect how long viagra lasts:
Age: If you are over 70 years old, you can find that the medication stays in your body for longer. As you get older, viagra leaves your body slowly. This means that viagra effects will last longer when you are old.

Diet: Having a heavy meal before taking viagra, will make it longer to start. This happens because of the fat present in the digestive system can cause the medication to enter the blood more slowly. It will also limit the amount of viagra present in your blood. If you will take viagra on an empty stomach, the effects can begin quickly and have a bigger impact.

Alcohol: Drinking alcohol also decreases the flow of blood to your penis, which makes it harder to get and keep an erection. A single beer or glass of wine is fine but it could still give you some effect. More than 3 units of alcohol can increase the risk of the side effects of taking viagra and maintaining the erection tough.

Dosage: Viagra normally comes in dosages of 25mg, 50mg and 100mg. Higher dosages will last longer, but also comes with bigger side effects.

General health: If you are having kidney or liver problems, viagra effects can last longer, it might not be safe to take viagra while having these conditions. This will last longer because of the tablet takes longer to get broken down by the body, this means there would be a bigger risk of having side effects.
How long does viagra tablet stay in your system?
If viagra is broken down normally by the body the effects do not last more than 4 hours. Although the effects don't last longer than 5 hours, you still should not take any extra dosage until 24 hours after your recent dose. This happens because the viagra in your body is still high enough and if you take another dose on top of it, the risk of getting side effects becomes too high.
Benefits of taking viagra tablet
Given below are some benefits of consuming viagra:
Duration: This little tablet will increase the duration of ejaculation for up to four hours. This doesn't mean that the person will have an erection for four hours. Those who consume viagra have plenty of time for spontaneous sexual intercourse. Four hours is plenty of time for a person to get in the mood for sex.
Timing: Majority of men who use viagra can achieve an erection within 30 minutes of taking the tablet when they are sexually stimulated. If the tablet is taken following a heavy meal, the effects can take longer to develop.
Easy to consume: Taking a tablet is easy and same is the case with viagra, swallowing a tablet is an easy, convenient way to take medicines for lots of people.
Here are some myths and facts about viagra which are busted:
Viagra is the only treatment for erectile dysfunction
False: Viagra can be the most popular treatment for erectile dysfunction but there are also various available alternatives. There is Levitra, Cialis which are widely used treatments for erectile dysfunction. Cialis lasts long. There are other treatments like MUSE pellets, vitaros cream and Caverject injections.
Viagra will give you a permanent erection until the effect is gone
False: You will get an erection after taking viagra when you are stimulated sexually. Without any stimulation, viagra does not affect.
Viagra works for the first time
False: There are instances where men have experienced no results the first time they consume viagra. This doesn't mean that the drug won't work. According to doctors, you must try any erectile dysfunction treatment up to eight times before looking for any other medication or moving to a higher dosage.
Viagra protects against STIs (Sexually transmitted infections)
False: Viagra offers no protection against STIs nor does any other form of erectile dysfunction treatment. You should wear a condom if you have some doubts regarding your partner.
Another common problem which men face after viagra is headaches. You can avoid the headache pain by understanding that there are some things which you can do to reduce the headaches when consuming viagra. Not every man will get headaches when taking viagra and you might not experience a headache every time you take it.
Let's see how to reduce headaches when taking viagra.
You can begin by reducing the dose of viagra to the minimum amount which produces the results you want. For some men, a tablet of 25mg is effective and it will reduce the chances of headaches. You can consult the doctor and experiment on your own to know the perfect dose for you.

Eat properly before you consume viagra. If you want maximum effect then the pill should be taken on an empty stomach, but it means three hours after eating. Not eating properly can make headaches come all by themselves. Do make sure you have consumed a good amount of calories to avoid a hunger headache.

Take over-the-counter pain relievers at the same time you take viagra and every six hours afterward. The pain reliever will kick in about the same time as the viagra does and it will reduce your chances of getting a headache. Use the pain reliever your doctor will recommend for you and take the maximum dose until the next day.

Drink plenty of water when you consume viagra. Mild dehydration will cause a headache and viagra will act as a diuretic, you will require more water than normal.
Here are the effects of viagra tablet on the body:
This medication is used to treat erectile dysfunction. It helps you to maintain temporarily erection so that you can have sex, it does not cure erectile dysfunction. It does not affect sexual desire. You will require to need physical or mental to get an erection.
Viagra can be quite effective, but this is no magic pill. It does nothing for your libido. You will still require some kind of stimulation to get an erection. The effects of viagra usually last about 4-5 hours, it may last longer for some men. It's rare but a serious side effect is a priapism. You will get an erection which lasts for a long period of time. It can become painful. If you have an erection which lasts for more than four hours, you should seek some medical attention.
Viagra helps to improve blood flow to the penis but your brain is still your most valuable sex organ. Viagra won't work if you are not in the mood. Some side effects of viagra are a headache and blocked nose. Some men will feel dizzy or lightheaded. In some rare cases, viagra can cause fainting.
Digestive and excretory system
One common side effect of viagra is heartburn or indigestion. PDE-5 inhibitors can sometimes also cause vomiting. You can take viagra with or without food, this is best to take it one hour before you plan to have sex. Nearly 80% of viagra leaves your body via feces. The rest is washed out with your urine.
You should call your doctor if you have:
Irregular heartbeat

Sudden hearing loss

Swelling in your feet, ankles and hands

Shortness of breath

A light-headed feeling, like you, will pass out
This was the whole theory about the viagra tablet if you still looking for an alternative method for erectile dysfunction, then the best option is via penile implants and penile pumps.
Also Read: The most used Erectile Dysfunction medicine & treatments