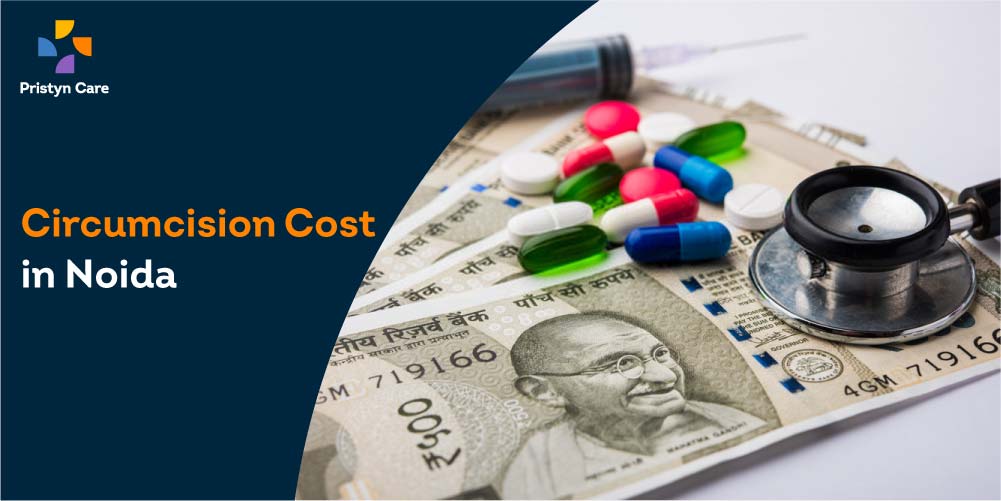 The cost of circumcision in Noida and several other cities in India typically starts from Rs. 30,000 and can go up to Rs 35,000 depending on the reason for circumcision and the medical condition of the patient. There are several factors that decide the total expenditure of circumcision surgery.
Circumcision is a surgical procedure to remove the foreskin that covers the tip of the penis. This procedure is done on infants for personal as well as religious reasons. However, in adults, circumcision may be needed to treat several conditions such as balanitis, balanoposthitis, phimosis, paraphimosis, etc. Circumcision is a common procedure in some countries while being less prevalent in others. It is estimated that around 37% to 39% of men are circumcised globally, with most of them circumcised for religious and cultural reasons.    
Cost of Circumcision Surgery in Noida
Circumcision is performed via three methods- Open circumcision, stapler circumcision, and laser circumcision. The cost of each surgery is different due to the equipment and technology used during each surgery. Here is a breakdown of the cost of each circumcision surgery in Noida. The figures here are for reference purposes only. However, the actual price can vary. In addition, the duration of surgery and the recovery period are taken into consideration under normal circumstances. 
| | | | | |
| --- | --- | --- | --- | --- |
| Type of surgery | Minimum cost  | Maximum cost | Duration of surgery | Resume work |
| Open Circumcision | Rs. 25,000 | Rs. 30,000 | 60 minutes | After 3 days |
| Stapler Circumcision | Rs. 30,000 | Rs. 35,000 | 15-30 minutes | Next day |
| Laser Circumcision | Rs. 30,000 | Rs. 35,000 | 15-30 minutes  | Next day |
Please note that the above-mentioned cost should be considered only for reference purpose and should not be considered as appropriate. The cost, irrespective of the surgery type, can be less or go higher depending upon multiple factors.
Factors that decide the cost of circumcision treatment in Noida
The cost of circumcision surgery in Noida is around Rs. 30,000 to Rs. 35,000. The overall cost of circumcision treatment can vary depending on multiple factors which we have enlisted below. The factors such as selection of hospital (government or private), cost of surgeon's fee depending on the experience and expertise, insurance coverage, type of surgery, etc., decide the total expenditure of the treatment. Here are several factors that affect the cost of circumcision surgery in Noida.
While selecting the hospital, the patient prefers a hospital with an excellent history of successful circumcision surgeries. This is why a reputed healthcare institution will charge more but also ensure a high success rate. Similarly, each hospital has its cost structure when it comes to the hospital stays. The expense of each night in a hospital depends on the type of your room selection and the facilities provided by them during your post-operative stay. 
There is a rare chance that you will be admitted to the hospital after your circumcision. The surgeon may ask you to stay for a day maximum after your circumcision.  You can choose to stay in general wards, single rooms, double occupancy rooms, luxury occupancy, etc. 
During the time of admission or consultation, the doctors charge a nominal fee which usually depends on the expertise and experience of the surgeon. An experienced urologist may charge a higher consultation fee due to his/ her excellent track record of performing circumcision surgeries with a high success rate.
There are no major diagnostic tests involved with circumcision surgery. The surgeon collects a swab sample of your foreskin and may ask about your medical reports. A nominal fee may be charged depending on the type of hospital you have chosen.
The patient is administered with local or general anesthesia during the circumcision surgery. The doctor sedates the patient with anesthesia so that the patient does not feel any pain while the surgery is being performed. The cost of anesthesiologists and anesthesia adds to the total cost of the treatment.
Like any other surgical procedures, circumcision is also associated with risks and complications. Post-surgical complications may require repeated hospital visits and medication costs which becomes a financial liability. Therefore, in case of a medical emergency, seek treatment as soon as possible. 
Post-surgery consultation charges
The doctor is likely to prescribe a few medications and routine checkups after the circumcision surgery. It is important to keep in touch with the doctor to decrease any major discomfort after the surgery. The cost of each follow-up session with the urologist will add to the total cost of surgery, depending on the number of sessions. The follow-up sessions at Prityn Care are free of cost.
Is circumcision surgery covered under insurance?
The cost of circumcision treatment is covered under insurance if it is done for medical reasons. Most insurance companies provide insurance for circumcision if it is a medical emergency and can lead to serious complications. In such cases, the cost of the treatment for circumcision will be covered entirely by the insurance company. However, the insurance approval for circumcision will depend on the type of your insurance policy and the terms and conditions set by your insurance provider.
Pristyn Care offers cost-effective treatment for circumcision in Noida
Pristyn Care is associated with some of the best healthcare facilities and clinics in Noida. Our partnered hospitals have modern facilities and advanced technology for a very high success rate of circumcision surgeries. Pristyn Care offers a flexible payment system to ease the process of accessing treatment. Our surgeons and doctors are fully qualified and trained to operate state-of-the-art technology to ensure a high success rate. Pristyn care also offers 
30% off on diagnostic tests 

A free cab pickup and drop facility within the city on the day of the surgery

Payment for circumcision treatment using credit cards or debit cards. 

Zero EMI facility for the treatment
The patients can undergo advanced treatment for circumcision without worrying about the cost. Our doctors provide a comprehensive approach to each patient to guide them through the procedure and ensure a successful treatment.