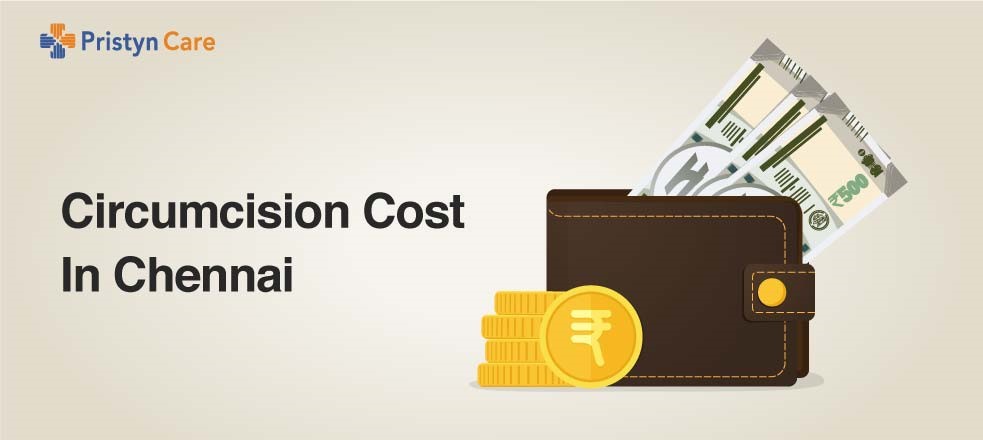 Cost of Circumcision Surgery in Chennai varies between Rs. 30,000 to Rs. 35,000.
Have you been looking for affordable circumcision in Chennai? Finding it hard to know about the pocket-friendly yet effective circumcision in Chennai? If yes, then you have landed at just the right place.
Well, let's gain an insight into the answers related to these questions regarding circumcision costs in Chennai.
You might have come across doctors that would quote a figure for circumcision that's totally out of your budget. But you must know the actual range of cost for circumcision. Usually, the cost of modern circumcision (including laser circumcision) lies in the range of Rs. 30,000- Rs. 35,000. The exact amount totally depends upon the condition of the patient. The maximum cost can be for severe cases of phimosis, paraphimosis,  balanitis.
Another major cost deciding for circumcision is the anesthesia. The kind (local or general) and amount of anesthesia that a patient requires plays an important role in the cost of the entire treatment. 
Cost-effective Laser Circumcision at Pristyn Care in Chennai
It will bring you a major sigh of relief to know that Pristyn Care offers modern laser circumcision. Laser circumcision is the advanced procedure of circumcision that is performed only by the certified surgeons at Pristyn Care. The cost range of laser circumcision is the same as mentioned above. There are only benefits of choosing laser circumcision over any other surgical procedure.
You may find other cheaper circumcision options, but there can be a huge risk factor. It is usually a case with the traditional procedure of circumcision. Don't be fooled that its a better deal than undergoing a costly modern treatment. The are many cons related to the conventional circumcision that will only add up to your troubles. It involves cuts, bleeding, and scars that can further result in unseen complications if there is any carelessness. Hence, the patient takes long days of recovery after undergoing such a surgical process. And, complications, infections, and pain is the usual scenario for the patients after conventional surgery.
Whereas, Laser circumcision is minimally invasive in nature and is the most cost-effective treatment. Mostly, laser circumcision is used to cure phimosis (the most condition that requires timely circumcision). Being minimally invasive means that it involves no cuts, stitches, wounds or long term scars. The treatment is absolutely painless and there is no blood loss for the patient. As there are no big wounds to recover from after laser circumcision, the patient recovers faster. It is not at all false to say that the patient can resume his normal life routines in just 3-4 days after laser circumcision.  
Our experienced urologists are all across Chennai for Circumcision (Sunnath) Operation
Doctor's Name
Qualification and Experience
Location
Dr. Arun Mozhi Varman

MBBS, MS

Specialty in Laparoscopic surgeries with 15+ years of experience

113, Mount Poonamalle High Rd, Venkateshwara Nagar, Porur, Chennai, Tamil Nadu 600116

Dr. Prabhakar Padmanabhan

MBBS, MS, FMAS

Specialist in Laser and Laparoscopic surgeries with 8+ years of experience

Number- 237, Kilpauk Garden Road, Landmark: Kilpauk Garden Road, Chennai

Dr. Padmanabhan S.R.

MBBS, MS

Specialist in Laser and Laparoscopic surgeries with 17+ years of experience

No.3A, H1 Bharatha Madha

Street, East Tambaram

chennai – 600059

Dr. M. Senthil Kumar

MBBS, MS, FIAGES, FICS, FASI

Specialty in Laser and Laparoscopic surgeries with 14+ years of experience

113, Mount Poonamalle High Rd, Venkateshwara Nagar, Porur, Chennai, Tamil Nadu 600116
You can reach out to our specialist doctors nearby you in Chennai by booking an online appointment. Our medical coordinator will also answer your queries regarding the cost of the treatment.
Also Read: 
*Disclaimer: The Cost mentioned in this blog is what Pristyn Care charges as per the City and Treatment and this cost may vary as well depending on the other factors which increase and decrease the cost. The market cost of the treatment may vary depending upon the healthcare service provider and the functional city.