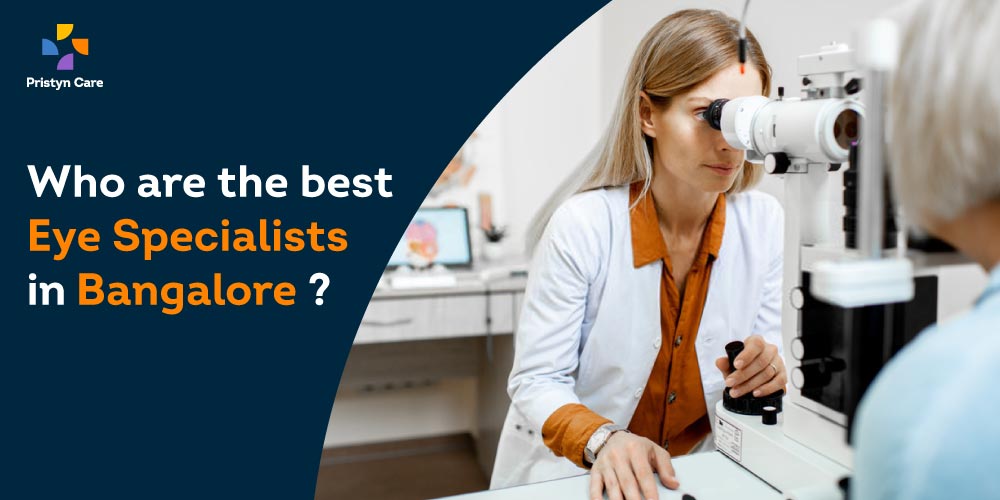 A cataract is one of the most common eye disorders. A cataract is a condition where the natural eye lens gets cloudy and hazy. To date, there has been no identified effective treatment for cataracts other than surgery. 
Cataract removal surgery involves the removal of the cloudy lens and replacing it with an artificial lens. Most people do not understand the severity of the condition. Even if they do, they either expect it to go with time or delay the treatment because they don't trust a doctor to operate on the eyes. 
Cataract surgery is a delicate procedure; it needs a high level of expertise and precision. For effective results, one needs to make sure that he or she undergoes cataract surgery only at the hands of a trained and experienced eye specialist. This blog enlists the names and expertise of some of the best eye specialists in Bangalore who are knowledgeable and known for cataract-removal surgery.
Best eye surgeons in Bangalore for cataract surgery
1. Dr. Raghu Nagaraju
With more than 12 years of experience in his account, Dr. Raghu Nagaraju is considered one of the best eye surgeons in Bangalore. Dr. Nagaraju was awarded Netrarathna Award in 2019 and the Rotary Young Ophthalmologist award in 2018. His key interest areas include Cataract Removal Surgery, LASIK Treatments, and Glaucoma Evaluation Tests.
He has worked as Medical Director and Senior Cornea and Refractive Surgeon at Dr. Agarwal's eye hospital in Indira Nagar in 2018-2019. He currently works with Pristyn Care as a visiting consultant.
2. Dr. Krishna Mohan Jinka
Dr. Krishna Mohan Jinka is an eminent eye surgeon with a decade of professional experience and over successful 60,000 eye surgeries to his credit. Dr. Jinka is highly trusted for his expertise in providing eye treatments with the latest modern technologies and facilities. 
Dr. Jinka specializes in Advanced Cataract Removal Surgery via techniques Like Phaco- Emulsification, Micro- Incision Phaco- Emulsification, Laser Vision Correction With LASIK, Epi- LASIK (The Latest Technique For Correction Of High Powers). He works as a visiting consultant with Pristyn Care in Bangalore and provides both online and in-person eye treatments.
3. Dr. Sireesha Sailaja
With 26 years of overall experience (17 years as a specialist), Dr. Sireesha Sailaja is one of the most coveted eye surgeons in Bangalore. She holds 13 years of experience as a Phaco surgeon. 
Dr. Sailaja has performed more than 25,000 cataract surgeries to date. Her key services include Cataract Surgery, Glaucoma Evaluation, LASIK Eye Surgery, and more. She was conferred the 'Best Doctor Of The Year' by Lions International Nellor( Ap) in 2006, the 'Best Doctor – Lions International Club' in 2007, and the 'Best Woman Of The Year' for Concern To Community By Jay-Cee Ret Organization Nellor ( Ap) in 2008.
4. Dr. Mary Varghese
Dr. Mary Varghese is a well-known eye surgeon/ ophthalmologist in Bangalore with 36 years of experience and 31 years as a specialist in her account. She is dearly loved and trusted for her humanitarian aspect in all her treatment approaches. Her expertise includes LASIK Treatments, Cataract Surgery and Glaucoma Treatment.
5. Dr. Dileep Kumar Chennamshetti
Dr. Dileep Kumar Chennamshetti is one of the highly experienced eye surgeons in Bangalore. During his 28 years of career as a certified ophthalmologist and 20 years as a specialist, he has performed several cataract surgeries. His focus areas for eye treatment include Vision Therapy, Cataract Removal surgery, refractive Surgery, Keratoplasty, Corneal Surgery, Laser Refractive & Cataract Surgery, and many more. Additionally, he also provides treatments for eye inflammations, vascular, neurological, and genetic disorders, thyroid eye diseases, diabetes, and strokes. He has expertise in performing eye surgeries with Phaco machines, laser machines, etc.
The takeaway:
Though all of the above-mentioned eye surgeons provide online and in-person consultation for eye treatments, they often suggest patients come and visit in person. A one-on-one consultation helps the doctor to evaluate, diagnose and determine the best line of treatment for the eye condition.
Delaying cataract surgery is not a wise decision; sooner or later it has to be removed surgically. But the earlier one undergoes cataract surgery, the lesser are the chances of any potential complications.