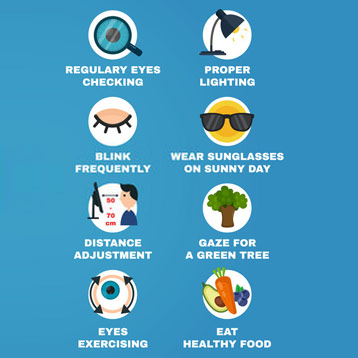 The eyes are a very important part of our body and their health matters a lot to see the world around us. What most people don't realize is that vision problems can be avoided and eyes can be kept healthy if they follow the steps below:
Focus on maintaining your blood sugar levels. Higher sugar levels can increase the blood pressure significantly and may affect the optic nerve that can impair your vision. 

Know your family's eye health and history to know if you are potentially at risk of developing certain eye diseases. Refractive errors can be hereditary, i.e., if your parents had some kind of refractive error, you are more likely to get it at a young age. 

Eat healthy food to protect your sight. You must have heard from many people that carrots, green leafy vegetables, fruits, etc. are good for your eyes. It is true as some food items are rich in omega-3 fatty acids that are good for eye health. 

Wear protective eyewear while playing sports or other activities in which there is a risk of eye injury. If your eyes get injured, the vision is the first thing that will be affected. 

Quit smoking as it is bad for your overall health as well as your eyes. It will damage the optic nerve which will ultimately impair your vision. 

Go for a regular eye checkup to ensure that the vision problems can be detected at an early stage. This will help to get proper treatment for the condition and prevent it from advancing. 

Give your eyes proper rest if you spend your entire day watching a computer screen. Take breaks throughout the day and use some eye exercises to keep the ciliary muscles strong.