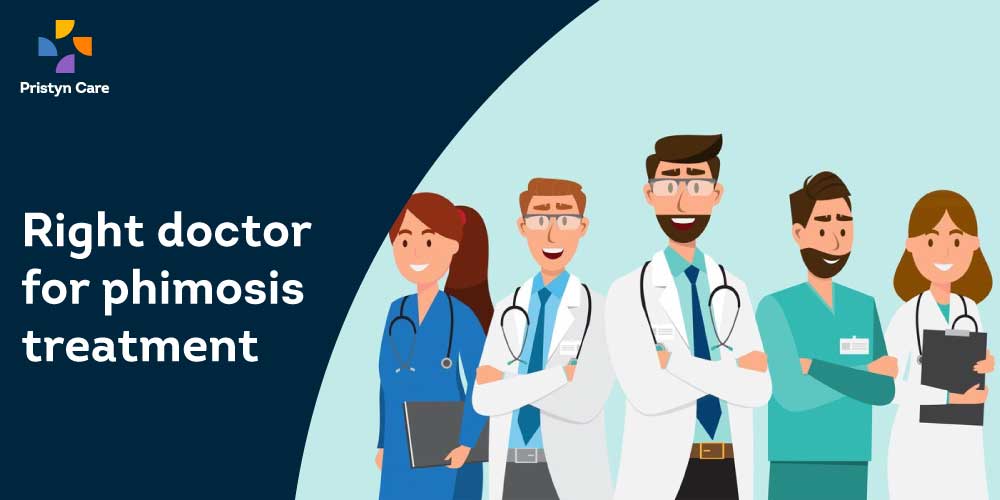 Phimosis is a urological condition where the foreskin becomes tight and can't be retracted or pulled back over the tip of the penis [glans]. As a result, phimosis may appear as a tight ring or "rubber band" of foreskin. Phimosis is one of the common foreskin problems noticed in baby boys and adults.
In older children, phimosis can be caused due to scarring. However, phimosis is not usually a problem unless it causes symptoms. If phimosis causes problems such as difficulty urinating, redness, soreness, swelling, and inflammation of the head of the penis, treatment is needed.
Make sure you select the right doctor to cure phimosis or any other foreskin problem. Urologists, pediatric urologists, and urological surgeons are expert doctors who can easily diagnose and provide the best suitable treatment for phimosis. Some of the qualifications of these doctors are:
MBBS

Diploma in Urology

MCh – Urology/Genito-Urinary Surgery

FICS – Urology

DNB – Urology/Genito – Urinary Surgery

FRCS – Urology

PhD – Urology

Certificate in Pediatric Urology

MNAMS – Urology
Urologists at Pristyn Care can diagnose phimosis with the help of latest and advanced diagnostic tools. After a proper diagnosis and based on the severity of phimosis and overall health condition, our expert urologists will provide well customized and best suitable treatment methods like laser circumcision.
Also, with surgical options, our expert doctors can suggest a few home remedies, dietary changes, and lifestyle modifications to reduce the severity and symptoms caused by phimosis. Out of many treatment options, laser circumcision surgery is recommended by experienced urologists because of its benefits like:
no scars

no cuts

no or minimal blood loss

high surgical precision

cost-effective

no need for hospitalization

quick recovery

less risk of infection

reduced chances of risks and post-surgical complications
Best doctors to diagnose and cure phimosis 
Many doctors are available all over India to diagnose and cure foreskin problems like phimosis. But selecting the right and experienced doctor is essential in the process of getting cured of phimosis.  To help you choose a suitable doctor, we mentioned a table containing details about the best health care providers with whom you can have a consultation and avail the risk-free treatment for phimosis.
Best doctors for phimosis treatment
Sl. No.
Name of the doctor
Years of experience
Name of the city where the doctor consults
Some of the qualifications of the doctor

1

Dr. Pankaj Sareen

17+

Gurugram

MS – General Surgery

Fellowship in Minimal Access Surgery

MBBS

2

Dr. Rakesh Mittal

8+

New Delhi

MBBS

MS – General Surgery, MRCS (UK)

Fellowship in Minimal Access Surgery

3

Dr. Vaibhav Kapoor

9+

Haryana

4

Dr. Prabhakar Padmanabhan

7+

Chennai

MBBS

MD – Physician

MS – General Surgery

Fellowship in Minimal Access Surgery

5

Dr. A Ashiq Ahmed

15+

Velachery

6

Dr. Sampath Kumar

17+

Hyderabad

7

Dr. Vineet Kumar Pathak

12+

Lucknow

8

Dr. Bichitra Nath Shukla

19+

Lucknow

9

Dr. Shabeeh Nasar

23+

Bhopal

10

Dr. Gaurav Prasad

14+

Bangalore

MBBS

MS – General Surgery

Diploma In Minimal Access Surgery
Visit us for Circumcision – Best Phimosis Treatment] 
At Pristyn Care, we offer many benefits, services, and facilities to all our patients and make sure the surgical journey of every patient is seamless and hassle-free.
Provides painless and minimally invasive surgical procedure -laser circumcision

Surgeons at Pristyn Care have greater precision and control over the surgery.

Using laser technique, we minimize the risk of infection and occurrence of post-surgical complications.

Performs the surgery as a daycare procedure.

We provide free transportation to and from the hospital on the day of the surgery and on the day of discharge.

100% insurance claim and provides multiple payment options to ease the financial burden on the patient.

We allot a 'care buddy' to each patient to take care of the things during the process of hospitalization.

We provide free diet consultation and free follow-up session after the surgery.
To know more details about the services and facilities provided by us, have a discussion with one of our medical coordinators and book an appointment with the best and expert urologist at your nearest location.
Final Words:
Most individuals with phimosis or other foreskin problems may suffer from pain and swelling in the penis while urinating. Following home remedies may or may not help in curing phimosis. So most urologists recommend undergoing laser circumcision as it is more beneficial than any other surgical procedure.
In case you are not sure from which foreskin problem you are suffering, have a consultation with our top urologists. To have a consultation with our urologist, you can call 8527-313-171.
Also Read:
Phimosis treatment without surgery