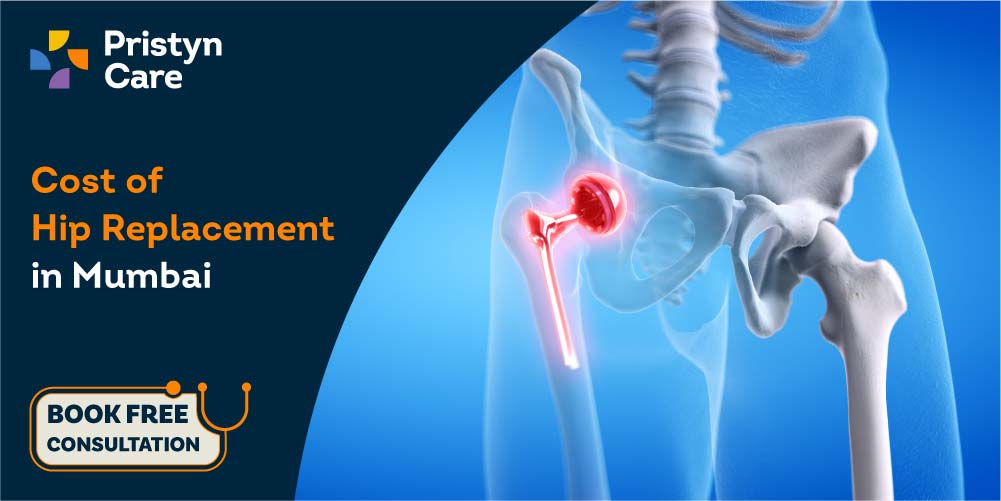 Hip replacement cost in Hyderabad
Hip replacement surgery cost at Pristyn Care in Hyderabad is as follows:
| | |
| --- | --- |
| Cost of unilateral hip replacement | Rupees 2.8 lakh to 3.5 lakh  |
| Cost of bilateral hip replacement  | Rupees 4.5 lakh to 5.5 lakh  |
This is an average cost for the entire hip replacement treatment at Pristyn Care that includes auxiliary services in addition to the surgery. For more information, connect with our dedicated medical coordinators.
Also Read: Minimally Invasive Hip Replacement Surgery
What is hip replacement treatment performed for?
Arthroscopic hip replacement surgery is a minimally invasive treatment that involves the replacement of the hip joint with an artificial implant. There are different pathologies that may necessitate hip replacement treatment. Hip replacement is commonly performed for degenerative bone or joint disorders such as hip osteoarthritis, rheumatoid arthritis, and osteonecrosis. It is also performed for natural hip joint degeneration due to aging. Hip replacement doesn't just relieve the patient's pain levels, it also improves the range of motion for the joint, making the patient's life easier overall. 
When should one start considering hip replacement?
Total hip arthroplasty is major surgery, and you should definitely think long and hard about it before making a definitive decision regarding the surgery. Here are some warning signs that can help you decide whether you need to get your hips replaced:
If you have persistent and chronic hip pain, it may be an indication that your hip joints have degenerated due to osteoarthritis or any other degenerative hip disorders

If you are having trouble performing even normal daily activities like taking short walks or climbing stairs due to hip pain, you may need a hip replacement.

Chronic stiffness, pain, and inflammation in the hip joint are also signs of hip joint degeneration.

If your hip pain is significantly impacting your life, and you are not experiencing any relief from conservative treatment methods, you may need to start considering getting a hip replacement.
Pristyn Care is a leading surgery provider in Hyderabad for a variety of elective surgical procedures, including hip surgery. Book a free consultation with the best hip replacement surgeons near you at Pristyn Care.
Which factors affect hip replacement cost in Mumbai? 
This is a gross estimation of the overall cost, and it can vary based on a few factors such as:
The cost and type of the hip implant (or hip prosthesis) used to replace the hip joint

The nature of the joint replacement, i.e., whether it is partial or total hip replacement

Surgeon and hospitalization fees

The nature of the surgery, i.e., whether it is open or minimally invasive

Pre-existing medical conditions, etc.
To know more, you connect with our care coordinators, who can provide you with detailed information to help you understand the basics of the surgery, provide a cost estimate to you and answer your other questions regarding the procedure.
Also Read: Tips For Choosing The Best Hip Replacement Surgeon
Is hip replacement procedure covered under insurance?
Most insurance policies cover treatments that are medically necessary. So, if your orthopedic doctor has indicated that you need surgery and conservative management is no longer enough to provide you relief from constant chronic hip pain, then your insurance policy will cover the treatment. 
Get a detailed checkup from your orthopedic doctor and get them to brief you on your treatment options. Though the exact insurance coverage depends on the terms of the policy, most insurance policies cover appointments with the orthopedic surgeon, diagnostic evaluations and lab tests, surgery cost (including the surgeon's fee, anesthesia cost, operating room charges, and hip implant cost), postoperative hospitalization, post-operative preparation for recovery at home (which may include various necessary medical equipment), and physiotherapy and rehabilitation. 
If you are unsure about the exact terms of your policy, then connect with Pristyn Care. We have a team of dedicated insurance experts who can help you understand the terms of your policy and file a claim.
Is recovery after hip replacement surgery expensive? 
After a hip replacement procedure, most patients can be discharged in 1-3 days, depending on their health and recovery rate. Additionally, after the surgery, you may need at least 2-3 weeks of physiotherapy to help get used to your implant and to improve your range of motion post-surgery. 
Physiotherapy might be a little expensive. However, if you have a good insurance policy, it might be covered in the policy, but if you don't have a policy, Pristyn Care is the best option for you as we provide free physiotherapy after the surgery to help recovery. 
Also read: What To Expect After Hip Replacement Surgery?
Why come to Pristyn Care for hip replacement treatment?
Pristyn Care is a premium surgery provider for hip replacement treatment near you. At Pristyn Care, we provide the following facilities to ensure maximum care and comfort for all patients:
Treatment from the best orthopedic surgeons for hip replacement near you

Affordable minimally invasive hip replacement surgery

Help with insurance documentation and hospital admission

Free postoperative physiotherapy

Dedicated medical care coordinator

No cost EMI, cashless payments, etc. for patients unable to afford the treatment
Best Surgeons for hip replacement in Mumbai
You can book a free appointment with the best orthopedic for hip replacement in Mumbai by calling the number on the page and talking to our care coordinators. You can also fill in your details in the 'Book an Appointment' form or look through our surgeon database on our mobile app. Our care coordinators will promptly reach out to you to book your appointment.