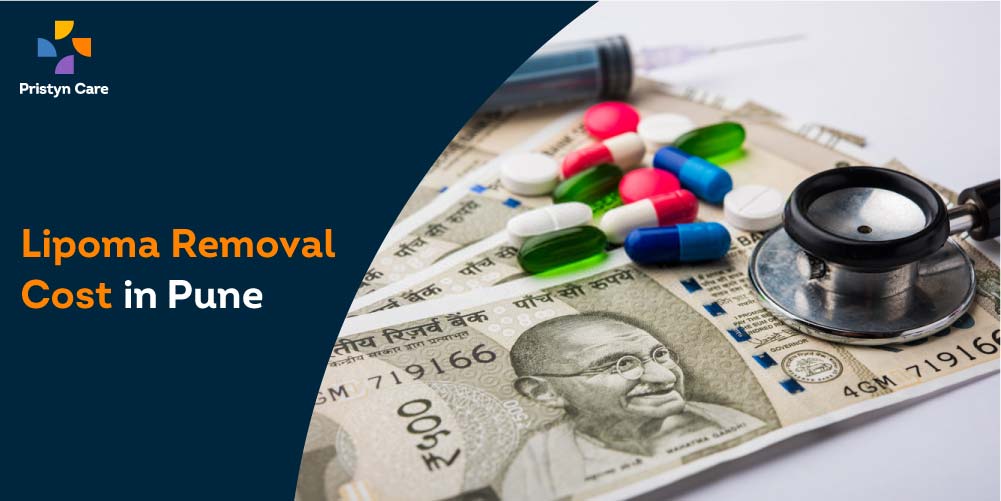 Do you have a fatty lump on your skin and you wish to get rid of it? Well, don't worry! There are chances that the lump under the skin is a lipoma that can be treated easily and at a reasonable cost.
The cost of lipoma removal varies depending on its size, location, and number primarily. So, on average, lipoma removal surgery cost in Pune will range from Rs. 30,000 to Rs. 50,000. It is an estimated number that will vary from one patient to another as the cost depends on various factors. 
Today, with this blog, you will get to know the cost of lipoma removal surgery cost in major cities of India, the factors that influence the cost, and whether the treatment is covered under insurance or not. 
What is the Cost of Lipoma Removal Surgery in Pune?
Only a few people seek treatment for lipomas in the early stage when it is small and painless. Most people decide to see a specialist when the condition starts exhibiting pain symptoms or becomes a cosmetic problem. Due to this, lipoma removal cost in Pune generally ranges from Rs. 30,000 to Rs. 50,000. However, the cost may increase or decrease based on a wide variety of factors that we will discuss later in this blog. 
What are the Different Factors That Affect Lipoma Surgery Cost? 
While calculating the overall lipoma treatment cost in Pune and other cities across India, a standard criterion is followed by the healthcare providers. The following factors are accounted for the calculation:
Number, Size, & Location of Lipoma 
Multiple lipomas can grow on the body in different locations, such as the neck, face, ears, back, hand, thighs, etc. at the same time. This means that there are higher chances that you have an underlying condition, such as Madelung's disease or Klinefelter Syndrome. 
Other than that, the size and growth rate of lipomas will also impact the cost. It means that if you have only one small-sized lipoma on your hand, it will cost less. And if you have 4-5 lipomas spread across your face, neck, thigh, arm, and back, and the lumps are quite big, the treatment cost will be higher. 
Surgeon's Fee 
A plastic surgeon or dermatologist who has ample experience in removing lipomas will charge more for consultations as well as to perform the surgery. As a result, the treatment cost will again increase. 
Diagnostic Tests 
To diagnose the fatty lump under the skin, the doctor will recommend a series of tests, including an X-ray, MRI, CT scan, and a biopsy. All these tests are necessary and each one of them costs around Rs. 600 to Rs. 5000. This expense will also add up to the overall cost of treatment. 
Recommended Method of Treatment 
There are two different techniques available to remove lipomas, liposuction, and excision. Excision is an invasive procedure that removes the lump and its wall completely through a big size incision on the skin. In comparison to this, liposuction is a minimally invasive procedure that removes the fatty lump by breaking down the tissues and suctioning them out. 
Depending on the size and location of the lipoma, the doctor will suggest any one of the above methods or may combine them for the best results. Excision will cost you less, liposuction will cost you slightly more, and the combined method of treatment will cost you the highest. The price may further go up if modern liposuction techniques, such as laser or VASER is used. 
Hospital Expense 
The hospital expenses include admission, bed charges, and discharge fee which varies depending on your choice of hospital. If you choose a super specialty hospital or clinic, the treatment will cost more than a multi-specialty hospital or clinic. 
Medications
Before surgery, the doctor will give you some medications to prepare your body for the surgery. And even after surgery, pain medications and antibiotics will be prescribed to ensure that no post-surgery complications arise. Some of these medications may cost slightly more than others, thereby adding up in the cost. 
Post-Surgery Care & Follow-ups 
The treatment won't be complete unless the doctor confirms that your body has healed from the surgery. For this, you will have to visit the doctor for follow-ups. During these appointments, the doctor will monitor your health and suggest whether you need support like compression vests or any other kind of support during the recovery. 
Is Lipoma Treatment Cost in Pune Covered Under Insurance? 
The answer to this question is conflicting. Many people believe that lipoma treatment is a cosmetic procedure. Hence, the surgery won't be covered under insurance. 
However, in many cases, lipoma surgery is performed for medical reasons when the condition is symptomatic. If the lipoma is causing pain and growing at a very quick rate, the doctor may recommend surgery as a medically necessary procedure. If so, the surgery will be covered under insurance. 
Lipoma removal cost without insurance is around Rs. 20,000 to Rs. 40,000 including all the expenses that incur during the treatment. At the same time, you may get minimal amenities and services to ensure that the cost doesn't go higher than expectations. But with insurance, you won't have to worry about the cost and you can get the best quality amenities and services without any hesitation. The insurance will cover hospitalization expenses, diagnostic tests, ambulance costs, ICU charges, doctor's fees, etc. Thus, you can easily pay the lipoma treatment cost with insurance irrespective of the city you live in. 
Undergo Lipoma Excision Surgery Under The Care of Expert Doctors 
At Pristyn Care, we understand what the patients need. Thus, we provide services that minimize lipoma removal costs in Pune for every patient. Whether you need help with insurance paperwork or need someone to pick and drop you on the day of surgery, we will take care of all your needs. We can help to save some money with the following:
30% discount on diagnostic tests 

A single deluxe room for the hospital stay

Free cab service on the day of surgery 

Flexible payment options 

No-Cost EMI service 

Free post-surgery follow-ups and recovery guide 
We appoint a medical coordinator to provide you with round-the-clock assistance. The representative will stay with you throughout the treatment journey to handle all your appointments with the doctors, tests, travel, hospital formalities, follow-ups, etc. You can schedule an appointment with any of our plastic surgeons in Pune and consult them to find out the cost of lipoma treatment.