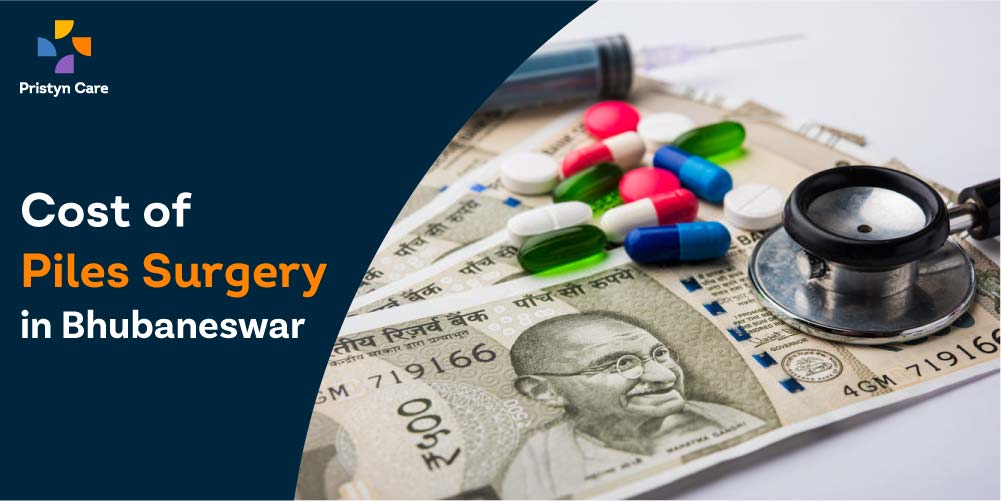 Piles laser treatment cost in Bhubaneswar ranges between Rs. 36,000 and 40,000. Laser surgery is one of the best and most advanced surgical techniques to treat piles with no risk of infection, minimal bleeding, and less chance of recurrence.
One of the best piles specialist doctors in Bhubaneswar says, "Piles laser treatment is affordable, but most patients think it is expensive and delays it. By the time they decided to get treated, the condition had become severe, and the treatment became expensive because of the complexity."
Availing piles treatment on time can reduce your risk of developing other types of anorectal diseases and decrease the overall expenses of the treatment.
In this post, you can know the cost of piles laser surgery in Bhubaneswar and factors affecting it.
Piles Laser Operation Cost in Bhubaneswar And Benefits of Piles Laser Surgery
Piles laser operation cost in Bhubaneswar varies from one person to another due to factors like the piles doctor consultation fee, anesthesiologist fee, the cost of diagnostic tests, pre and post-surgical medications and follow-up sessions, etc.
The below table depicts the estimated piles laser surgery cost in Bhubaneswar. Use it for reference purposes only.
| | |
| --- | --- |
| Minimum piles laser treatment cost in Bhubaneswar | Rs. 36,000 |
| Average piles laser operation cost in Bhubaneswar | Rs. 38,000 |
| Maximum piles laser surgery cost in Bhubaneswar | Rs. 40,000 |
If piles are left untreated, they can make your daily life miserable. So neglecting the piles treatment is not advisable. And most piles specialist doctors in Bhubaneswar recommend undergoing laser piles surgery because of the following benefits.
Minimally invasive compared to open piles surgery

Less bleeding

No scar formation

Less risk of infection

Minimal risk of piles recurrence

No major post-surgical complications

Quick recovery

No hospitalisation [rarely 1-2 days]
If you wish to get rid of piles by undergoing the safest piles laser treatment in Bhubaneswar, you can visit us.
Factors Altering Piles Laser Surgery Cost in Bhubaneswar
As said earlier, the cost of piles laser surgery in Bhubaneswar is not the same for every patient is subject to change based on several factors. Let's discuss in detail those factors.
Grades of piles:
Depending on the type and grade of piles that need to be treated, piles laser surgery cost varies from one individual to another. Grade-1 piles can be treated with a combination of medicines and home remedies. Thus, treatment of grade-1 piles can cost you less when compared with the treatment of grade-4 piles, i.e., laser or open pile surgery.
The higher the grade of piles, the higher the complexity of the treatment and so greater the cost.
Type of Piles Hospital
The type of hospital from where you wish to get treated for piles can affect the overall cost of piles laser surgery. For example, piles laser operation cost varies between superspecialty, multispecialty, and super multispeciality hospitals. This is due to the services and facilities provided by the respective type of piles hospital in Bhubaneswar.
So, choose the right type of piles hospital considering all the services and facilities they provide you at an affordable cost. In Bhubaneswar, we provide several medical facilities to our patients to make their surgical journey seamless.
Piles Specialist Doctor Consultation Fee
The consultation fee of a piles doctor can either add up or reduce the overall piles treatment cost. This fee varies from one doctor to another, depending on their overall experience. Higher the experience of the piles doctor, higher the consultation fee.
If you wish to consult an experienced piles doctor in Bhubaneswar, they may charge you more consultation fee than the doctors with less experience. However, we advise you to select the right doctor with ample years of experience diagnosing and treating piles.
Type of Diagnostic or Laboratory Tests
Diagnosing the condition plays a vital role in deciding the treatment plan. So, to diagnose piles correctly, most doctors recommend their patients undergo several types of diagnostic tests mentioned below.
| | |
| --- | --- |
| Types of Piles Diagnostic Tests | Affect on Piles Laser Treatment Cost |
| Physical examination | Nil or low |
| Digital rectal examination | Low |
| Anoscopy | Mild to moderate |
| Colonoscopy | Mild to moderate |
| Proctoscopy | Mild to moderate |
| Sigmoidoscopy | Moderate |
These diagnostic tests will help the doctor know the type, grade, and severity of piles. Based on the results, the doctor can plan proper piles treatment. The cost of these diagnostic tests varies from each other and impacts the overall piles laser operation cost in Bhubaneswar.
Pre and post Surgical Medications
To minimize the risk of bacterial infections and reduce the chances of post-surgical complications, piles doctors will prescribe certain medications to each patient before and after undergoing the piles laser surgery. Some of the medications are antibiotics, oral forms of enemas, suppositories, painkillers, corticosteroids, analgesics, etc.
In a few cases, these medications are prescribed as a prophylactic measure or to increase the positive results of the piles laser treatment.
Number of Post-Surgical Follow-ups
Post-surgical follow-up sessions help doctors to evaluate the outcomes of piles laser surgery. And help to monitor the overall health condition of the patient. The cost of each follow-up session can add up to the overall piles laser treatment cost in Bhubaneswar.
Visit Us For The Best and Safest Piles Laser Treatment in Bhubaneswar
We provide the utmost care to all our patients and ensure their surgical journey is seamless. Because of the following medical services and facilities, most people in Bhubaneswar visit our partnered hospitals.
Free cab facility to each patient on the day of the surgery and discharge.

Advanced piles laser treatment at an affordable cost.

Care buddy to every patient to assist in the process of hospitalisation.

Assistance in the insurance paperwork.

Multiple modes of payment options to ease the financial burden on the patient.

Free follow-up sessions after the surgery.

Free diet consultations.
To consult our piles doctors in Bhubaneswar and to undergo the safest piles laser surgery at an affordable cost, you can call us or fill in the form on this page.
The Bottom Line:
Piles laser operation cost in Bhubaneswar ranges between Rs. 36,000 and Rs. 40,000. This price range is not the same for every patient and varies based on the factors mentioned above. At Pristyn Care, Bhubaneswar you can consult with the best piles doctor and avail the safest piles laser treatment at a pocket-friendly budget.
Leaving piles untreated for any reason can put you at risk of developing other anorectal diseases. So, it is always advised to get treated as early as possible to avoid complications and reduce the overall cost of piles treatment.
*Disclaimer: The Cost mentioned in this blog is what Pristyn Care charges as per the City and Treatment and this cost may vary as well depending on the other factors which increase and decrease the cost. The market cost of the treatment may vary depending upon the healthcare service provider and the functional city.