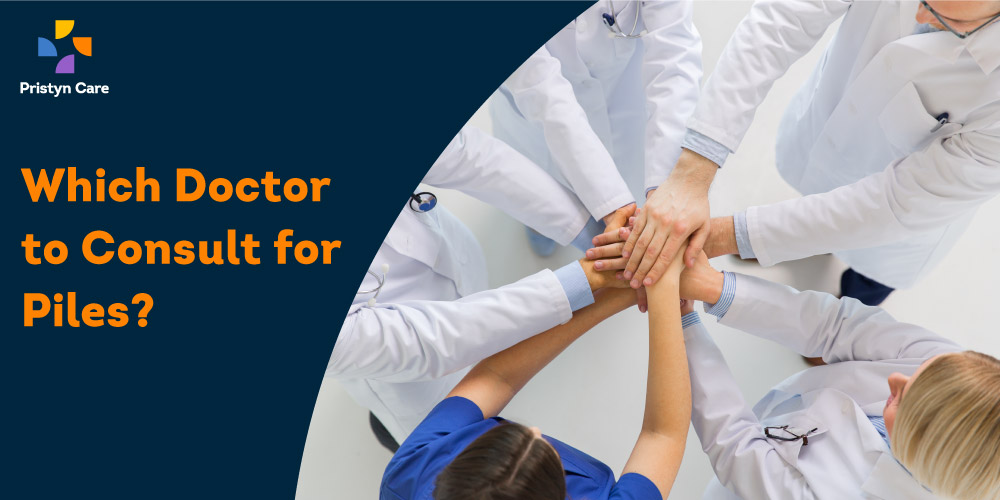 Your doctor plays a great role in treating your disease. Finding the right doctor for piles treatment can be often confusing if the patient is not aware of the condition and whom to approach for the treatment. Anorectal diseases like piles need specialised treatment, from expert doctor, at the right time.  And to avail the right treatment, you need to know the disease and its treatments first.
How to find the best doctor for piles?
Anorectal diseases like piles are usually treated by specialised proctologists. But, if you cannot find a proctologist near by, you can also approach a general surgeon for the treatment.
In order to find the best piles doctor, you need to do a thorough research regarding the qualifications and other necessary skills of a piles specialist. Here are some things you need to consider while you are seeking piles treatment: 
A proctologist is the one who specializes in performing surgeries and treatment of the diseases related to the anus, colon, and rectum. To become a proctologist, you must have a Bachelor's degree from a recognized university or college. Overall 8 years of education and training is required to become a proctologist. And it is essential that you also have proper certification from the university. To start practice as a proctologist, you have to appear in the Medical Licensing Examination and  acquire a license from the American Board of Colon & Rectal Surgery. 
Along with proctologists, a general surgeon can also perform piles surgery and provide non-surgical treatment too. 
There are different treatment options available for piles. Hence, you must seek a doctor who is skilled in all procedures, especially the advanced laser-assisted surgery. A doctor who has a minimum 8 years of experience is regarded as a skilled surgeon.  
Reviews from Previous Patients 
One of the most important aspects of a doctor's profile you should consider is his/her behaviour towards the patients. Get reviews from the people who have had treatment from the doctor. It will help you understand how the doctor communicates with the patients and whether you'll be comfortable with that specific doctor or not. 
Association with Hospital or Clinic 
Doctors work at hospitals or clinics. Many people consider the reputation of the hospital or clinic as well. The hospital's reputation and the doctor's reputation are directly related to each other. It will help you gather information about the doctor's track record as well. 
An easy way to find a reliable doctor is to ask for referral from your primary care provider. If you successfully get a reference, then you should ask yourself some questions before finalizing the doctor, such as:
Can you open up about your medical history and habits with the doctor comfortably?

Do you trust the doctor's skills?

Are you able to raise queries and get proper answers from the doctor?

Is the doctor able to explain the treatment options clearly to you?

How much experience does the doctor have? 

Does the doctor provide you enough information regarding the risks and complications associated with the treatment? 
Like any other healthcare provider, you need to find a doctor who has an outstanding history of successfully diagnosing and treating anorectal diseases, such as piles, fissure, fistula, etc. Besides the surgical skills, the doctor's ability to connect with the patient also matters. A doctor who shows care and empathy towards his/her patient is the one who can build a relationship and help the person to make the right choice regarding the treatment options. 
Take the Right Approach to Consult Doctor for Piles Treatment  
In the earlier stages, consulting a primary care provider can help you manage the symptoms of piles. But if the conservative treatments don't have any effect on piles, you should consult with proctologists or general surgeons as both are qualified specialists for treatment of piles and other anorectal diseases. 
Proctology is the field of medicine that primarily covers the treatment of piles and other disorders that are related to rectum, colon, and anus. The physicians who specialize in this field are called proctologists. 
Once piles reach the chronic stage, advanced treatment will be needed. There are several treatment methods available to treat piles surgically and the surgery will be performed by a proctologist or a general surgeon. They are the experts of the field and have ample knowledge and skills to carry out the surgery with maximum safety. Most people suffering from piles choose to undergo elective surgery to get rid of the problem as soon as possible whereas others hesitate risking their health as surgery puts a brief stop in their lives. 
Now the question arises, when should you consider visiting a doctor and undergoing surgery? 
When to Visit a Piles Specialist?
People often believe that if piles are left untouched, they will heal automatically. But that's not possible under all circumstances. It is true that generally piles can be managed with home remedies, but they have 50-50% chances of working for every patient. It is not a minor problem that can be ignored and knowing when to seek help from a piles specialist will help you avoid unwanted consequences. 
If you experience the following situations, book an appointment with a doctor right away:
Rectal bleeding or seeing bright red blood on the toilet paper. 

Blood in stools and bulge that pushes out of anus during bowel movements. 

Pain and discomfort in the rectum or anus that lasts for long hours. 

Over-the-counter medicines and other remedies don't work after trying them for one week. 
Without proper treatment, piles can lead to complications like anemia, prolapse, blood clots, and infection. To prevent that from happening, it is crucial that you discuss your problem with a specialist without any hesitation. Book an appointment with a doctor and answer all the questions honestly and directly during consultation for accurate diagnosis. 
The Bottom Line 
In this blog, we covered what piles is, how it impacts an individual's life and who you should consult for treatment of piles. Consulting a proctologist or a general surgeon for advanced piles treatment is the best way to get rid of the disease as soon as possible. But, it is also fine to consult with a primary care provider if you have mild symptoms. 
If you are seeking advanced laser treatment for piles anywhere in India, you can get in touch with Pristyn Care specialists. We have a team of doctors who are qualified and experienced in providing best-in-class treatment for piles. They fulfill all the prerequisites of a good doctor and deliver satisfying results. Keep the above tips in mind and book an appointment with Pristyn Care doctors today.