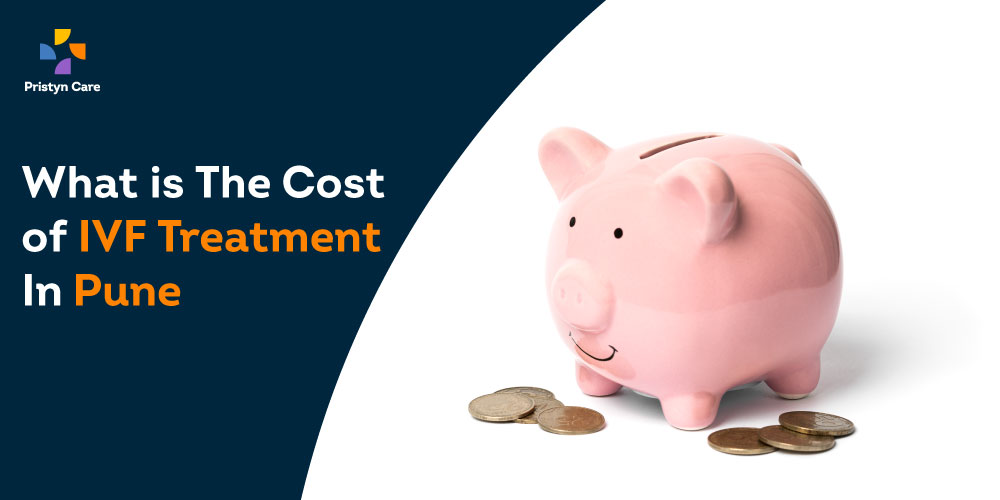 The average cost of In Vitro Fertilization (IVF) treatment in Pune ranges between Rs. 1,25,000 to Rs. 1,45,000.  According to the report published by Allied Market Research, the India IVF Services Market garnered $478.2 million in 2018 and is expected to reach $1.45 billion by 2026.
IVF is a series of procedures used to treat infertility, prevent genetic problems, and assist with conception. In 1986, the first test-tube baby in India was born to Mrs. Mani Chawda, a twenty-four-year-old housewife at KEM Hospital Bombay.
Key points:-
According to the Indian Society of Assisted Reproduction, infertility affects about 10 to 14 percent of the Indian population.

According to WHO, more than 5 million children are born worldwide from ART interventions such as in vitro fertilization (IVF).

Estimates suggest that between 48 million couples and 186 million individuals live with infertility globally.
What factors affect the overall cost of IVF treatment?
The cost of IVF treatment is affected by several factors: the need for the treatment, consultation fee, popularity of the clinic, diagnostic tests, types of IVT treatment, numbers of IVF cycles, medications post-procedure, and follow-up visits with the doctor, etc.
01. Doctor's consultation fee
The consultation fee of an IVF specialist is determined by their experience, skills, and trust amongst the people. Since IVF treatment is a complex procedure, you should choose an experienced, skilled, and reliable IVF doctor so that the chances of success are high.
02. Reliability and track record of clinic
IVF treatment is done at an IVF Clinic or a gynecology clinic. Although several gynecology centers in Pune offer IVF treatment, you should choose the one with an excellent track record in IVF treatment. Usually, the cost of IVF treatment at a reliable IVF clinic with good track record in IVF treatment is substantially higher than that of a typical IVF clinic.
03. Charges of tests
The IVF expert recommends specific tests to confirm the cause of infertility and its roots. The following are the common tests that an IVF doctor recommends men before IVF treatment:- 
Semen analysis

Hormone testing

Ultrasound

MRI of the genital

Vasography

Testicular biopsy

Genetic testing
Like men, the doctor also recommends women undergo specific tests to determine the cause of the problem and other underlying medical conditions. Some tests a woman undergoes before IVF treatment include the following:-
Ovulation testing

Test for ovarian reserve

Pelvic ultrasound

Hysteroscopy
The cost of these tests also adds up to the overall cost of IVF treatment. Our IVF Treatment Centers in Pune offer cost-effective IVF treatment and provide 30% off on all the diagnostic tests done before the treatment process. 
04. Requirement for IVF treatment
IVF treatment is required to help a woman get pregnant and treat many causes of infertility. Following people usually go for IVF treatment:-
A female suffering from problems with the uterus 

Damage or blockage in the fallopian tube

A female with ovulation disorders

A female suffering from endometriosis 

A female with uterine fibroids

A male or female with an unexplained infertility

A female with poor quality eggs

A male with low sperm motility and counts

Antibodies that destroy sperms or egg

Fertility preservation for cancer 

The genetic health condition in male or female partner
The need for IVF treatment also plays a crucial role in deciding the overall cost of In Vitro Fertilization cost in Pune.
05. Type of IVF treatment
Which type of IVF treatment your doctor chooses also determines the cost of this procedure. Following are the different types of IVF treatment:-
IVF + Frozen Embryo Transfer (FET)

IVF + Elective Single Embryo Transfer (eSET)

IVF + Intracytoplasmic Injection (ICSI)

IVF + Egg Donor

IVF + Donor Sperm

Natural IVF

Mini IVF (Minimal Stimulation)
The doctor uses the best-suited treatment option based on the findings of the tests.
06. Number of IVF Cycle needed
At times, a woman gets pregnant with just one IVF cycle. However, a woman may need 2-3 IVF cycles in some cases. In even rarer cases, a woman may need more than 2-3 IVF cycles, depending on her overall health.
07. Medications during IVF treatment
The fertility doctor prescribes certain medications to the patient before and during the IVF treatment process. Before the treatment process, the doctor uses fertility drugs to stimulate the ovaries to release more eggs than usual. 
The doctor prescribes certain medications that contain Follicle Stimulating Hormone – FSH & Luteinizing Hormone – LH during the treatment process. The cost of these medications also adds up to the overall cost of IVF treatment.
08. Follow-up visits
During the entire IVF treatment, you need to do follow-up meetings with your doctor. One complete cycle of IVF takes around three weeks.
On every follow-up visit to your doctor, you need to pay the consultation fee. The consultation fee also includes the overall cost of IVF treatment. 
09. Price of eggs/sperm
If you don't have healthy eggs/sperm, you can buy the same from the donor. In such a case, you need to pay the donor a certain amount of money. This also adds up to the final cost of IVF treatment.
Apart from those mentioned above, factors such as lifestyle and diet changes and hospitalization in some cases can significantly affect the overall cost of IVF treatment in Pune.
You can book an appointment and consult privately with one of our best IVF Doctors, and undergo the best IVF treatment in Pune. You can also call us directly on the given mobile number at the top of the page.