Male Breast Reduction Cost in Hyderabad
Starting Price – ₹ 38,000
Average Price – ₹ 51,500
Maximum Price – ₹ 65,000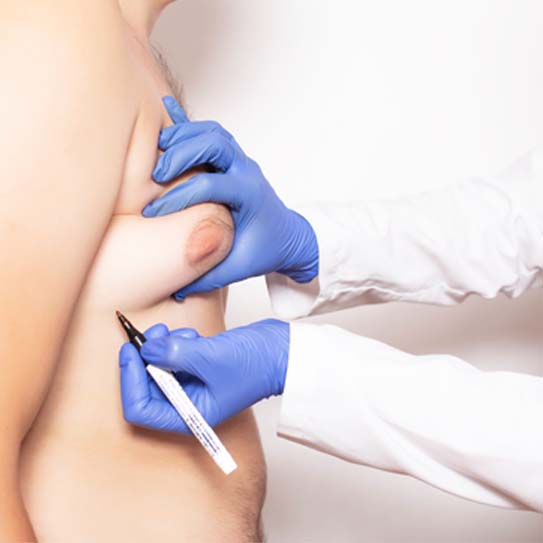 Get the best Cost Estimate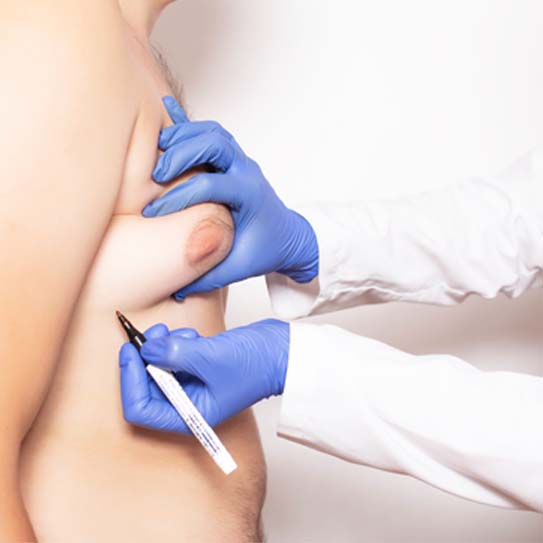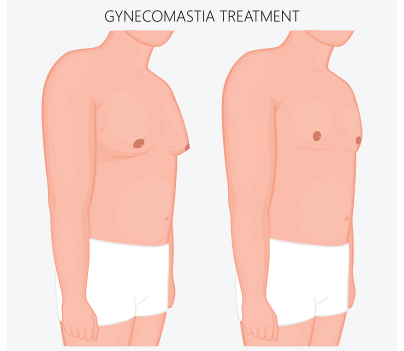 Factors Affecting Cost of Gynecomastia Surgery in Hyderabad
The overall expense of gynecomastia treatment is affected by the following factors-
Doctor's consultation and operating fee
The grade of gynecomastia (severity)
The technique used for gynecomastia treatment
Diagnostic tests
Hospitalization expense
Pre and post-surgery medications
Post-surgery care and follow-up consultations
Best doctors for Gynecomastia Surgery in Hyderabad
MBBS,MS, M. Ch- Plastic Surgery

20 Years Experience

Consultation Fee ₹ 1200 Free
Why Pristyn Care?
Pristyn Care is COVID-19 safe
Assisted Surgery Experience
Medical Expertise With Technology
Post Surgery Care
Call For FREE Consultation
Pristyn Care vs Others
Benefits
Others
Pristyn Care
Free Follow-up Consultation
24x7 Care Coordinator
No Cost EMI
Pickup & Drop Services
Hospital Duration
Long
Short
Minimum Paper Work
Get the best Cost Estimate
Cost of Diagnostic Tests Performed Before Male Breast Reduction
In most cases, enlarged breasts in males are diagnosed through a physical examination. But the following tests are suggested to rule out the possibility of cancerous growth or other conditions-
X-ray- Rs. 250 to Rs. 500 per view
MRI- Rs. 6,000 to Rs. 10,000
Ultrasound- Rs. 600 to Rs. 1,200
Benefits of Gynecomastia Surgery
With male breast reduction surgery, the patient will experience the following benefits-
Enhanced masculine shape and flat chest.
Boost in confidence and self-esteem.
Posture becomes better when the extra fat and breast tissues are gone.
Physical activities become easier.
No more feeling embarrassed because of the enlarged breast tissues.
Choose Pristyn Care to Get Cost-Effective Gynecomastia Treatment in Hyderabad
At Pristyn Care, we lay emphasis on a patient-first approach. Thus, we have customized our services to provide best-in-class care to the patients. Our services include-
Experienced plastic surgeons who have performed numerous gynecomastia surgeries with a success rate higher than 95%.
Complete assistance in treatment-related formalities and insurance claims by our medical care coordinators.
Flexible payment options, including cash, cheques, debit cards, credit cards, etc.
All insurance accepted for cashless treatment.
Free pick and drop service to and from the hospital on the day of surgery.
Financing option available through No-Cost EMI service.
Multiple post-surgery follow-up consultations without any additional fee.
FAQs around gynecomastia
Which techniques are used for gynecomastia treatment?
To effectively treat gynecomastia, doctors combine liposuction and gland excision techniques. Liposuction is used to remove the fat tissues, and gland excision is done to remove the breast glandular tissues.
Is gynecomastia surgery cost in Hyderabad covered by health insurance?
Yes, if gynecomastia causes physical problems in males, the treatment will be covered by health insurance. However, the insurance company can deny your claim if the condition is not symptomatic and you don't have any medical concerns.
How long does gynecomastia surgery take?
Gynecomastia surgery usually takes around 45 to 60 minutes. The duration may be longer or shorter depending on the severity of the condition.
What is the average recovery time after male breast reduction?
The average recovery time after male breast reduction is 2-4 weeks. The patient can resume most activities in one week, but the complete recovery will take around one month. During this period, the patient will have to follow the doctor's advice carefully.
Can I opt for the No-Cost EMI service at Pristyn Care if I don't have health insurance?
Yes, if you don't have health insurance, you can opt for No-Cost EMI and divide the cost of treatment in installments that are easily payable. The service is available for everyone. You can inform our coordinators regarding the same, and they will handle the formalities.