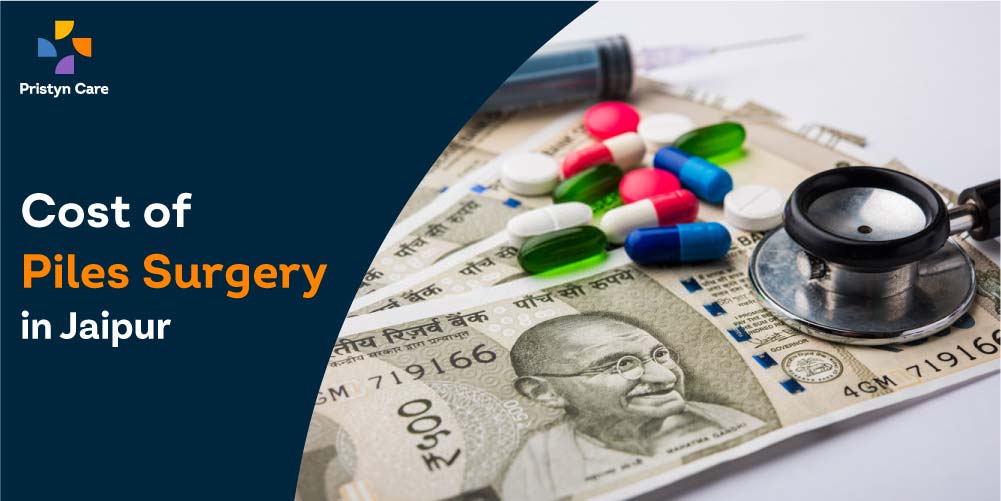 Piles laser treatment cost in Jaipur can be around Rs. 25,800 and Rs. 94,650. This price range is not the same for every patient and varies depending on various factors. Most of those factors are discussed in this article.
Piles laser operation is an advanced surgical procedure that uses high-energy laser beams to treat piles/hemorrhoids. Worldwide, most people with piles prefer to undergo piles laser treatment because of its benefits like minimally invasive, no scar formation, no significant risks, and post-surgical complications, no risk of infection, less chance of recurrence and minimal bleeding, or less blood loss when compared with open piles surgery.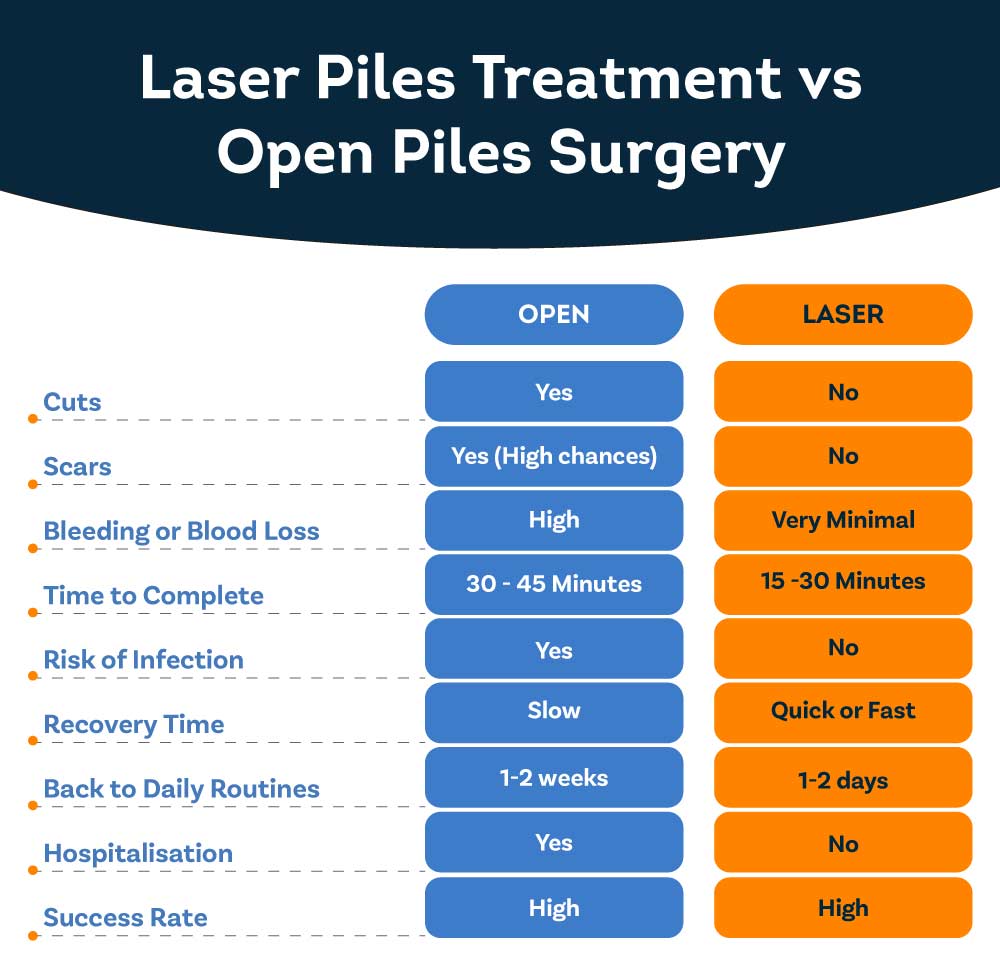 Dr. Shavez Khan, one of the best piles specialists in Jaipur says, "Treating piles with laser technology is very effective and minimizes most of the major risks, complications, and side effects. In addition, it helps in achieving desired results, and the patient satisfaction rate is high. Also, it promotes quick healing and helps the patient get back to his/her daily routine within a day or two."
Visit our hospitals to avail the safest piles treatment in Jaipur. Here, you can know about piles laser treatment cost in Jaipur and factors that alter its price range.
Piles Operation Cost in Jaipur
Piles can be treated with a wide range of surgical procedures along with certain medications, lifestyle changes, and dietary modifications. Some of those procedures that help in treating piles are:
– Open piles surgery [conventional or traditional surgery]
– Piles laser surgery [one of the advanced piles treatment methods]
– Stapled hemorrhoidectomy [uses staple to treat prolapsed hemorrhoids]
– Rubber band ligation [rubber is used to tie off hemorrhoids]
– Sclerotherapy [a chemical or a sclerosing agent is injected into surrounding tissues of hemorrhoid]
These piles treatment methods differ from each other in all aspects including the cost. Out of these, piles doctors in Jaipur choose laser surgery to treat different types of piles.
The minimum laser piles surgery cost in Jaipur is Rs. 25,800.
The maximum laser piles operation cost in Jaipur is Rs. 94,650.
The average laser piles treatment cost in Jaipur is Rs. 55,350.
Due to multiple factors, the cost presented here keeps changing from one patient to another.
Factors Altering Piles Laser Treatment Cost in Jaipur:
Travel charges: 
To have a consultation or undergo a diagnostic test, one must visit the respective hospital. The charge for specific transportation methods varies and can impact the cost of surgery.
For instance, let's assume you need to visit a hospital located 50 kms away from you. So, you may be using cab services or your vehicle. Cab providers may charge you approximately Rs. 750 to Rs. 1,000. If you are using your vehicle, this price can be reduced. Thus, the amount paid for transportation can indirectly increase or decrease your piles laser surgery cost.
Piles doctor fee or consultation fee:
The consultation fee of a specific piles doctor is diverse from other doctors. This is due to the doctor's experience in diagnosing and treating patients. Therefore, various piles doctors charge differently based on their overall medical expertise.
For example, if you wish to consult a highly experienced piles doctor, he may charge you around Rs. 1,000 per consultation. Similarly, if you consult a piles doctor who is not highly experienced, he/she may charge you Rs. 350 to Rs. 750.
Thus, the consultation fee of a piles doctor can slightly increase your overall piles laser operation cost.
Type of piles hospital or clinic:
In Jaipur, you can find a number of medical facilities [hospitlas and clinics] that provide piles treatment. Choosing the right one can be a hurdle for many patients. Some of the piles treatment providers are general clinics, hospitals, super specialty hospitals, multispecialty hospitals, and multi super specialty hospitals. The medical facility you choose can impact the cost of laser piles treatment in Jaipur.
Here is an example. If you choose a multi-super specialty hospital to get piles treatment, they may charge you more than general clinics or other types of health care providers.
Cost of tests used to diagnose piles:
Piles doctors recommend undergoing certain diagnostic tests to finalize the treatment plan. Some diagnostic tests are colonoscopy, anoscopy, digital rectal examination, and sigmoidoscopy. The cost of these tests is not the same. So, overall laser piles treatment cost can be affected by the number of diagnostic tests you undergo or the number of diagnostic tests your doctor recommends.
Type or grade of piles that needs to be treated:
The severity or grade of piles plays a major role in deciding the final cost of laser piles surgery. For example, if the piles that need to be treated are at the initial stage [grade-1], the cost of laser surgery can be less expensive when compared with the treatment of grade-4 piles.
So, timely treatment not only cures piles but also reduces the financial burden on the patient.
Cost of medications used before the surgery:
Pre-surgical medications like stool softeners, enemas [oral tablet], suppositories, and anti-bacterial drugs can elevate the overall cost of piles treatment. The cost of each medicine varies from the other and from brand to brand. These medications are prescribed as a prophylactic measure or to avoid complications during the surgery.
Anesthesiologist fee:
To numb the surgical site or make the patient fall asleep, an anesthesiologist will administer either local or general anesthesia. The anesthesiologist will charge the patient for the same, and the charges vary depending on the type of anesthesia used.
Cost of medications used after the surgery:
After completion of the surgery, piles doctor can recommend using certain medications like painkillers, antibiotics, stool softeners, etc. The cost of these medications can impact the overall cost of piles laser treatment.
For a better understanding of how these factors impact piles laser surgery in Jaipur, refer to the image below.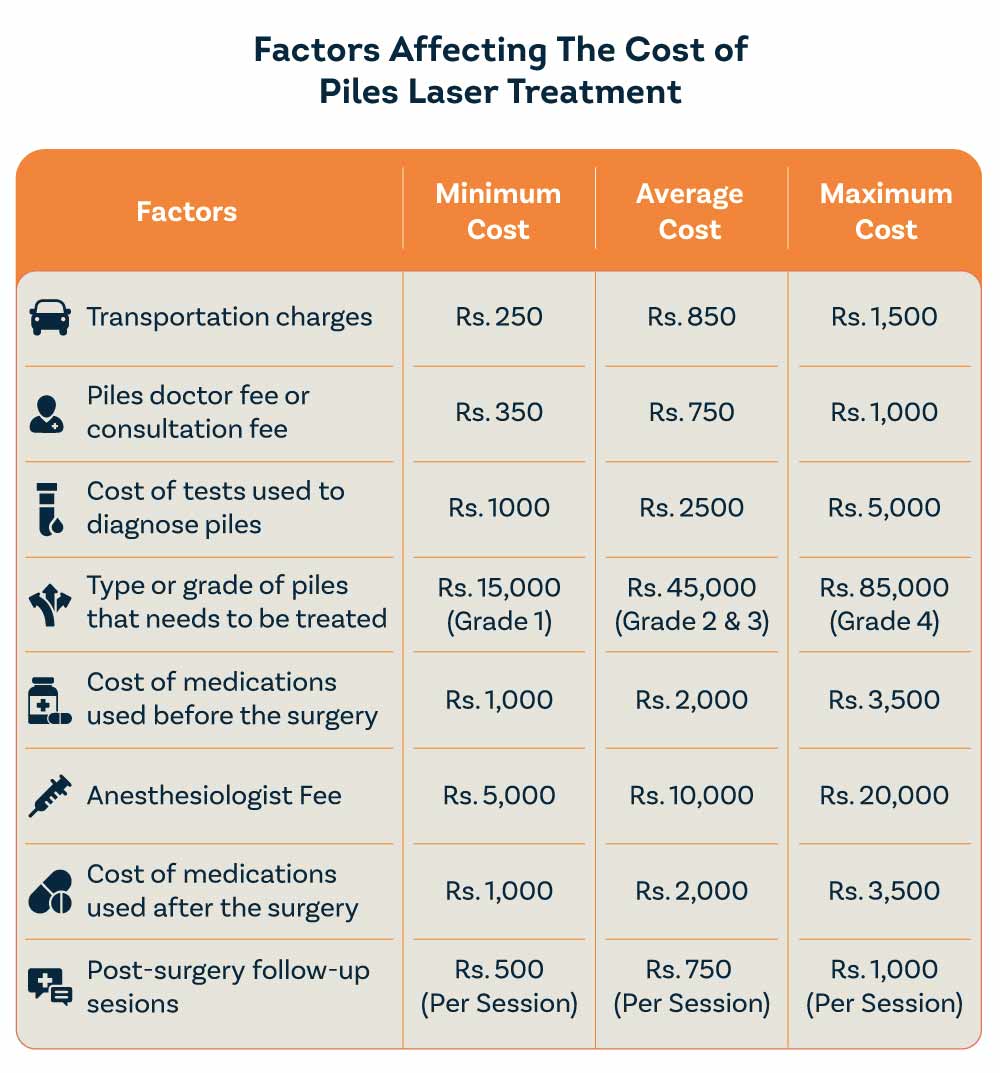 The cost mentioned on this page are for reference purposes only. To know the exact cost of piles laser treatment in Jaipur, we recommend contacting the respective hospital or clinic.
The Bottom Line:
Piles laser treatment cost in Jaipur is not the same for every individual. It keeps changing from patient to patient due to various factors. On average, piles laser operation cost in Jaipur can be as minimum as Rs. 25,800 and as maximum as Rs. 94,650.
We provide multiple services and facilities to lower your overall piles surgery cost. To undergo the best piles treatment in Jaipur, contact us.