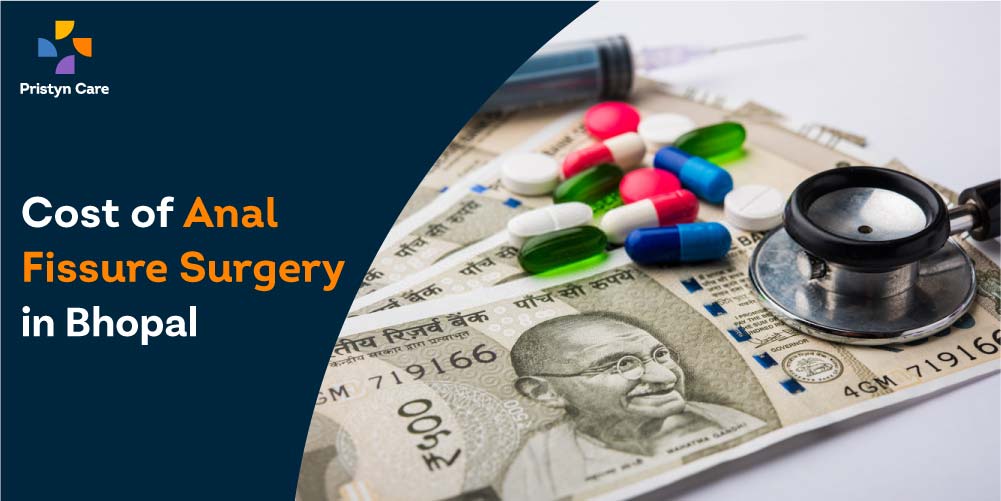 The cost of anal fissure surgery in Bhopal can be around Rs. 36,000 and Rs. 40,000. This is not the same for every patient and varies from each other based on several factors.
An anal fissure is one of the most common anorectal diseases where a person suffers from a paper-like cut or tear in the mucosal lining of the anus. This can cause anal itching, bleeding, and anal pain during bowel movements.
If left untreated, one can suffer from some serious health concerns which can alter the daily activities. In India, 20% to 35% of the total population is suffering from anal fissures. And its incidence is highly observed in the urban [18%] and suburban population [12%].
"Home remedies are not recommended to treat chronic anal fissures. Surgical procedures like open or laser surgeries are highly recommended to cure and treat different types of anal fissures. But most people are fearful of surgery as they think that surgical procedures are very expensive and involve risks and complications. But with the help of advanced medical-surgical techniques, anal fissure surgery can be performed at an affordable cost without causing major side effects and post-surgical complications." Says an expert fissure doctor from Pristyn Care, Bhopal.
In Bhopal, any individual can get cured of anal fissures with the help of surgical methods. On average, Anal Fissure Surgery in Bhopal costs you between Rs. 36,000 to Rs. 40,000. This price range is not fixed for every individual and is subject to change based on factors like:
Doctor fee
Admission fee
Transportation charges [to and from the hospital]
The cost of anesthesia or anesthesiologist
Type and the severity of the condition [Anal fissure]
Type of the surgery performed
The price of diagnostic tests or laboratory examinations
The amount to be paid for follow-up sessions
Out of these factors, the type of surgery plays a major role in deciding the final cost of the Anal Fissure Surgery in Bhopal. Here we tabulated the minimum, average and maximum cost of different types of fissure surgeries in Bhopal. Have a look at the table and get an idea of what amount to be paid for the safest Anal Fissure Surgery.
| | | | |
| --- | --- | --- | --- |
| Type of the Anal Fissure Surgery | Minimum Cost in Rs [Approximately] | Average Cost in Rs [Approximately] | Maximum Cst in Rs. [Approximately] |
| Open Fissure Surgery | Rs. 20,000 | Rs. 60,000 | Rs. 95,000 |
| Laser Fissure Surgery  | Rs. 36,000 | Rs. 38,000 | Rs. 40,000 |
| Sphincterotomy | Rs. 25,500 | Rs. 55,000 | Rs.  80,000 |
| Fissurotomy | Rs. 15,000 | Rs. 50,000 | Rs. 75,000 |
This cost changes from person to person based on the factors mentioned above. Use this table only for reference purposes. To know the exact cost of Anal Fissure Surgery in Bhopal, you can contact the medical coordinator of the specific hospital from where you wish to undergo surgery.
The need for surgery to treat an anal fissure is not always recommended. Most times, anal fissures heal on their own within four [4] to six [6] weeks. 
Mild anal fissures can be treated with dietary changes [diet containing high fiber], lifestyle changes, and medications like stool softeners, creams, ointments, and tablets.
In a few cases, enemas or suppositories are suggested. In any case, anal fissures are not healed within the expected time, the doctor recommends a surgical procedure. 
Once you have a clear idea regarding the cost of multiple fissure surgeries, it can be challenging for you to select the one. So, to help you at this point, we compared two types of anal fissure surgeries that are highly performed by many surgeons to treat and cure anal fissures.
| | | |
| --- | --- | --- |
| Parameters | Open fissure surgery | Laser fissure surgery |
| Pain | Painful | Painless |
| Cuts and wounds | Yes | No |
| Scars | Yes | No |
| Bleeding | Moderate to severe | Very less |
| Recurrence | Yes [High chances] | No [Rare chance] |
| Risk of infection | High | Very less |
| Rest after the surgery | For 3-4 weeks | For 1 week |
| Diet restrictions | Yes | No |
| Recovery | Slow [time taking] | Quick |
| Success rate | High | High |