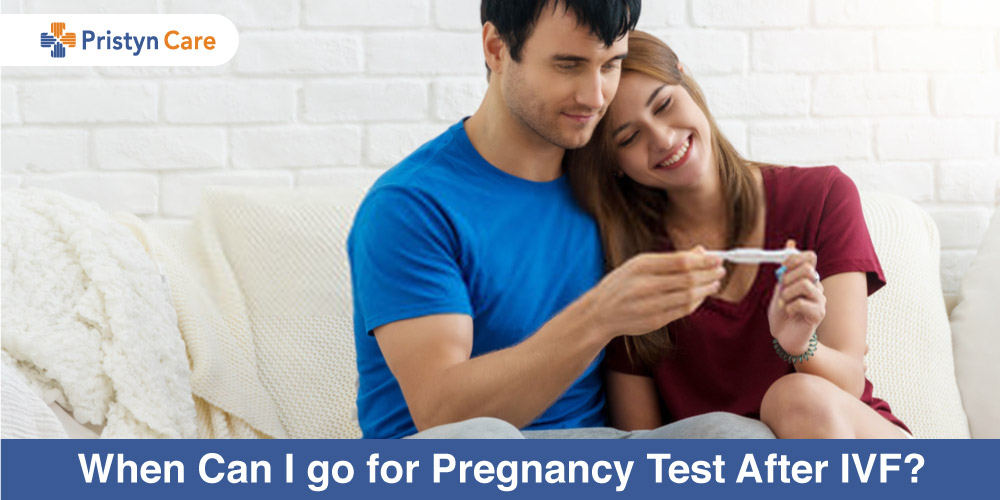 The couples who wait for the pregnancy results wait for quite a long time with bated breath. Apart from excitement and happiness, nervousness and fear are some feelings that are quite obvious before the results.
There are many overwhelming reactions of a hopeful woman who has been trying to conceive for a long time. When you pick a day for knowing the pregnancy results, you will be feeling unbelievable joy and skeptical happiness. Many doubtful thoughts, fears and apprehensions might cross your mind. And ladies, it's quite normal to be afraid before getting to know the results after fertility treatment.
After all, you invest so much energy and associate the occurrence with too many hopes to undoubtedly expect the positive results, be it a home pregnancy test with those two pink lines popping up or a blood test at the clinic.
So, in this blog, we will discuss when should you go for a pregnancy test after IVF. When the test is done without proper knowledge and at the wrong time, it can lead to false and misleading results. To avoid such a situation of confusion and disappointment, here we are with several answers related to the same dilemma.
What Happens Immediately after the Embryo Transfer?
After embryo transfer, your doctor will ask you to stay at the clinic for several hours before allowing you to go home. You should ideally wait for two weeks before going for a pregnancy test. Although it is very difficult to control as your heart races and you constantly itch to find the results of a really big and important event, you should control your urges to prevent yourself from false hopes and misguiding results. The reason for expecting a false result before two weeks of embryo transfer is discussed further.
The reason behind two-week wait:
The two-week wait is essential because of the HCG hormones. Human Chorionic Gonadotropin (HCG)  hormones are pregnancy hormones. These hormones are produced by the developing placenta begins to produce them after successful fertilization.
In the initial days of fertilization, the HCG levels are quite low. After a week of conception, these levels are high enough to be detected in your bloodstream to conclude your pregnancy results. Especially after two week period, HCG levels begin to double every three days. The levels of HCG quickly escalate after 8-11 weeks of your conception.
Home Pregnancy Test v/s Blood Pregnancy tests in Clinics:
The pregnancy tests basically measure the levels of HCG hormone in urine or in blood. It is really hard to wait for two weeks to go to the clinic and get your results through the blood report. But, kindly wait if you desire accuracy and no meaningless outcomes. A home pregnancy test is sensitive to only a certain level of HCG detection in your urine, i.e. 100 mIU. It will not confirm your pregnancy if you have less than 100 U if HCG in your urine. So the credibility is low until a few days after embryo implantation.
This is why blood pregnancy test is considered more accurate and reliable. The exact number of measures can be detected by your doctor by your blood tests. This would help him to exactly measure the sensitivity and monitor the situation. The treatment, IVF cycles, and medication a lot on it.
While the home pregnancy test can only tell you the result in terms of positive and negative remark, a beta HCG blood test at a clinic will measure the exact portion of HCG hormone molecule and promises precision with concrete results.
Why is Pregnancy Test Timing Important?
Yes, blood tests are sensitive and accurate but still, at least two weeks are best to wait for after your embryo transfer. This is because if you test too early or within a week itself out of excitement, this might give rise to false hopes!
The test will always be positive if you do it before 14 days as there will be some HCG in your blood as a result of HCG trigger shots which is given by your doctor. These shots help in triggering off the ovulation process before 36 hours of egg retrieval procedure.
And yes, do not go for any sort of pregnancy test if you spot bleeding. This is quite normal in case of normal pregnancy too. Many women report a little bleeding during the initial days of embryo transfer. And this doesn't mean that you are not pregnant. So, wait for your doctor to confirm the results.
The bottom line is that you should let your doctor do the tests and finally conclude your pregnancy as per the test results. Though it is quite difficult to wait for the two-week span without conducting a home test by yourself, you should know that a home pregnancy test will not be a concrete medium to decide whether you are pregnant or not. Those test results might be deceptive due to weirdly behaving HCG levels. Even the doctor would conduct a second blood test in a period of 48-72 hours to reconfirm results due to highly fluctuating HCG levels during the initial days of conceiving.