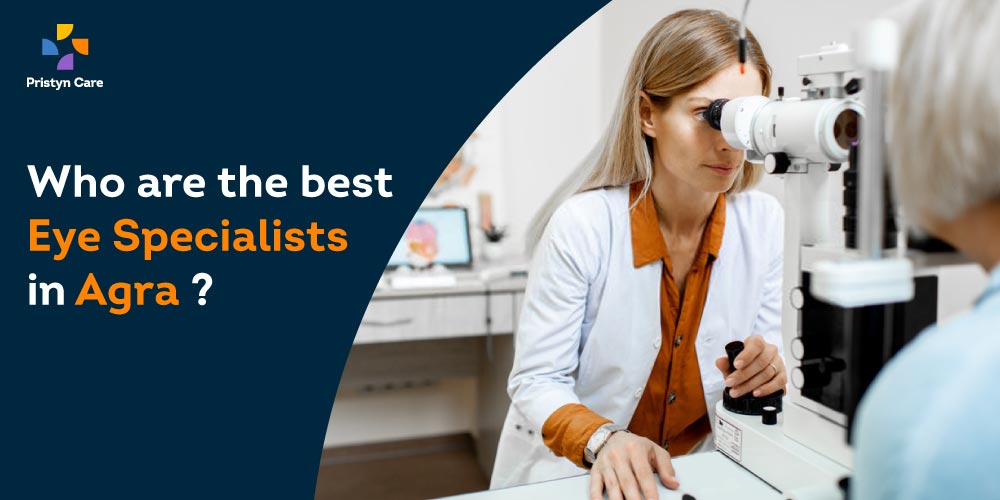 An eye specialist is a medical professional trained and experienced in the eye and vision care. Eye specialists are also known as Ophthalmologists. Eye specialists are trained to perform all eye tests, diagnose and treat eye disorders, prescribe eye medications and eyeglasses, and perform eye surgeries.
Best eye specialists in Agra
This blog shortlisted some of the best eye specialists in Agra who can help you get the best eye treatment for various eye conditions.
Dr. Rajat Goyal – Dr. Rajat Goyal is an MBBS, MS – Ophthalmology with 11 years of experience. He is a super specialist in Phaco surgeries, Cataract removal surgery and LASIK eye surgery. He practices at his clinic in Kamla Nagar, Agra. The services available at his eye clinic include- 2.2 mm Phaco surgery, LASIK eye surgery. Laser Refractive & Cataract Surgery and many more. He is a member of the All India Ophthalmological Society, KANPUR OS, and UPSOS.
Dr. Nidhi Verma – With 18 years of experience and 14 years as a specialist, Dr. Nidhi Verma is considered one of the best eye surgeons in Agra. She is an Ophthalmologist par excellence. She holds a fellowship in Glaucoma awarded by the prestigious Aravind Eye Hospital & Post Graduate Institute of Ophthalmology, Madurai. Tamil Nadu, the largest eye hospital in the world. Her focus areas include Medical-Retina & Uveitis. She has a record of routinely performing all kinds of retinal lasers to internationally accepted standards. Her areas of interest in the medical retina are the management of Diabetic Retinopathy, Age-Related Macular Degeneration, Retinopathy of Pre-Maturity and Uveitis.
Dr. Ashok Rana – Dr. Ashok Rana, an extremely talented and highly trained eye specialist in Agra, holds 23 years of experience and 16 years of experience as a specialist to his credit. Dr. Rana has performed over 80,000 successful eye surgeries after his post-graduation (MS)in Ophthalmology in the year 2005 after having completed his graduation from L.L.R.M., Meerut in 2000. His services include Cataract Surgery, Glaucoma Valve Implantation, Laser Refractive & Cataract Surgery, Canaloplasty, Orbital Trauma, Pediatric Glaucoma Management, and many more.
Dr. Tirupati Nath – Dr. Tirupati Nath is considered as one of the best and accomplished ophthalmologists in Agra. He has 17 years of experience in his account. He is a Life Member of All India Ophthalmological Society, Glaucoma Society of India, Delhi Ophthalmological Society, UP State Ophthalmological Society, and MP State Ophthalmological Society.
Dr. Nikhil Gupta – Dr. Nikhil Gupta is an Ophthalmologist/ Eye Surgeon in Agra with experience of 24 years in this field. Dr. Nikhil Gupta practices at Nikhil Eye Foundation in Civil Line, Agra. He completed MBBS from Sarojini Naidu Medical College, Agra in 1998 and MS – Ophthalmology from Sarojini Naidu Medical College, Agra in 2005. He is a member of the Doctor of Osteopathic Medicine and Associates in Ophthalmology. Some of the services provided by the doctor are Glaucoma Evaluation / Treatment, Cataract Surgery, LASIK Eye Surgery, Corneal Transplantation and Eye Checkup – General, etc.
How to choose the best eye specialist?
Eyes are extremely delicate organs. Regardless of the disorder, treatment of eyes needs extreme precision and experience. The first step to getting good eye care is selecting a good eye specialist. Choosing a reliable eye specialist goes beyond the degrees and certificates.
Here are a few tips and tricks to find out the best specialist:
Skills and Experience – A well-experienced eye surgeon will have the required idea about where to make the incisions or how to treat the eye condition without any risks and complications. Also, look at before and after photos of his patients to get an overall idea of his expertise.
Medical/ clinical advancements – Most eye treatments, including cataracts and LASIK eye surgery, need modern and advanced medical facilities. If your doctor consults at a clinic where the proper medical facilities are not available, it surely is not the right place for you.
Reviews and ratings – What former patients have to say about the eye specialist you plan to undergo treatment with, speaks volumes. Check the ratings and reviews of the eye specialist from his former patients.
Questions to ask the best eye specialist in Agra
Here are some common questions you can ask your eye specialist when you visit them for consultation. This will also help you get an overall idea of the skills mentioned above that you should seek in a doctor.
How many years of practice do you have?
What is your area of expertise?
How many surgeries have you performed to date?
What is the success rate of your clinic?
Are the equipments up-to-date?
What is the total expense of the treatment? Does it include consultation cost, anesthesia fees, and another additional cost?
Do you have any before and after pictures of other patients who got treated by you?
If you keep the above tips and questions in mind, choosing a highly-qualified and experienced eye surgeon for your cataract treatment, LASIK treatment or any other eye conditions will be much easier.