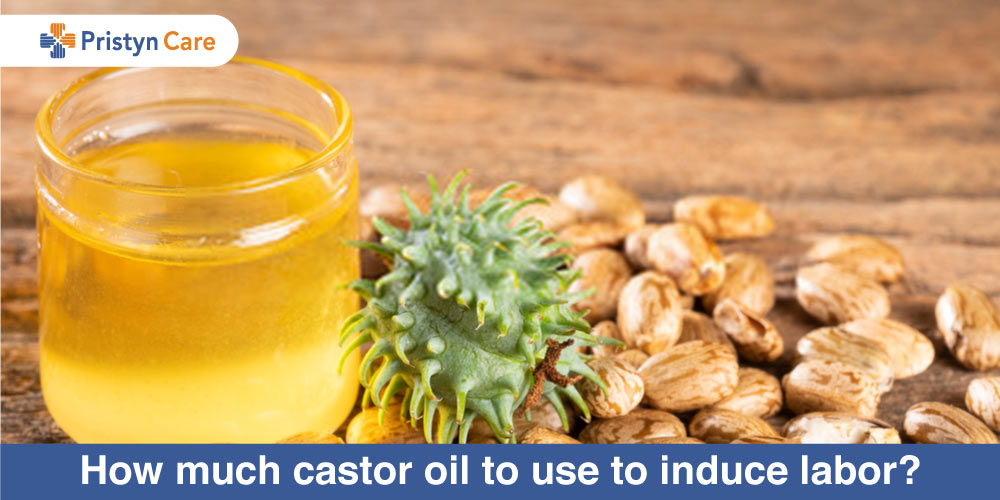 Castor oil is a bright-yellow colored, thick vegetable oil that is extracted from the seeds of castor beans. This oil primarily includes a fatty acid known as Ricinoleic acid, which is popular for its medicinal properties. Despite the fact that there is limited conclusive scientific evidence about the use of castor oil to induce labor, still for many years, castor oil has been used to induce labor naturally. 
How much castor oil to induce labor?
There are no studies or medical evidence to prove that castor oil can successfully induce labor. Based on personal experiences or beliefs, some suggest ingesting nearly half a cup of castor oil while others recommend taking not more than 1- 2 teaspoons at a time. Starting with fewer amounts and gradually increasing the dose if needed is a safe way. Overdose of castor oil can cause acute diarrhea and dehydration. It is always wise to speak to your doctor before taking such steps in your pregnancy. 
Also Read- What are some foods to induce labor?
How to use castor oil to induce labor?
Castor oil to induce labor can be consumed in many ways like-
Mix a small quantity, preferably 1 to 2 tablespoons of castor oil with orange juice (or any other juice of your preference) to conceal its unpleasant taste.

Drink a small quantity of castor oil in one shot and follow it up with water,  juice or flavored drink of your preference to neutralize the taste.
Drink plenty of water after consuming castor oil in any form as castor oil is a laxative and it can cause dehydration.
Also Read- How to Induce labor?
How long will castor oil take to induce labor?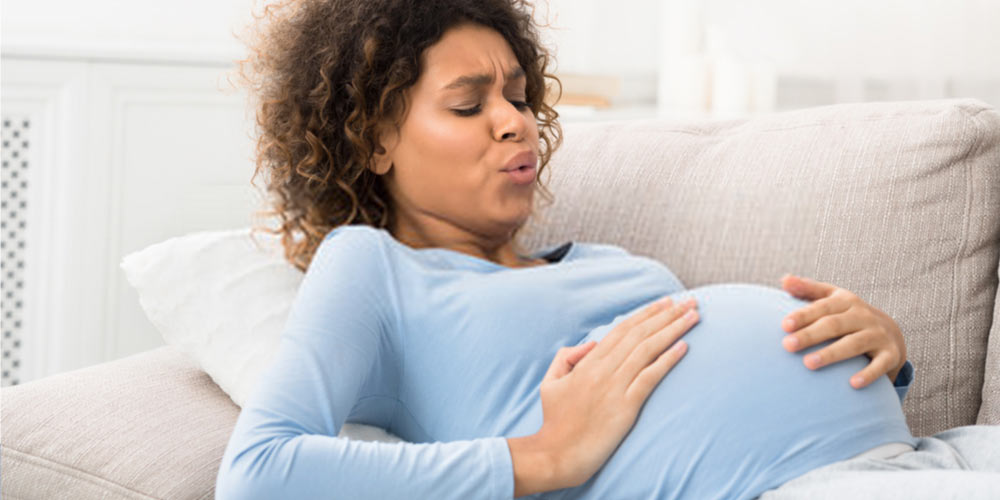 Some females report feeling the signs of labor within 1 or 2 hours of consuming castor oil, while others have not felt any advantage of it. There are reports of having labor soon after consuming castor oil and having a baby within hours of consuming castor oil. 
Limited medical evidence on the benefits of castor oil to induce labor indicates that labor is possible in the first 24 hours after consuming castor oil. Though more research is needed to know how and when can castor oil induce labor.
Also Read- What happens during Labor and Vaginal Delivery?
Risks and side effects of consuming castor oil to induce labor
In previous evidence, researchers have not found any major risks to the baby with the use of castor oil. However, the female may experience some side effects from consuming castor oil to induce labor. Some potential side effects of castor oil in this context include:
dehydration

contractions of the uterus (not related to labor)
Females with sensitive stomachs or the ones having other gastrointestinal conditions should avoid consuming castor oil for inducing labor. Also, females who have had a C-section delivery in the past should never attempt consuming castor oil to induce labor while pregnant.  
Final Words
Before you decide to attempt to induce labor with consuming castor oil, consult your doctor. As every pregnancy is different, castor oil might be dangerous in case you have other complications (like stomach or gastrointestinal problems). 
If your doctor approves of this remedy, speak to them about the recommended dosage of castor oil to induce labor. Typically, females are advised to consume castor oil in the morning. That way, it is easier to monitor the symptoms and remain hydrated and take rest all day. 
Are you considering using castor oil to induce labor? Speak to a gynecologist first. You can consult a gynecologist online right away and clear your doubts about it. 
Also Read- What are Braxton Hicks contractions and are they the same as Labor?