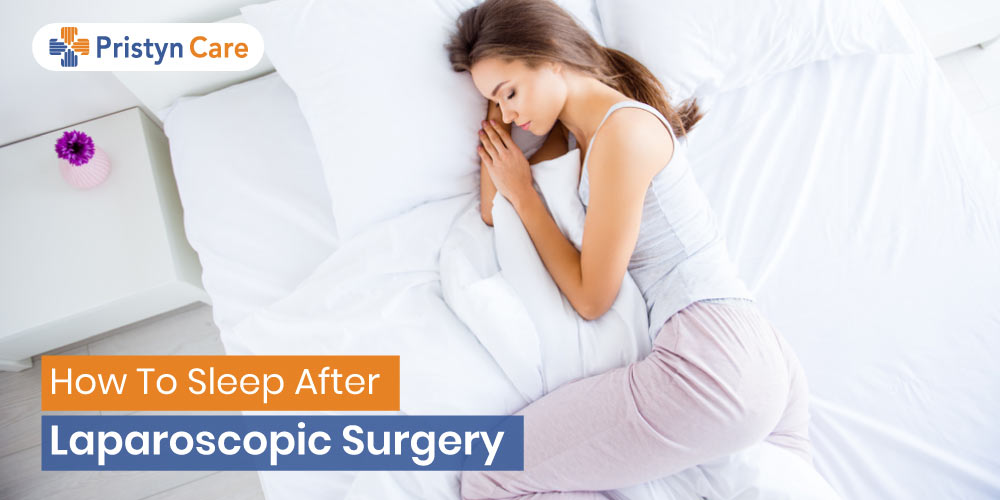 Laparoscopic surgeries are minimally invasive surgeries to cure diseases such as hernia, gallbladder stone, endometriosis, hysterectomy or uterus removal. The best part of laparoscopic surgery is that it is a quick procedure.  Even the recovery rate is better than open surgery and faster too. The highly trained professionals at Pristyn Care provide laparoscopic surgery using advanced technology after which the patient returns to normal life soon. 
There are certain instructions that the patient must follow post laparoscopic surgery such as diet, exercise and lifestyle. You must also take care of how to sleep after laparoscopic surgery. These are some important things that you must take care of for quick recovery. 
How to sleep after hysterectomy?
Sleep is very important to maintain physical and mental health along with the recovery after surgery. Let us say that after a hysterectomy (laparoscopic), there are certain things that may interrupt your sleep and healing process such as: 
Incision pain

Anesthesia 

Stress

Nausea

Acidity or bloating

Coughing

Discomfort while making movement in bed
There are two best positions to sleep after laparoscopic hysterectomy: 
Sleeping on your back

: Supine support is the best way to sleep after the laparoscopic surgery. Place a pillow under the knees to relieve the pressure from your lower back. Put a neutral size pillow under your neck. Avoid too large pillow to avoid strain on the neck and back. Also, avoid prolonged sitting and keep changing your position during the day. 

Sleeping sideways:

This is the most common way of sleeping. For those who sleep sideways, it can be very effective in improving your healing time after laparoscopic surgery. It will improve your quality of sleep. Place a pillow between both the legs to prevent your pelvis from rolling. Rest a pillow against your body to provide support for the lower abdomen. 
Note: Another way is sleeping wedges that can improve comfort after pelvic surgery and reduce lower back pressure in comparison to a high sitting position. Sleeping on a wedge can also benefit women who need to sleep with their upper trunk elevated for medical reasons such as sleep apnea or oesophageal reflux.
Other ways for quick recovery after laparoscopic surgery are:
Be prepared:

It is very important to keep yourself ready and prepared for post-surgery care. Effect of anesthesia, mild pain and some discomfort are normal. Keep yourself mentally prepared to deal with them,  

Rest is must: Your body needs rest. Laparoscopic surgery is a daycare procedure and you are allowed to go home within a day or two. But this does not mean that you start doing strenuous activities immediately. You need to take rest. Do not exert yourself. Keep moving but slowly. Avoid putting pressure on the abdominal area. 
Keep the incision area clean:

Wear clean loose cotton clothes. Avoid tight clothing and let your body breathe. It helps the wound heal faster. 

Follow the instructions

after laparoscopic surgery given by your healthcare provider. Eat as mentioned and take medicines as prescribed.
Immediately call the doctor if you experience: 
High fever

Nause and vomiting

Swelling or redness around the incision

Pain around the incision

Acidity or constipation
Things to remember
Sleeping in any posture can be a challenge after laparoscopic surgery. Slight pain post laparoscopic surgery is normal. The body takes time to adjust to the changes after laparoscopic treatment such as removal of gallbladder or uterus. Sleeping on stomach after laparoscopy can be troublesome. It can put too much pressure on the abdominal area which can aggravate wounds and delay healing. Do not be hesitant to call the doctor if you notice anything abnormal or any discomfort. 
Pristyn Care provides Laparoscopic surgery in India with state-of-the-art technology and excellent medical services. You can consult our gastroenterologist or book an online appointment to talk to our experts. 
Also read: How long does Laparoscopic surgery recovery take? 
Also read: How to choose a laparoscopic Surgeon?