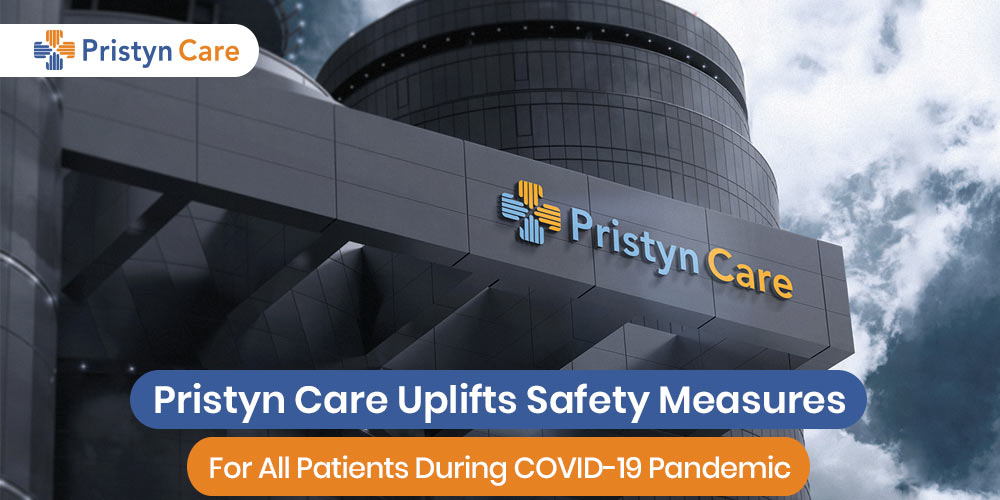 As India continues its battle against COVID-19, Pristyn Care has stepped up its patient safety protocols to make sure all the patients are safe and do not come in contact with the virus. Pristyn Care has placed the highest standards of hygiene practices while treating or diagnosing the patients. 
Important Steps that Pristyn Care has taken for the Safety of all Patients During COVID-19:
Online healthcare consultation for all patients
To offer everyone a seamless and non-disruptive healthcare experience amidst the outbreak of coronavirus, Pristyn Care is offering online doctor consultation. 

You can now get in touch with our specialised doctors from anywhere, anytime on call. 

Patients can now consult a doctor based on their specialization and can also book prescribed tests at the nearest Pristyn Care clinics.
Pristyn Care Chatbot Support
Additionally, Pristyn Care has launched an AI-based chatbot which can help you diagnose your symptoms and tell you if it could be COVID-19 or not.

The AI based chatbot will function 24/7 and shall be available in the official website of Pristyn Care.

The app will collect necessary details from you such as your age and gender, the type of ailments and symptoms you are facing, including your travel history. 
A patient shall be provided all possible healthcare through online consultation and shall be called for an OPD only when deemed important. Pristyn Care has placed stringent safety measures for OPD patients too.
Safety measures in place for patients
To make sure that all patients visiting the clinics and hospitals are not exposed to the coronavirus, Pristyn Care has mandated the following safety protocols:
Pristyn Care has arranged for temperature screening at the gates of every clinic and hospital.

A dedicated screening personnel is placed at every clinic with a thermometer, face mask, sanitizer, hand gloves and protective gowns.

Sitting arrangements with a social distance of 5-6 feet have been made for all patients and attendants.
Safety measures to be followed by doctors and staff
When it comes to healthcare safety of the patients, Pristyn Care leaves no stones unturned to ensure the best of everything.
Doctors and  staff will not begin any treatment procedure without wearing protective N95 masks, gloves, and shoe cover.

Doctors will maintain a gap of 15-20 minutes in between two appointments.

The consultation rooms and the medical equipment will be sanitised before and after every appointment.

Doctors and staff wash their hands with medically recommended hand wash before and after the diagnosis of every patient.
Safety measures at Pristyn Care clinics and hospitals
All the clinics and hospitals are sanitized on a daily basis. 

Disposable bed sheets and couch cover only shall be used and the same shall be disposed off after every round of patient visit. 

Pristyn Care management and doctors commit not to consult, diagnose or treat any patient at clinics or hospitals where COVID-19 patients have been attended to. 

A dedicated 'care buddy' shall be appointed to every patient and no other person other than the same shall be in close contact with the patient for any requirements.
'No-Contact' healthcare service by Pristyn Care
The dedicated 'care buddy' shall be responsible to carry out the discharge procedure of the patient.

As an initiative of the 'no-contact' healthcare service, we have facilitated provision of discharge summary via email to every patient.

To make sure you do not need to step out of the house during this time of crisis, we have enabled doorstep delivery of medicines within the shortest time.
Even when the nation is confined indoors, Pristyn Care understands the significance of healthcare. To make sure that no person is devoid of healthcare, Pristyn Care is relentlessly working to extend all the necessary services to the public. The medical services are tailored to meet every requirement in the most convenient manner amidst the pandemic and the lockdown.
Also Read: