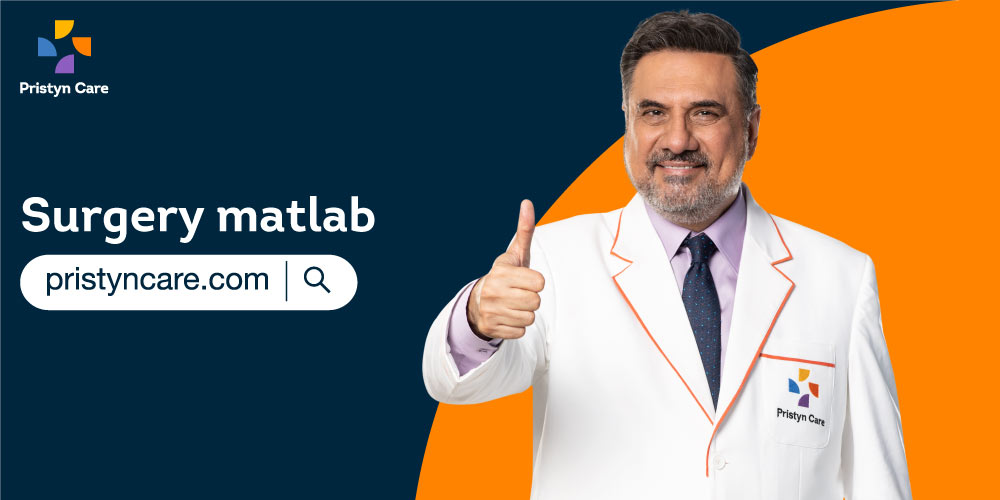 Pristyn Care, the new-age health aggregator, has come up with yet another television commercial that focuses on delivering supreme quality healthcare with scientific and modern medical advancements. The main idea of the commercial is 'Surgery Matlab Pristyn Care', which translates to 'Surgery Means Pristyn Care.'
The primary message that the team is trying to convey with the video is that the future of surgical healthcare lies in working hand-in-hand with advanced technologies and expert healthcare providers who are trained to embrace the technological changes and stay relevant in the years to come. The commercial's primary objective is to make people aware that when it comes to surgery, one need not look any further than Pristyn Care, because this is where the best of healthcare technology and healthcare providers meet.
About the TVC
The commercial featuring ace Bollywood actor Boman Irani shows a family who expresses their joy after undergoing treatment from Pristyn Care. Boman Irani is seen taking a selfie with the family in the very opening scene. A child (the son of the man who got treated from Pristyn Care) in an elated voice says, "Uncle, papa ko jaldi ghar bhejne ke liye Thank You" (Uncle, Thank you for sending Papa back home soon).
Mr. Irani then says, "Surgery karwake app jaldi ghar jaa sake, isliye Pristyn Care ke expert doctors laser, laparoscopic jaise advanced technology se hernia, piles jaise 50 se bhi zyada beemariyon ki surgery karte hai." The line summarizes Pristyn Care's laser-sharp focus on employing health experts who leverage medically advanced technologies like laser and laparoscopic surgical process to make sure a patient gets treated and returns home within the shortest time possible.
Through this commercial, Pristyn Care brings forth its motto of ensuring a simplified surgery experience to every patient by providing assistance at each and every step and taking care of the end-to-end journey to make it simpler for the patients and their families.
Boman Irani, who is considered a masterclass in himself when it comes to versatile acting, fits perfectly as the protagonist and as a Pristyn Care expert. The actor outstandingly exhibits brilliance, professionalism, warmth and amiability at the same time. The actor, in the most straightforward manner, throws light on the core values that Pristyn Care doctors hold – integrity, accountability, empathy, and patient-centredness.
The commercial showcases that a patient can return home early after undergoing laser or laparoscopic surgery. These surgical processes resulting from medical advancements have emerged as a boon to healthcare and humankind alike. Laser and laparoscopic surgeries have replaced traditional surgery methods with benefits like extreme precision, minimal blood loss, no pain, and quicker recovery. 
Earlier, Pristyn Care had launched television commercials with renowned and celebrated Bollywood actors like Sumeet Raghavan, Vinay Pathak and Ashish Vidyarthi around 'simplifying surgery experience.' (Also read: Your Surgery, Our Solution – SIMPLE!!)
About Pristyn Care
Pristyn Care is a new age healthcare company with a laser-sharp focus on simplifying the entire surgery journey of a patient and his/her attendant by offering care and assistance at each and every step.
Pristyn Care ensures that the patient's experience right from the discovery of the right doctor, to booking an appointment at the clinic, getting a detailed diagnosis done, booking tests at a diagnostic centre, getting insurance paperwork done, commute from home to the hospital & back on the day of the surgery, admission-discharge processes at the hospital, and follow-up consultation after the surgery – is hassle-free and care-filled.
At present, Pristyn Care operates via 100+ clinics and 400 + partner hospitals with a panel of 300+ super specialist surgeons who work exclusively for Pristyn Care.
Pristyn Care's network exists across 7 metro cities of India – Mumbai, Pune, Delhi, Bangalore, Hyderabad, Chennai and Kolkata; and in 23 Tier-2 and Tier-3 towns viz. Lucknow, Kanpur, Chandigarh, Jaipur, Indore, Nagpur, Bhopal, Ludhiana, Patna, Bhubaneswar, Coimbatore, Ahmedabad, Agra, Gwalior, Kochi, Vizag, Surat, Noida, Gurgaon, Faridabad, Ghaziabad, Jammu, Guwahati.
Pristyn Care is rapidly expanding its presence, making the most advanced technology, medical expertise and seamless surgery experience accessible to different parts of India.