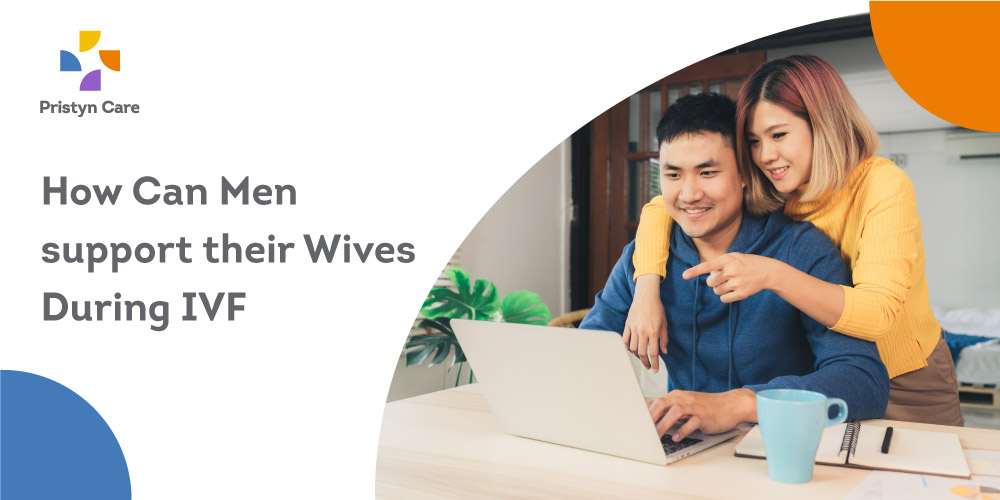 Fertility treatments like IVF can take a major toll on the body of the female. The long treatment, the expenses, the repeated cycles can shoot the anxiety and stress level of the woman through the roof. The stress can often bring a negative impact on the female's health and relationship, which can further decrease the chances of IVF; the circle goes round and round.
The male partner has to play the role of support system for the female while she undergoes IVF. There are many ways you can support her through this journey. It is important for the man to understand what his wife or partner is experiencing during the process. But even if you and your partner have been together for a long time, it won't be fair to assume that he would understand everything you are going through without you communicating to him. Most of the time, the female has to communicate things with her partner rather than keeping silent and allowing the stressors to take over her peace.
IVF is a new situation for both the partners, none of you have been in this before. Here are few guide notes to help both the partners sail through this swiftly.
What to expect from your partner while she goes through IVF?
Depression
It is absolutely normal for any woman to go through bouts of depression during her IVF. She will suffer from loss of appetite, she will either find it difficult to sleep or shall be sleeping for most of the time. She will want to eat a lot and shall major major outbursts even in the minute incidents that will happen between you too. If you notice any of these signs to an extreme level, take her to consult with the infertility specialist without delay. Most infertility clinics have their in-house counselors to help couples deal with this.
Insecurities
It is obvious for every woman to feel insecure during her IVF. Although she undergoes IVF, she is aware of the fact that she cannot conceive naturally and hence starts to judge her abilities. A female who undergoes IVF often feels insecure to be around babies and other pregnant women. When she feels low, you need to make her understand that discussing about other's pregnancy is not always the best topic, and that there are other positive things to discuss too. Bringing the topic of somebody else's pregnancy can often make her feel unconsidered and that is definitely not a good thing to do while she is under treatment. Make her believe that this phase is temporary and you two can together pass through it.
A lot of stress
The inability to conceive a baby itself can be very stressful for any woman. The treatment only amplifies the stress levels and triggers it. When you first went to the doctor for consultation, things might have sounded simple. But now that the reality has been a lot different, don't be surprised. This is how IVF is. The stress hit every female. The stress is a part of IVF.
What you can do to help your partner during her IVF treatment?
The first and the most important thing that you as a partner can do for her is accept her emotions and not judge her. Leave behind the "is nots" and "what ifs" and accept this is the decision you both have mutually taken. Thinking about how things could have been different for you both will not serve any purpose. It might be difficult for both of you to accept that something is not right in your reproductive system and you also need to know that you are the not only couple dealing with this. 1 in every 6 couples face issues with infertility. If you have chosen the treatment, focus on it rather than overthinking about what is not possible. Do not dwell on the things you cannot change.
Find ways to relieve stress
Adopt activities that you both can indulge in to ease your body and mind. Practice yoga or tai chi, get head massages or acupunctures, do meditation. These are some of the best tips for emotional and physical healing. If you feel that the stress is getting too heavy on you, and you are not being able to sort out things yourself, you can consider seeing a therapist.
Help her with her work
Share the burden of household chores with her. Remember that her body is under the influence of heavy medications and she should not exert herself due to any physical labor. Once the IVF treatment begins, she should give her body ample amounts of rest for the injections and medications for the best outcome. Share the kitchen works, help her with the laundry. Do your bed. Clean the rooms.
Pamper her
There will be a lot happening with her body during IVF. It is obvious for her to feel physically drained. Do small things to pamper her. Take her for a spa or manicure. Go out for a romantic dinner. Let her rest for a day and you prepare the meals and have it together while letting her know you love her. Your care can do wonders to her mind and body.
Share the burden
No matter what is the reason for you to choose IVF or who among you both is the one with infertility issues, do not forget that this treatment is what you both have decided to do together. Be there for each other for better or for worse, through the easy and the tough, in sickness and in health.
Be committed to her and the journey with her.
It is not enough to just say that you are with her in good and bad – show it! 
Accompany her in all her doctor visits and tests. Be there during her scans, egg retrieval process, and on the day of the implantation. It is your journey as much as hers. Witness the process of a life taking shape within her. While she undergoes the treatment, you can be the one talking and discussing everything with the specialist. Ask the infertility specialist any health tips, preventions that you both need to take. Show her that you are doing everything to make sure she is at her best.
Any and every little thing that you do to let her know that you are with her, will help her heal. Make her feel your unfaltering support. Let her know that she is being loved and cared. Respect what she is going through; whatever she is doing is for you and your family.